We're not one to pit skin concerns against each other, but when it comes to fine lines and dehydration lines, knowing the difference makes finding great skincare a whole lot simpler.
It's easy to take a peek at your skin, catch sight of those pesky lines around your eyes, forehead and lips, and automatically assume the ageing process has begun with premature effect. But oftentimes, those ageing lines you're obsessing over are actually caused by dry, dehydrated skin.
There's a very fine line between fine lines and dehydration lines (pun absolutely intended). If you're not sure how to navigate this temperamental tightrope, we've called on the experts at Kiehl's to explain everything you need to know about fine lines VS dehydration lines, and how to tell the difference…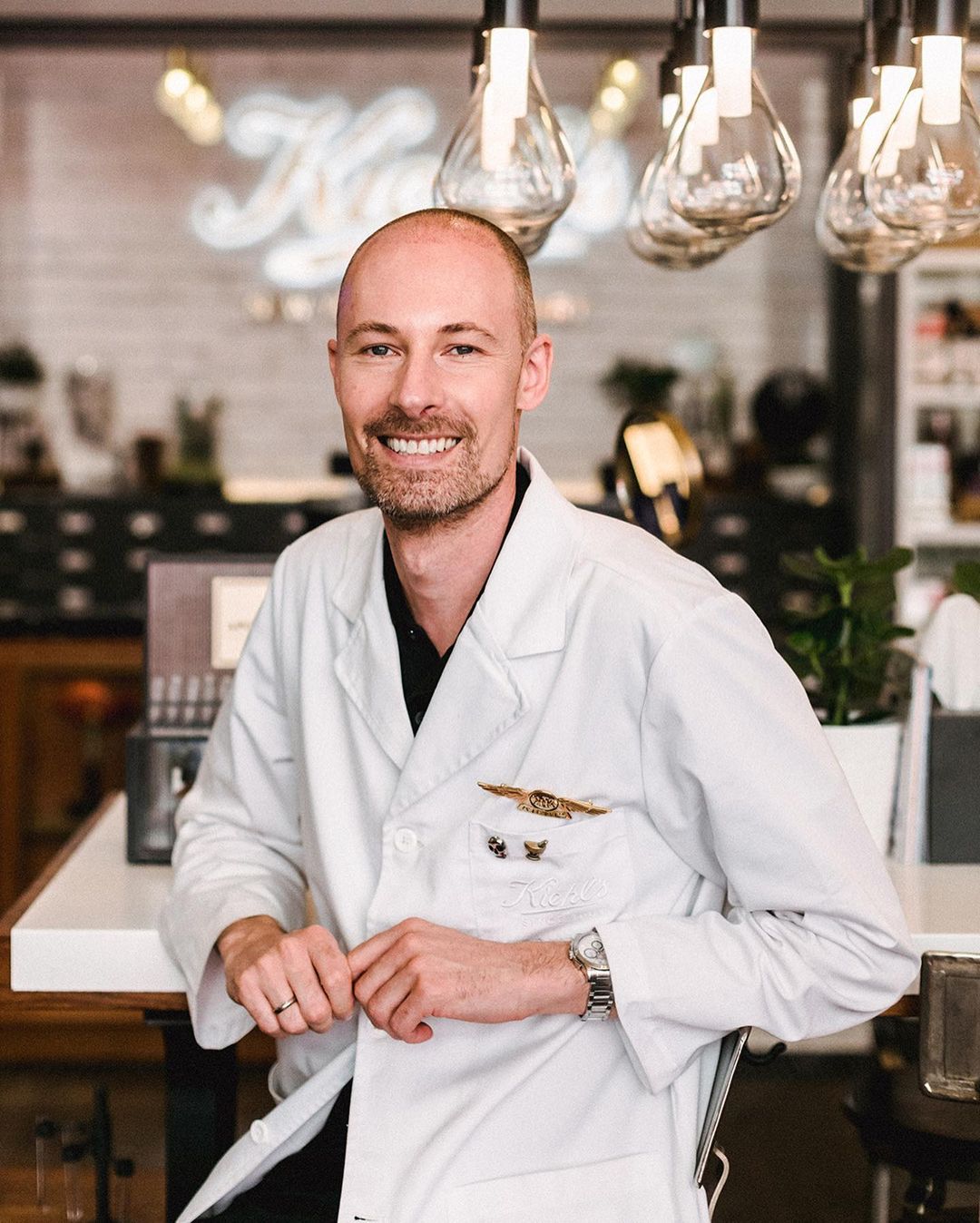 What are dehydration lines?
Although the clue might be in the name, Paul, skin pro at Kiehl's, explains that dehydration lines aren't as clear-cut as they seem: "Dehydration is a skin condition, and not a skin type," Paul reveals. "It is caused by a lack of water so it can happen to any skin type, whether you are oily or dry, causing pesky dehydration lines on your skin. Dehydrated skin is temporary and can be easily improved!"
But when it comes to the main causes of dehydration lines, there's no one-size-fits-all explanation. "There are many factors that can cause dehydration lines. This can include not drinking enough water, weather and the changing of seasons, diet, lack of sleep, alcohol or caffeine use, heating and air con, plus excess sweating from exercise."
What are fine lines?
Unlike dehydration lines, fine lines aren't caused by lack of water content in our bodies. Where dehydration lines are preventable, fine lines can only be treated to a certain extent. Paul says, "Genuine fine lines and wrinkles appear as we age due to the breakdown of collagen and elastin in our skin cells."
As we get older, the collagen levels in our body deplete (excellent news, right?), meaning our skin loses that plump, youthful look we've grown accustomed to. Because our skin isn't as supple, creases tend to appear in places we express ourselves the most – such as the corners of the eye, or the middle of the forehead.
We also need to take lifestyle factors into account when it comes to preventing fine lines. "External factors, such as UV damage and smoking, will cause this to happen too."
As well as toppling your tobacco usage, a broad-spectrum SPF that protects against both UVA and UVB rays should be your first point of call – like Kiehl's Ultra-Light Daly UV Defense, an anti-pollution solution to help protect your skin from premature, sun-induced fine lines.
What are the main differences between fine lines and dehydration lines?
Telling the difference between these two concerns can be difficult. If you're taking a quick glance, it's likely the lines will look identical – like creases in your skin that perhaps weren't there before. Luckily, Paul knows a trick or two to setting them apart:
"Dehydration lines are often finer and more superficial," he explains. "Real wrinkles are caused by a lack of collagen and tend to be deeper, and do not fluctuate."
Giving your skin a closer inspection is the best way to decipher what course of action to take for your lines – whether that's a healthy dose of hydration or potent anti-ageing action. If you're concerned you might have confused the two and mistaken your dehydration lines for fine lines – don't worry! It's more common than you think.
"A lot of people think they have fine lines and want formulas to tackle ageing," says Paul. But when it comes down to it, their lines are more likely caused by lack of water intake.
How can we prevent fine lines from forming?
Fine lines are part of the furniture when it comes to ageing, but there are definitely ways to prevent, prolong or soften their appearance:
"It's a good idea to use formulas with key ingredients such as vitamin A, C and E, as these will help fight free radicals, encourage collagen production, and nourish your skin," advises Paul. "Also using a high broad-spectrum SPF in your skincare routine will help defend against UV rays that causes premature age ageing too."
What are the best skincare formulas for preventing fine lines, we hear you ask? Paul has you covered: "Our Powerful-Strength Line-Reducing Concentrate is a potent serum formulated with 12.5% vitamin c and combined with hyaluronic acid! The formula penetrates the skin's surface layers, helping to reduce the appearance of lines and wrinkles, and improve the look of skin texture, making the skin feel smoother and more radiant."
We also love the Midnight Recovery Concentrate and Midnight Recovery Eye Treatment for helping to minimise the look of pesky fine lines while giving a visible radiance boost.
How can we prevent dehydration lines from forming?
Your first point of call should be upping your daily water intake. Six to eight cups per day is the preferred measure, and there's no need to worry of you're a caffeine addict – tea and coffee count too!
For further prevention, it's useful to look a little closer at your skincare routine. Paul says, "Humectants in your skincare, such as hyaluronic acid and glycerin, attract water molecules from the environment, keeping your skin soft and plump, and helping to soften the appearance of dehydration lines."
If you're looking for the best products to minimise the look of dehydration lines, follow Paul's advice and opt for a moisture-rich skin saviour. Formulated for all skin types, Kiehl's Ultra Facial Cream delivers up to 24-hour hydration, featuring oil-derived squalane and glacial glycoprotein for a supple, healthy-looking complexion.
Prefer an oil-free moisturiser? The Kiehl's Ultra Facial Oil-Free Gel-Cream boasts the same hydrating benefits while also working to balance moisture levels, making it perfect for normal to oily skin types!
For more results-driven skincare, shop the rest of the Kiehl's range here...