Cheat fluttery and full lashes with a pair of falsies. Whether you prefer an amped-up dramatic lash look, or a more natural and pared-back lash look, you can count on false eyelashes to help you achieve your perfect eye makeup application.
If you're new to applying and wearing false eyelashes, or simply want to perfect your application technique, we have enlisted the help of a professional makeup expert to share her very best tips and tricks on how to apply false lashes.
Meet The Expert: Amy Nicole
Professional makeup artist, Amy Nicole, better known as @amynicolemakeup on Instagram is known for her creative makeup tutorials. Here, Amy joins us to share her pro tips on applying false eyelashes with finesse.
How To Apply False Eyelashes
Prepare your lashes

Apply Lash Glue

Curl Your Lashes

Apply The Lashes

Apply Mascara
When it comes to applying false eyelashes, it's all about trial and error. Amy recommends experimenting with different lashes to find the right ones for you.
Watch from 2:32 minutes onwards to follow Amy's easy step by step tutorial.
Step 1 - Prepare your lashes
Take your chosen false eyelashes out of the packaging carefully. A good tip is to fold the packaging to help pop the lash away without damaging your falsies.
False lashes usually come too long in length, therefore, Amy recommends taking some scissors and trimming the outer corner. Be extra careful not to cut into any of the lash hair.
Expert Tip: Always trim your false eyelashes from the outer corner unless they are lashes that wing out, in which case trim from the inner corner
To measure your lashes, pick up your lashes in the centre and hold them up to your eye. Pop them behind your natural lashes to see how they sit. The first lash on your falsies should measure up with your first natural lash. The same applies with the last lash on the falsies, it should match with your natural last lash. If the lashes are still too long, you'll notice they hang over the side too much which really droops your eye.
Step 2: Apply Lash Glue To Your False Eyelashes
Time: 3:34
Once you're happy with the length of your falsies, it's time to apply your eyelash glue! Apply a generous amount of lash glue to the band of your false eyelashes. Amy recommends going behind the band and on top of the band just to make sure everywhere is fully covered in glue. Set your lashes aside to allow the glue to go tacky, which means they will adhere better to your natural lash line.
Step 3 - Curl Your Lashes
Time: 4:11
Curl your natural lashes using an eyelash curler right at the root of your lash. Press the curler firmly for around 10 seconds to create a natural curl.
Top Tip: Repeat the above step several times across the length of the lashes for an amplified curl that helps your natural lashes blend in with the false lashes.
Step 4 - Apply The Lashes
Time: 4:41
Top Tip: Place the lash as close to the edge of your lid as possible but not on your natural lashes. You might need to hold the lashes down in certain areas until they've stuck properly.
It's time to apply your lashes! The glue on your false eyelashes will have turned a darker colour and this is a great indication that your lashes are ready to apply. Use a mirror and hold it underneath your face. Tilt your head back to attain a clear and full view of your eye. Hold your false lashes in the centre and place the lash from above to ensure you get behind your natural lashes. Play around with your falsies, to ensure they are in the right place and the edges are stuck down.
Step 5: Apply Mascara
Time: 6:09
Seal your look with a lashing of your favourite mascara, this helps to blend your natural lashes into the falsies to ensure a more natural and seamless look. Amy recommends pressing down onto your lashes to adhere the two lashes together.
Fluttery false eyelashes, sorted!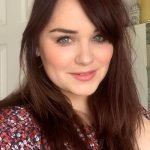 I've been writing about hair and beauty for over 10 years. I am a collector of vintage perfume and my go-to look always includes a bold pink lip! For more, visit https://www.goodgollymisshollie.co.uk