For fragrance lovers across the globe, your signature scent forms part of your identity. The final touch to any outfit, and a marker of your personality, most scent addicts won't go out without a quick spritz, whether you're home or away. Looking for a travel-friendly fragrance to keep you smelling great on your next vacation (or staycation)? From airport to accommodation, our beauty team share the signature scents they can't live without when on their summer getaways!
The best travel fragrances
"This vibrant blend of bergamot, passion fruit and bellini accord is my signature this season. The fresh, citrusy notes evoke the ambiance of a warm summer's day, bringing a sparkling pop of fragrance that boosts my mood every time I breathe it in! Plus, this handy travel-sized bottle is ideal to keep in my hand luggage." - Alice, beauty writer
"The travel-sized version of my favourite summer scent - this fragrance truly captures the go-with-the-flow essence of the season! I love that it has ripe, fruity notes but also an underlying floral tone of jasmine that takes over the senses. I can't wait to capture summer moments with this memorable fragrance." - Ella, beauty writer
"This mini musky, feminine scent is something I always pack for my travels. I just love breathing in the rose, amber and sandalwood notes whilst sat in the sunshine with my favourite cocktail in hand. It's a really versatile fragrance - perfect for any exploring adventures or late-night dinners with friends." - Ros, beauty writer
"Rich, warm and inviting, Beach Walk is a quintessential holiday scent that captivates the senses. Notes of bergamot, and pink pepper entwine with sun-kissed ylang ylang before slipping into a crackling cedarwood base, evoking the feel of dusky summer evenings at sunset. If you're looking for a fragrance that will forever remind you of your holiday – this is it!" - Penny, senior beauty writer
"This scent always reminds me of summer, so it is a must-have for any trip away! The warming notes of pistachio and almond, mixed with jasmine, sandalwood and salted caramel, to create a sweet but woody scent that lasts the long summer days." - Claudia, campaign manager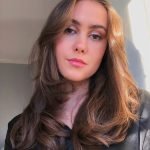 As someone with an affinity for all things beauty, discovering fantastic new products is my not-so-secret obsession. Over the years I've tried and tested a mountains worth of creams, serums and cleansers, finding some of my favourite 'holy-grail' products along the way. However, I'm always on the lookout for more ways to nourish my hair, perfect my dewy base, or enhance my skincare routine. Working as a beauty blogger for over 3 years, I've been lucky enough to collaborate personally with lots of amazing beauty brands including Christian Dior, The Body Shop and Dermalogica. I've used the Dermalogica special cleansing gel religiously since I first got it and their products are some of my ultimate skincare faves. When it comes to cosmetics, NARS Sheer Glow foundation is definitely my go-to - I live for a light, glowy base!