Coco & Eve has finally landed! Bottling up the best of Bali, the brand prides itself on summer-scented formulas that leave you glowing from head-to-toe – from flawless self-tan to luxury bodycare. I'd never tried Coco & Eve products before, but the haircare line was always going to be my first point of call.
Head of Brand, Camila Blet, explains the formulas behind Coco & Eve. "We've sourced only the best ingredients to make products that not only get results but are super beneficial for your hair, body and skin."
Drawn in by the chance to return to 'virgin hair', I couldn't wait to road-test the range. I dye my hair pretty infrequently – maybe once every 6-8 months – but the trips to the salon have no doubt left my hair drier than they were before. That, however, is the price I (happily) pay for luscious locks.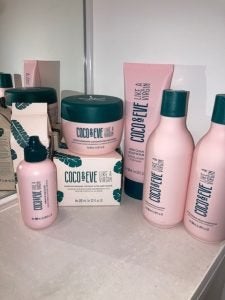 The first thing I note about Coco & Eve is that the packaging is SO cute. The products look great on my bathroom shelf, which might not matter to many, but to me it helps bring a little joy to my shower-time ritual.
Beyond the packaging, the formulas are truly-first rate, offering blinding shine and irresistible softness from the very first use. Discover how I took my hair from dull and damaged to silky and shiny, using nothing but the full Coco & Eve routine!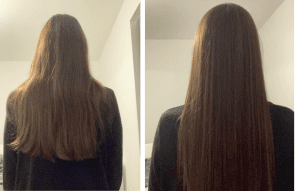 I start my hair rejuvenation journey with the Deep Clean Scalp Scrub. First impressions: the scalp scrub smells EXACTLY like a mint chocolate chip ice cream – I didn't realise how important this was to me in my haircare products until I cracked the lid.
I work the textured blend of caffeine, coconut and peppermint oil into my roots. The scrub is gentle and non-abrasive, plus it's easy to distribute through my roots, which I always find quite difficult with my fine (but full) head of hair.
I'll definitely find myself reaching for this scrub again on days I need to purify and detox. Did I mention the scent? Because it really is worth shouting about – refreshing for both scalp and senses!
Next up, let's cleanse. I'm not too picky with my shampoos, but I know a good formula when I use one. The Coco & Eve shampoo entwines coconut and avocado oils with ResistHyal™ technology (a powerblend of hyaluronic acid) to help remove impurities while improving shine, softness, strength and split ends.
The shampoo lathers easily, making it easy to rid my roots of oil and build-up. The scent, once again, is divine – different to the scalp scrub, thanks to a coconut and fig fragrance that brings a touch of Bali into my bathroom.
I can feel the softness boost in my strands even as I'm rinsing out the lather, which always makes me excited to dry and style my hair, because I know it means I'm in for a high-gloss treat. Paired with the brand's Super Hydrating Conditioner, this essential haircare duo are a match made in heaven.
Camila says: "Our Super Hydrating Shampoo and Cream Conditioner are free from drying sulfates, de-volumising silicones & packed full of Balinese botanicals and powerful active ingredients."
Hailed as a holy-grail hair treatment, I finally understand the hype around this miracle mask. The award-winning formula stars a replenishing fusion of shea butter and fig, infused with a delicious tropical fragrance.
"Our Like a Virgin Hair Masque is a 5-in-1 treatment which transforms hair in 10 minutes with more shine, softness, hydration & zero frizz or split ends!" Camila beams. "Raw virgin coconuts strengthen while fig and shea butter moisturise and help to detangle without weighing down your hair."
With a mid-weight, velvety texture, the mask smooths across my locks and INSTANTLY creates a softer texture. Even without rinsing, I know this product will work wonders. I set an alarm for 10 minutes and proceed with my bodycare and shave routine while the mask sits on my strands. When it comes to washing off, I can already feel the difference. On wet strands, my tresses have taken on a silkier, soft-touch feel – and they seem lighter too!
Plus, the scent. I smell like a tropical paradise, which is exactly what I need now that spring has finally sprung…
Fresh out of the shower, I leave my hair to dry off slightly before I reach for the brand's hair elixir.
Camila explains, "This coconut oil-infused hair treatment and styler is formulated with a unique blend of hyaluronic acid and Balinese super hydrators like mangosteen, papaya, prickly pear, and virgin coconut oil." Equipped with heat protection up to 220ºC, the serum also acts as the perfect styling aid, working to smooth frizz and fly-aways for your sleekest look to date.
When I finally come to dry my hair, I can't believe the results of the 'Like a Virgin' line-up. Shine and softness are an understatement – I can't stop touching my strands… or looking at myself in the mirror for that matter! My locks look as silky as they feel, almost like Coco & Eve have really pressed reset on my full head of hair. I mean – look at it!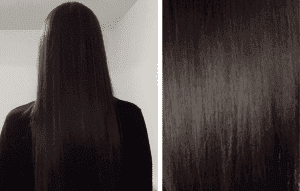 Want to see how the range suits you? Shop the full Coco & Eve haircare range…