When it comes to getting that sun-kissed look, many of us turn to our favourite base makeup to for a faux-glow. However, the key to achieving true lit-from-within radiance starts with the skin and using the correct skincare routine to treat concerns and create a natural, healthy complexion which can be boosted with makeup.
How to Get Glowing Skin
Moisturise
Exfoliate
Stay hydrated
Try a facial massage
Get your beauty sleep
Double cleanse
Take your vitamins
Use a face mask
Use self tan
Choose a dewy foundation
Moisturise
An essential in any skincare routine (no matter what your skin type) moisturising maintains hydration levels and helps to support the skin's barrier, protecting it from environmental aggressors which can contribute to dullness and damage. Now formulated for each skin type, moisturisers don't only offer collagen-supporting hydration, but also contain targeted ingredients that tackle skin concerns such as vitamin c for radiance, niacinamide for breakouts and ceramides for ageing.
Forget the one size fits all creamy moisturiser that initially comes to mind, there's now the option to shop by skin type, with oil-free, gel-based moisturisers and serums to choose from, making finding the right moisturising formula for you and creating a natural, healthy glow much more achievable.
Exfoliate
Using an exfoliator regularly helps to remove any dulling debris and congestion on the skin to reveal a brighter and smoother surface. Not only does it come with it's own skin-boosting benefits, exfoliation also helps the skin to absorb other products more effectively by removing any dead skin or excess oil that could prevent absorption or block the pores.
There are 2 different types of exfoliant: chemical and physical. Each one helps to buff away dead skin cells, but they work in 2 different ways:
Chemical exfoliants work by using a blend of alpha-hydroxy acids such as salicylic or glycolic acid, which dissolve away dirt, oil and impurities.
Physical exfoliants can either be small physical particles that cause friction on the skin such as coffee and sugar, or a textured exfoliating tool, that when rubbed on the skin, manually remove dirt and grime.
Stay Hydrated
Water is perhaps the most important and glow-inducing ingredient for your skin. Keeping your cells hydrated from the inside helps to keep them healthy and prevents dullness and fatigue.
It's recommended that adults drink at least 2 litres of water a day to support all bodily functions. If you don't like drinking plain water, try adding flavouring or fruits for a natural vitamins and antioxidants boost for your skin.
Try a facial massage
If you suffer from the occasional breakout, dullness or skin fatigue, it could be that your circulation is poor and toxins are building up in your skin's cells. A facial massage using a facial roller or gua sha helps to encourage circulation and lymphatic drainage, which helps the skin naturally remove toxins and gives a more radiant appearance.
Facial massages can also help to relieve sore and stressed out areas on your face as well as having anti-ageing benefits, reducing under-eye puffiness and congestion.
Get Your Beauty Sleep
Beauty sleep is not a myth; while you sleep, your skin works to repair itself, so if you are suffering from breakouts, dehydration or dullness, it's during the night that your skin will revive and rejuvenate. Try incorporating overnight beauty treatments into your regime to help the process along and keep your complexion glowing. One of our favourites is the Darphin Ideal Resource Overnight Cream, which works in synergy with your cells to support them as you sleep. It also removes surface dead skin cells so you awake looking fresh and bright.
If you do suffer from restless nights and struggle to get some shut-eye, try using a sleep remedy, such as a pillow spray. The This Works Pillow Spray contains lavender, vetivert and chamomile, to soothe anxiety and tension and help you drift off to sleep easily.
Double Cleanse
If dry, dead skin or breakouts are getting in the way of a luminous complexion, double cleansing is the must-try technique for clearer skin. Not only does it help to remove the makeup from the day, but double cleansing also ensures that all dirt, oil and impurities are removed so your skin can actually repair itself overnight.
Start by using an oil-based cleanser to remove makeup and excess oil from the skin, then follow with your targeted cleansing formula for a deeper clean that will help unblock pores and remove any barriers for the rest of your skincare routine.
The Elemis Pro Collagen Summer Bloom Cleansing Balm is the perfect first cleanse formula. Enriched with a blend of plant oils and waxes, it begins as a balm before melting into skin and becoming a cleansing milk with the addition of water. Our top tip? Follow up with an illuminating antioxidant serum to complete your regime.
Take Your Vitamins
Give yourself a glow-boost from the inside-out with vitamin supplements and a healthy, vitamin rich diet. f you're looking to add radiance to your complexion, vitamin c is the multi-benefit must-have. Rich in antioxidants as well as ingredients that help even out the skin tone, it can protect against damage and dullness.
Essential for keeping the skin hydrated, omega 3 can also help to prevent breakouts and premature ageing that can get in the way of your desired luminous glow.
Use a Face Mask
If you are suffering from a dulling complexion that needs an instant pick-me-up, a face mask is a quick way to solve it. Offering hydration, nourishment and treatment, face masks are formulated with specific ingredients for each skin type, to tackle any concerns and enhance your glow.
Getting to work in just ten minutes, the REN Clean Skincare Glycol Lactic Radiance Mask gently exfoliates the skin using glycolic acid, dissolving dead skin cells and infuses it with nourishing ingredients to leave the complexion looking brighter and feeling softer.
Use Self Tan
An easy and quick way to get your skin glowing is to use self tan and products containing bronzing ingredients. Adding a natural-looking tan can not only give the impression of more radiant skin, but can help to reduce the appearance of an uneven skin tone and blemishes.
Try tanning drops such as the Coco & Eve Sunny Honey Bronzing Face Drops that can be easily added into your normal moisturiser. Formulated with naturally hydrating ingredients including hyaluronic acid and coconut water, the customisable tan drops allow you to choose the intensity of your colour and let you glow all year round. Not a fan of tan? Using a warm bronzing powder on the skin can have a similarly gorgeous glowy effect!
Choose a Dewy Foundation
When all else fails, you've had a bad night's sleep and you feel absolutely exhausted, grab the most glow-inducing foundation you can find and blend in. A dewy face base will mask all your dull complexion worries and can also benefit the skin, with many formulas now offering skin-friendly ingredients that help to nourish the complexion whilst they conceal.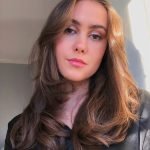 As someone with an affinity for all things beauty, discovering fantastic new products is my not-so-secret obsession. Over the years I've tried and tested a mountains worth of creams, serums and cleansers, finding some of my favourite 'holy-grail' products along the way. However, I'm always on the lookout for more ways to nourish my hair, perfect my dewy base, or enhance my skincare routine. Working as a beauty blogger for over 3 years, I've been lucky enough to collaborate personally with lots of amazing beauty brands including Christian Dior, The Body Shop and Dermalogica. I've used the Dermalogica special cleansing gel religiously since I first got it and their products are some of my ultimate skincare faves. When it comes to cosmetics, NARS Sheer Glow foundation is definitely my go-to - I live for a light, glowy base!