The secret to beautiful eye makeup is all down to technique and of course the tools you use. High-quality eyeshadow brushes can ensure a finish that would impress the pros and can guarantee a more long-lasting look.
There are a number of different eyeshadow brushes available that assist in defining, contouring, blending, smudging and shading around your eyes. If you're looking for some new eyeshadow brushes, or want to add to your existing collection, our makeup experts have rounded up their favourite eyeshadow brushes and brush sets to create flawless eye makeup looks time after time.
What to look for in an eyeshadow brush
A quality set of eye makeup brushes should be able to:
Pack on colour evenly.
Blend eyeshadow easily throughout the crease.
Create precise lines.
Apply cream and powder eye makeup without feathering or piling.
The Best Eyeshadow Brush Sets
You can count on Sigma to bring you the best quality, affordable eye makeup brushes. The Sigma Basic Eyes Kit is ideal for using with powder, liquid and cream eye products. Create chic, natural looks or dramatic eye makeup looks, the choice is yours.
The Sigma Basic Eyes Kit Contains:
E05 - Eye Liner - Use with gel or liquid liners to create smooth, sharp and even lines.
E30 - Pencil - Use to soften pencil liner along the top and bottom lash lines, add shadow to line the eyes, or use to highlight the inner corner of eyes.
E40 - Tapered Blending - Use the tip to apply colour, sweep back and forth through the crease.
E55 - Eye Shading - Use to place colour across the entire lid for an even and intense application.
E60 - Large Shader - Use to apply cream eyeshadow base or cream shadow for quick and even coverage.
E65 - Small Angle brush - Use with gel, cream or powder products to create precise lines.
E70 - Medium Angled Shading - Use for brow highlighting or to blend the crease.
Real Techniques are known for their high quality, affordable makeup brushes and the Real Techniques Everyday Eye Essentials Kit includes 8 eyeshadow brushes to shade, define and blend with finesse.
The Real Techniques Everyday Eye Essentials Set Contains:
307 Shading Brush - Features a dense brush head with short bristles that are ideal for packing colour onto the lid.
310 Essential Crease Brush - Adds depth to the eye socket.
304 Defining Crease Brush - Create the perfect cut-crease with this brush, featuring tapered bristles perfectly designed to nestle into your crease to build and blend colour.
313 Definer Brush - Create crisp, razor-sharp lines with liquid or gel eyeliners using this brush.
332 Smudge Brush - Blend and blur shadows and liners along the lash line for a soft-focus effect with the smudge brush.
308 Medium Shadow Brush - Suitable for both powder and cream eyeshadows, the shadow brush also blends product effortlessly.
312 Lash Separator - The lash separator is a fine-toothed, metal comb that divides lashes and gets rid of any annoying mascara clumps.
311 Fine Liner - Expertly line and define your eyes, this brush works with both cream and liquid eyeliners, the brush glides across the eye, evenly distributing product for an ultra-precise finish.
For people on the go, choose the lightweight and compact GLOV Eye Makeup Brush Set. The set contains eight quality brushes made from synthetic bristles.
The GLOV Eye Makeup Brush Set Contains:
Blending Brush - Specially designed to contour the crease area for effortlessly-blended looks.
Crease brush - Ideal for applying eyeshadow precisely into the crease of the eyelid. The tapered tip is great for contouring to add depth and definition.
Mini Flat Eye Brush - The best tool for applying cream or liquid eyeshadows to the eye area. Its densely packed, flat head lays pigment down for high colour payoff.
Eyeshadow Brush - The does-it-all brush, ideal for packing on eyeshadow.
Eyeliner Brush - A multi-tasking eyeliner brush has a narrow angled bristle head designed for applying gel, cream, powder and liquid eyeliner to your lash lines.
The Best Eyeshadow Brushes In Makeup Brush Sets
Get more for your money with the best eyeshadow brushes included in full makeup brush collections.
Did you know that Look Good Feel Better is the only global cancer charity supporting women with the visible side effects of cancer treatment? The Look Good Feel Better Make Over Brush Set is a game-changer that includes two eyeshadow brushes including the detail brush which is ideal for cutting through the crease and the blending brush which can be used to blend multiple colours across the lid for a seamless look.
Looking for a professional makeup brush kit that includes all of the eye makeup brushes you could possibly need? The MYKITCO. My Signature Synthetics Brush Set contains 15 brushes made from synthetic fibres to work consistently with liquid, powder and cream eye makeup products.
Create beautiful eye makeup with the Spectrum Collections 8 Piece Eye Blending Brush Set. Whether you want to highlight the inner corner of your eye, blend multiple colours, line your lashes or contour your socket line, this bold set does it all.
The Spectrum Collections 8 Piece Eye Blending Brush Set Contains:
A16 Precision Crease
B06 Tall Tapered Blender
B04 Small Angled Shader
A08 Medium Fluffy Shader
A07 Stubby Shader
A12 Fluffy Pencil
A13 Short Smudge
C06 Tulip Eye Contour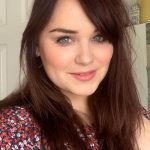 I've been writing about hair and beauty for over 10 years. I am a collector of vintage perfume and my go-to look always includes a bold pink lip! For more, visit https://www.goodgollymisshollie.co.uk