Famous for its premium haircare products that deliver real results, Kérastase has become synonymous with luxury in Beauty. The newest addition to the brand's line of rejuvenating hair care products is the Kerastase Curl Manifesto range. Reformulating the brand's innovative ingredients, this line was specifically designed with curly hair in mind. Working to target key curly concerns, including dryness and breakage, the products within the line work in harmony as a step-by-step routine.
After all the hype, we had to test out this iconic launch, and it did not disappoint. We tried and tested Kerastase Curl on four different hair types (ranging from 2-4), and here are the results...
Amy, 2B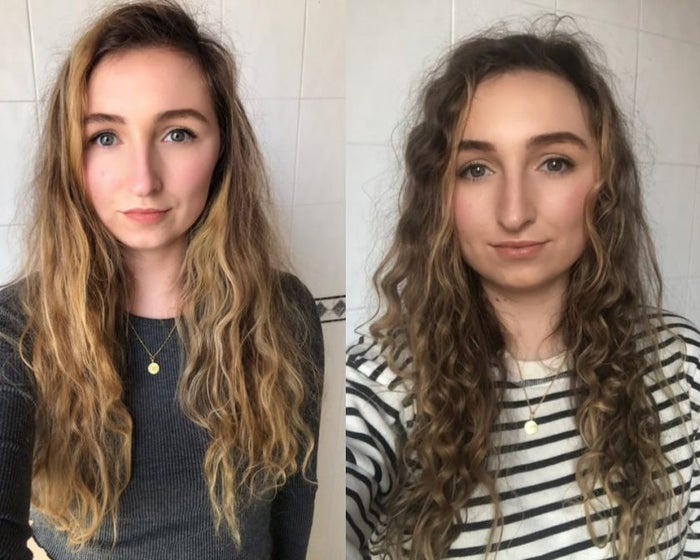 My hair is usually wavy, 2B type hair, but with the right product and some committed scrunching, I can get some nice curls out of it. My hair is not easy to deal with, constantly tangled it has shocked even the most experienced hairdressers, prone to matting and dryness. The issue I find with products designed for curly hair is that, as well as being dry and desperate for moisture, my hair is quite fine so heavy products weigh it down and can make it look greasy. I tend to avoid 'curly hair' ranges, so I wasn't expecting any miracles with the new Kerastase Curl Manifesto range. But I was wrong. I was surprised even before the results with how light the texture of each product felt and yet they weren't drying.
The mask really helped me in the detangling process, which can normally lead me to dragging out great knots in my comb, but instead, it glided through. Even in the shower, I could see curls starting to define themselves, which meant the products weren't too heavy. I air-dried and did some intermittent scrunching but the results came out shockingly good. I was left with well-defined curls I hadn't seen in years and my hair wasn't flat on top either, it was bouncy and nourished.
My favourite product in the range was the Gelée Curl Contour. I had tried the curly girl method before but hated using gel as part of the regime because it left my hair with this crunchy dry feeling. This gel-cream texture is a game-changer, it held so beautifully but was at the same time smoothed fly-aways. I also loved the Refresh Absolu, which allowed me a second day of soft curls by helping them reform after being slept on!
Lauren, 2C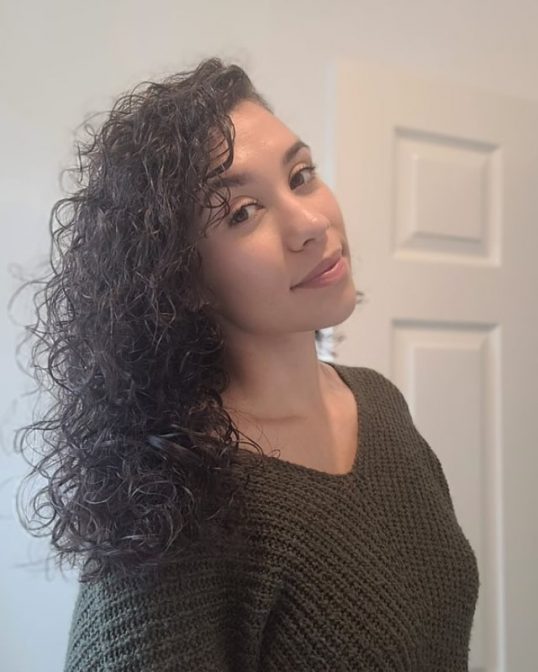 My hair is really fine and dry, so I struggle to get the right combination of products that will hydrate my hair without weighing it down, as I always want more volume.
I loved using the Kerastase curl range, especially the Masque Beurre Haute Nutrition Mask, as it gave my hair a much-needed moisture boost. I used the Fondant Hydratation Essentielle Conditioner which is super lightweight and I will definitely be applying more next time. Next, I followed with the Gelée Curl Contour Gel-Cream, which was delightful. Thanks to its light consistency, the gel doesn't clump your hair together and most importantly does not go crispy! Once dry, I used the Huile Sublime Repair Oil on the ends of my hair, where I need moisture most,  and it definitely worked, leaving my hair feeling really soft. The routine was very easy to follow and ticked all the boxes by leaving my hair hydrating, soft and nourished.
Gigi, 3C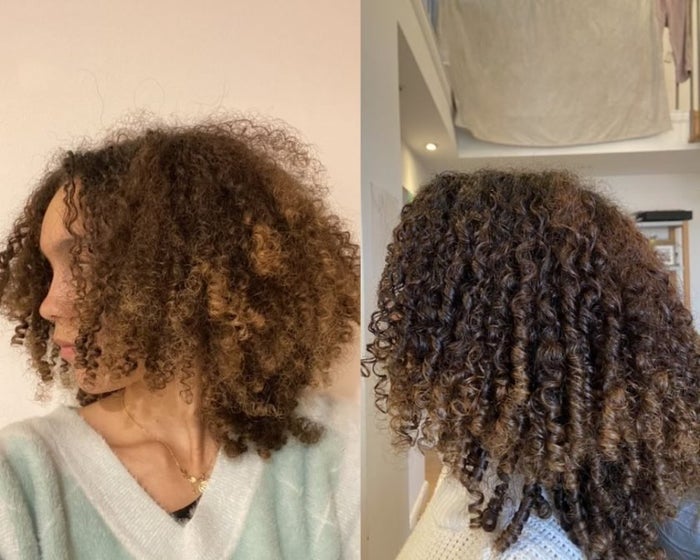 I've used the Kérastase Genesis range in the past, and I was blown away by the premium feel of the products, I'd never tried such luxury haircare. Generally, I stick to ranges that are curly specific, as textured hair has different needs and concerns. So, when I heard that the brand was releasing a curly specific line, I couldn't wait to try it out.
My 3C curls dry out quickly and easily, so hydration is the key thing I look for in my hair products. As you can see in the picture on the left, the dryness tends to look worse on my bleached ends, as they are already damaged. That picture is a world away from what my hair looked after the Kérastase regime, as you can see in the picture on the right. Once it had dried, my hair had a real shine to it, even at the ends, where my hair normally looks frizzy. Each product was infused with the same refreshing fragrance, which makes your bathroom smell like a salon. The rich consistency of every product really showed the quality, leaving my hair with a silky texture, even after I'd washed all the product out.
My favourite product in the line has to be the Kérastase Curl Manifesto Huile Sublime Repair Oil. A little goes a long way with this product, and it completely transforms the texture of your hair. Rather than feeling dry or brittle, my hair felt silkier than ever before, as if I'd been in the salon for a treatment.
Sheeva, 4A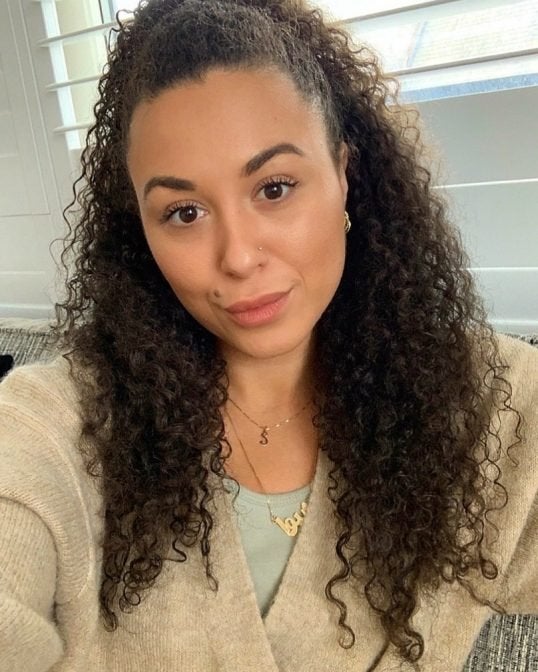 I'm forever on the search for the perfect products to tame my thick, curly and super coarse hair, so I couldn't wait to try the new Kerastase Curl Manifesto range! My hair is dry in texture, so it soaks up moisture in an instant. With the help of these products, my hair was left feeling ultra-hydrated and frizz-free, without feeling weighed down by product – which a lot of curl products can do. The full range smells absolutely divine and not overpowering – a really light, floral fragrance. My hero product in the range has to be the Leave-In-Cream. It keeps my curls defined around the clock with little maintenance and for when I want to give them a little boost the Refresh Absolu Spray works wonders for second-day curls.
Shop according to your hair type in the Curly & Wavy or Afro sections, here on LOOKFANTASTIC.

Our team of beauty experts cover everything from makeup to skincare, picking out the most effective products from the best brands and latest trends. Stay up to date on everything beauty with the LOOKFANTASTIC blog, and find all your essentials in one place.