If you've ever wondered which hair mask is best for you, you're in the right place. These days we are truly spoilt for choice, wandering through seemingly endless beauty aisles without a real understanding of what our body needs. This is especially true for us curly girls, who seem to be trialling a new product every week.
In a 'Battle of the Masks', we put four Shea Moisture formulas to the test to save you the trouble. With a glorious collection, Shea Moisture has a mask for everything and everyone. Despite its worldwide success, the brand had humble beginnings, founded by teenager Sofi Tucker in 1912 at a village market in Sierra Leone. With over a hundred years' experience, the brand has since been admired worldwide for all-natural ingredients and ultra-hydrating formulas. Offering huge volumes, sulphate-free formulas and potent botanicals, Shea Moisture's masks have everything you could wish for.
Wonderfully, the most difficult part is deciding which one you want.
Which hair mask is best for me?
Choosing a mask without knowing your hair type is like trying to find a needle in a haystack, blindfolded. Before you wade through the abundance of hair masques available here on LOOKFANTASTIC, you need to work out what kind of hair you have.
Curl type, porosity and texture all determine which products will work with your hair. If you have thin hair, you'll need something lightweight and creamy, with a consistency that's easy to absorb.
On the flip side, thicker hair types need thicker masks. Although rich consistencies are exactly what the doctor ordered for dry or damaged hair, they won't do much for fine or low porosity types. The rich texture will just sit on top of your follicle, mooching around and not doing much. One curly girl's trash is another girl's treasure, so get to know your hair instead of wasting your money.
Top Tips:
Before we get into the breakdown, we answered some of the usual questions surrounding hair masks.
1. Can you leave a hair mask on for too long?
Although the directions may say the mask only needs a few minutes, I usually leave mine in for a couple of hours, or even overnight. By leaving the mask on for longer, you're giving your hair more time to absorb the goodness. If you have more time on your hands, why not amplify the effects?
2. How often should you use masks?
If you're type 3 or 4 you should be doing this every week. I know that sounds like a lot at first, but you'll really notice the difference. Types 3 and 4 are drier and more prone to damage than any other hair type, so they need special attention.
Thirstier than a fish in a sauna, textured hair types crave moisture. Like a tall glass of water, masks can give your hair the drink of hydration that it deserves. If your hair is type 1 or 2 you can get away with mistreatment for a little longer, but all types benefit from deep conditioning.
3. Do you wash your hair before or after your mask?
The order in which you use your products is very important, and lots of people get it wrong. Apply the mask after your shampoo but always before your conditioner. If you just add your mask in at the end of your usual hair wash routine, you're doing it wrong.
Shampoos open up the hair cuticles and conditioners close them. For your mask to work its magic, it needs to be able to enter the hair follicle. The mask will be most effective when used after shampoo, because there's a clear pathway into the cuticle. Thank me later.
Battle of the Masks:
First up we have...
The Shea Moisture Manuka Honey and Mafura Oil Treatment Masque 
Best For:
High porosity hair
Dry hair
Damaged hair
Consistency
This mask felt amazing in my hair. I could feel and smell the Coconut Oil, giving the mask an almost frothy consistency. Whipped and fluffy, the texture felt rich and lightweight at the same time. With plenty of slip, it was actually effortless to detangle. Once it was in my hair, it felt like butter, encasing my hair in nourishment.
Scent
This product had my favourite scent out of all the masks. It was infused with this rich, natural, sweet scent. Even after I washed it out, my hair kept the gorgeous fragrance, and people commented on how nice it was.
Experience
My hair has never felt so soft. Even after it was washed out, my curls felt like they had Coconut Oil in them. In the picture below, I had washed out the mask but not yet put any product in my hair. Usually my hair is bone dry and frizzy without product, but after this VIP treatment mask, it was truly hydrated. Curls had formed and it wasn't frizzy - I was blown away.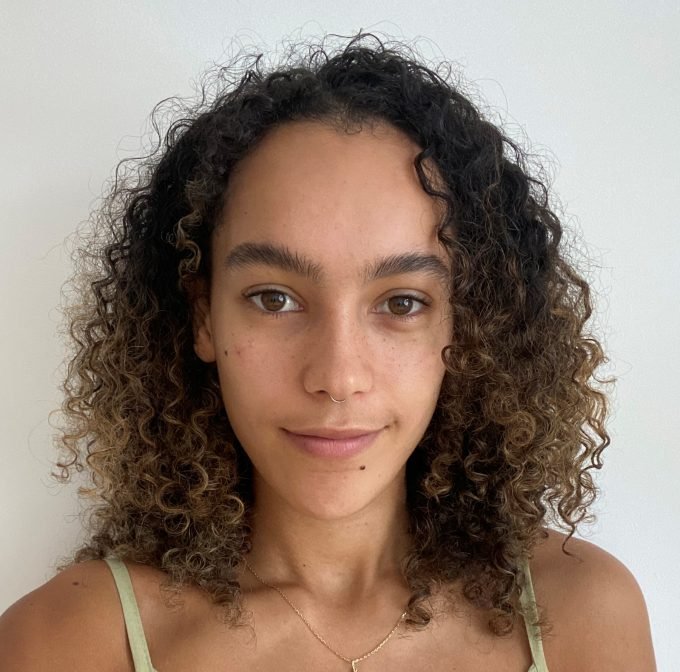 After the mask, my hair seemed to work better with my styling creams than usual. The mask amplified every step of my curl routine, drying with excellent definition. As you can see in the picture below where my hair is 100% dry (the shrinkage is real), my curls look full and moisturised. This mask absolutely stole the show for me.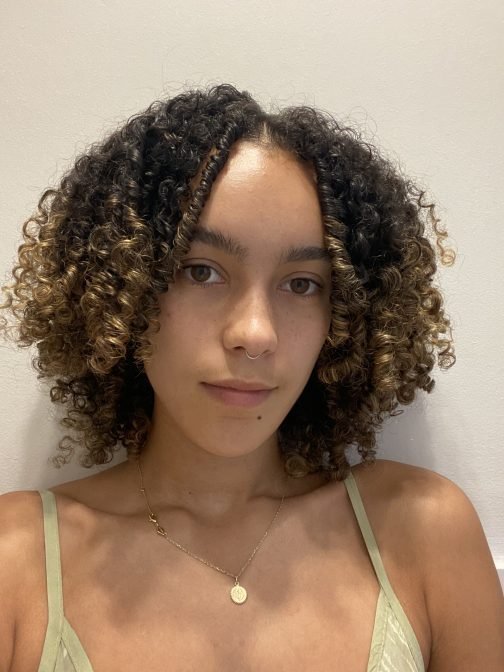 Next up is...
The Shea Moisture African Black Soap Bamboo Charcoal Masque!
Best for:
High porosity hair
Heat or chemically damaged hair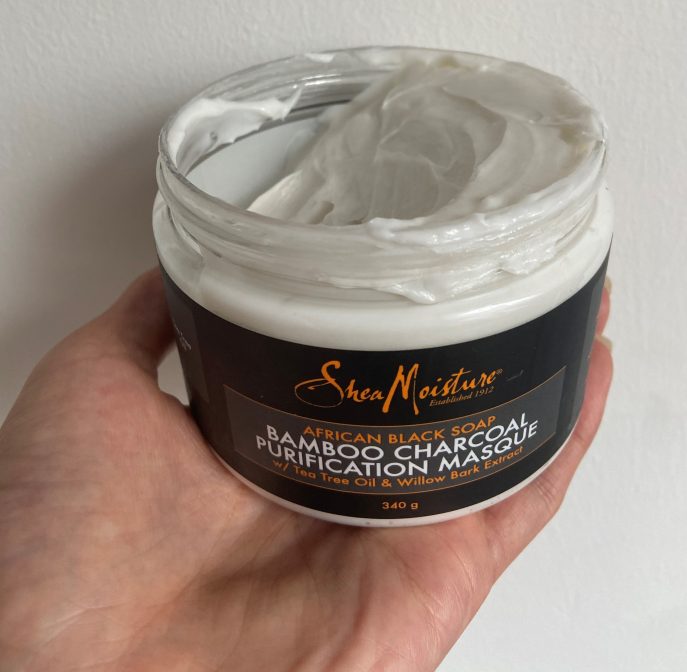 Consistency
As you can see in the picture, the mask has a thick, almost weighted consistency. Although this is great for high porosity or dry hair that craves moisture, if you're low porosity - try something lighter.
Scent
Infused with a delicate, natural scent, the fragrance is potent without overpowering your senses.
Experience
Packed with powerful ingredients, this formula is great for restoring health and hydration to damaged strands. When I used this mask, I actually left it on for three hours before washing it out. Despite the thick consistency, the product had plenty of slip, especially for a masque, making it easy enough to detangle my hair. Next, I put my curls in a plait to let my hair absorb all the goodness.
After washing out the mask and using my microfibre towel, my hair still felt soft. My curls didn't feel as moisturised as they usually would after a mask, but I actually thought this was a good thing. Rather than feeling oversaturated or heavy, it had more volume.
Now we have...
Best for:
Low porosity hair
Fine hair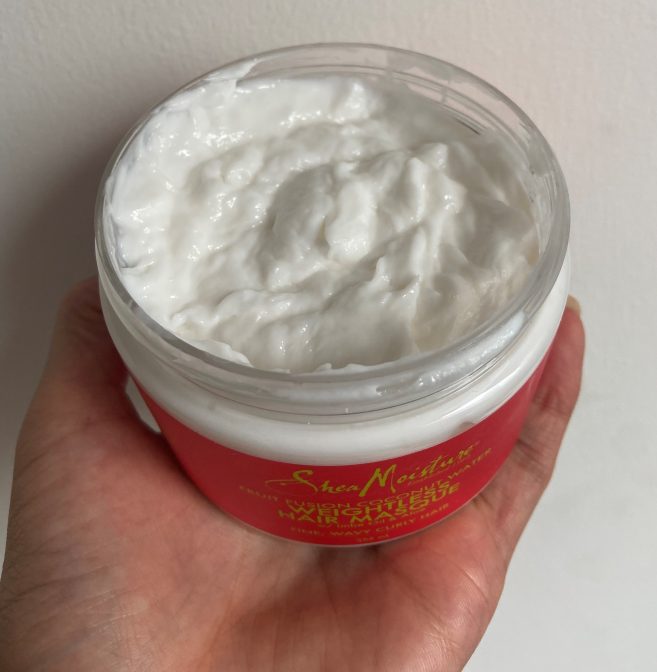 Consistency
Light and airy, this mask was whipped to perfection. As you can see in the picture the consistency is almost fluffy. The truly weightless texture was super easy to absorb, making it great for low porosity and finer hair types. Thanks to this consistency, the product had plenty of slip, making it really easy to detangle without causing damage.
Scent
At first, the scent was slightly overpowering, which put me off a little, but the results more than made up for it. Incredibly tropical, the fragrance was dominated by the Dragon Fruit.
Experience
I was pleasantly surprised by this mask. My hair felt like butter when I touched it, super smooth and creamy. Even after I had washed it out, my hair felt soft and looked like it had product in it.
Last but not least...
Best for:
High porosity hair
Heat or chemically damaged hair
Consistency
Great for high porosity or dehydrated hair, the cream is rich and thick, rather than wet and thin. It's one of the thickest masques I've ever used, with a texture that I can only compare to spreadable butter. Despite its thickness, my hair did absorb the mask, which nourished the strands rather than slipping straight off.
The only problem with the texture was the lack of slip, which made it more difficult to detangle. Don't let that scare you off, it's still possible – just be careful with your comb or detangle before applying the mask.
If your hair is low porosity or very fine – this is not the mask for you. As it's so thick, it will just sit on top of the strands and struggle to penetrate the follicle.
Scent
Natural, rich, fresh and sweet.
Experience
I've been using this mask for a long time and I've really noticed the long-term benefits, my hair feels stronger and looks longer. I can tell when I haven't been using my mask regularly enough, as my hair dries out more quickly.
For hair care sinners, this is the Holy Grail. After I've dyed my hair, this product is my go-to because it's so great at restoring moisture. Packed with nutrients, the formula provides a deep treatment by nourishing the hair shaft and locking in moisture. Even once it's washed off, the hair feels like it's coated with hydration, noticeably softer and moisturised.
If you'd like to try something different, check out our hair masques selection - it's got everything you could wish for.

Our team of beauty experts cover everything from makeup to skincare, picking out the most effective products from the best brands and latest trends. Stay up to date on everything beauty with the LOOKFANTASTIC blog, and find all your essentials in one place.