Introducing the future of sustainable beauty, recycle:me – our new, free and easy-to-use recycling scheme. Taking the hassle out of recycling your used plastic beauty products, we're here to do the legwork and help you on your way to a greener future in just a few simple steps.  
If you're beauty-obsessed like us, you'll know how it feels when your favourite product has almost run out. Whether your saving grace is to 'scrape it out the bottom' or 'squeeze the bottle for every last drop', it's time to think twice before throwing your empty product straight in the bin. 
With 120 billion (yes, billion!) products ending up in landfill each year, there's no better time to get sustainable with our beauty habits. Thanks to our new recycling scheme, you can put your empty products to good use, whilst helping the planet at the same time. 
How does it work? 
Once you've finished your plastic beauty products, gather your empties and give them a rinse to get rid of any residue or excess product. Don't worry if there's still some product remains (we can deal with that once it reaches our warehouse). 
In partnership with InPost and Hermes, visit our online portal here and complete our easy recycling returns form. We'll send you a QR code and you'll be able to select your nearest InPost locker or Hermes drop-off point and return your empties completely free of charge. 
Once you return your empties at your chosen location, your products will be sent to our recycling team who will begin the process to transform your plastics into environmentally-friendly products.
What are the benefits? 
It's free to use –

There are no hidden charges to using our recycling scheme, so you don't need to worry about any added costs creeping up on you.

Reduce your carbon footprint –

By taking part in our recycling scheme, you'll help to reduce the number of products that go to landfill, are burned or end up cluttering our environment each year, contributing to a greener, happier planet. 

Totally fuss-free –

Knowing what to do with your empty products can be confusing or time-consuming, but we take away any hassle or confusion around recycling your plastics by providing a simple, eco-friendly solution from start to finish. 
What happens to my empties? 
Once we receive your plastic empties, they'll be sorted in our warehouse and collected by our recycling partner.
Your plastics will then be heated to an extremely high temperature and melted down before being pressed into a 100% recycled board. 
The recycled board will be repurposed into enduring, long-lasting materials to support social projects, including the creation of sustainable furniture, playground equipment and refugee shelters. 
We know that recycling processes are particularly complex for plastic beauty products such as mascara, lipstick and skincare items with inbuilt pumps, which leads to many consumers simply disposing of their used goods in their household waste. Via recycle:me, LOOKFANTASTIC can help streamline this process for our customers so we can make a fantastic difference, together - Keely Gough, General Manager for LOOKFANTASTIC 
What You Can Recycle: 
Plastic bottles or tubes, such as foundation, shampoo and conditioner  
Plastic lip products, including lip gloss and lipstick  
Eye and Brow products, including compacts, mascara wands and liquid or retractable plastic liners  
Plastic makeup brushes  
Other plastic makeup packaging, such as pumps and caps  
What You Can't Recycle:  
Glass bottles or mirrors (but these can be recycled by local council schemes)  
We are unable to accept products made from metal   
Please do not return general waste   
Other items, such as electronic products 
Ways be more sustainable with your beauty routine: 
ONE: Choose eco-friendly alternatives to your beauty staples, such as shampoo bars and reusable cloths to remove your makeup.
TWO: Double up with supersize versions of your favourite products. Not only is this cost-effective, it also reduces the amount of plastic waste – AND your products will last a lot longer too. 
THREE: Before you choose to recycle your empty plastics, check to see whether you can purchase a refillable beauty pouch or compact. Many of our most popular brands stock handy refills, so you can simply top up your empty bottle, saving you money and helping the planet.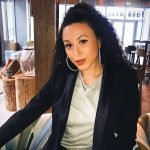 As a beauty obsessive, I'm always trialling and testing new, exciting brands and product discoveries. With over 6 years' experience in beauty writing, including freelancing on the Net-A-Porter beauty desk, I have lots of useful beauty hacks, tips and tricks to share. I'm constantly seeking the latest hair products to make my curls ultra-bouncy and defined. The Cantu Coconut Curling Creme is my Holy Grail! My lipstick collection is always expanding – and my favourite lip product of the moment has to be a nude lipgloss for the ultimate everyday look.