One of the many myths about makeup is that it lasts forever. However,just like food,all beauty products havean expiry date to prevent any harm. Whilst some products come with Period After Opening (PAO) symbol indicating how long you should keep the product after opening, many either don't or they fade away over time. So, to ensure you're keeping your makeup fresh we've curated a guide so you know exactly how long your makeup lasts and when it's time to say bye-bye to your well-lovedcosmetics. 
Foundation
Let's start with the base-ics. As liquid foundations contain a high amount of water and oil, they typically have a shorter shelf-life due to an increased risk of bacterial contamination. We recommend getting rid of your foundation after 12 months, or sooner if you notice a change in colour and texture. Alternatively, powder foundations can last up to 24 months as the dry formula means less chance of bacteria growth. To keep your foundations safer for longer, we recommend cleaning your tools once a week with an antibacterial spray such as the Cinema Secrets Professional Make Up Brush Cleaner. 
PAO: 12-24 months 
Concealer
Similarly to foundation, concealer is predominantly made up of liquids and moisturising ingredients such as Shea Butter and only lasts 12 months. If you use your finger to apply concealer, we recommend washing your hands thoroughly first. Alternatively, if you use the applicator it comes with, make sure to sanitise this weekly to ensure you're not spreading bacteria across your face. If your concealer dries out or you notice it going lumpy, we also recommend you stop using it straight away. 
PAO: 12 months 
Bronzer
Just like a powder foundation, bronzer also has a shelf-life of 24 months due to its dry formula. To ensure you get the most out of your bronzer, we recommend blotting it down with an antibacterial wipe weekly. This is a great technique to do in-between clients if you're an MUA! We also recommend you use clean tools and never leave the product exposed to air as this will make it dry out. 
PAO: 12 months 
Mascara
Although it's a favourite, mascara is one of your beauty products with the shortest shelf-life lasting only 3-4 months. It's important to stick to this to avoid irritating your delicate eyes. You should also avoid pumping it to gather product on your brush asthis forces air bubbles into the tube and dries the product out faster. Instead, we recommend using gentle circular motions to gather product onto your brush so you can sweep it across your eyes flawlessly. 
PAO: 3-4 months 
Eyeliner
As eyeliner is used on the most sensitive part of your eye, it's best to play it safe and repurchase every 6-12 months. To get the most out of your eyeliner, we recommend you sharpen it regularly and keep the lid on in-between uses. If you notice it dry out or change to a chalky texture, that's also a sign you need to get rid. 
PAO: 6-12 months 
Lipstick 
We're all guilty of holding onto our favourite shade of lippy that's sold out everywhere, but it's important to throw them away after 24 months. Although they're relatively unharmful, they are more likely to dry out and turn crumbly on your lips which is not the look we want! To keep your lipsticks as fresh as possible, give them a monthly clean with a makeup wipe to diminish the top layer of bacteria and any build-up of dead skin. 
PAO: 24 months 
Setting spray
Although setting sprays such as our trusty Urban Decay All Nighterkeep our makeup in place for up to 16 hours, they only have a shelf-life of around 6 months. This is due to water being one of the main ingredients making it a breeding ground for bacteria. To ensure you're getting the most out of your setting spray, store it in a cool, dry area to avoid condensation. 
PAO: 6 months 
Shop all makeup at LOOKFANTASTIC.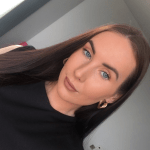 As a beauty fanatic I'm always on the lookout to try and experiment with new products! I've been writing about everything beauty for over 3 years and specialise in skincare so have plenty of tips and tricks to help put blemishes at bay and get your complexion glowing. Whilst being a content writer at LOOKFANTASTIC I've had the opportunity to collaborate with incredible brands including Tom Ford, Dolce & Gabbana and La Mer, taking my understanding of the industry to the next level. In the past I've been a freelance makeup artist and have collaborated with brands including NYX and Revolution Beauty on a personal level, sharing my makeup creations for the world to see. My ride or die brands have to be PIXI, Laura Mercier and Bobbi Brown and I can't live without my trusty MAC Velvet Teddy!