Whether you're a lover of lash extensions, mad about mascara, or savvy with your serums, everyone loves to have long lashes. Unlike our brows, which go through trend cycles, having lusciously long and healthy lashes will never go out of style. Which is why it can be frustrating when our carefully grown strands fall out (literally) before our eyes throughout the day. Whilst a fallen lash gives you a free pass to make a wish, when that very wish is likely to be asking for more lashes, it feels somewhat counterintuitive.
If stray lashes are stressing you out, then you're not alone. We caught up with Alicia Grande, Founder and CEO at Grande Cosmetics, to get the lowdown on all her top tips for protecting, and growing out your lashes.
How can you prevent lashes falling out when removing makeup?
Removing makeup can be hard on your lashes, especially since it's something many of us repeatedly do everyday. One of our favorite ways to remove makeup from the lashes is to use a makeup remover microfibre towel paired with a gentle makeup remover like micellar water. The microfibre towels are ultra plush and gentle on your lashes & since they are washable, they're more environmentally friendly than using wipes!
Is wearing mascara everyday bad for your lashes?
Traditionally, mascaras can be drying, that's why it's important to use a mascara infused with lash care ingredients. This is the very reason why we created a line of lash-care infused mascaras to condition lashes while you coat.
What's one common mistake people make that leads to lashes falling out?
Harsh makeup removers, excessive rubbing, and not washing makeup off before bed are all common reasons why people experience lash fall-out. Environmental stressors and even emotional stress can also contribute as well.
How can you strengthen your lashes at home?
GrandeLASH-MD Lash Enhancing Serum is a total gamechanger to achieve the appearance of longer, healthier, and fuller looking lashes from the comfort of your own home. Because it's water-based, it's also safe to use with lash extensions to help keep your natural lashes looking stronger and fuller.
To reap the benefits, all you have to do is apply one swipe of product to a clean, dry lash line (just like a liquid eyeliner) once daily as part of your typical AM or PM skincare routine. You'll see results in just 4-6 weeks with full transformation in 3 months.
What are the key benefits of the GrandeLASH-MD serum? How does it work?
It works because it's infused with a synergistic blend of vitamins, peptides, and amino acids to provide your lashes the building blocks they need to appear fuller & thicker looking. Plus, GrandeLASH-MD is infused with hydrating & conditioning ingredients like to hyaluronic acid to help add moisture and promote natural lustre.
Are there any lifestyle changes people can make to improve lash strength?
A few mindful habits can help keep your lashes in tip-top shape:
1. Maintain a balanced diet
Healthy looking lashes start with a balanced diet. Ensure you're giving your body the nutrients it needs to support healthy hair and lashes, like protein, healthy fats and leafy greens. Want an extra boost? Choose a hair, lash and brow boosting supplement.
2. Get a silk pillowcase
Tossing and turning on a cotton pillowcase can add friction to your lashes, resulting in unwanted fallout, so making the switch to a silk pillowcase can treat both you and your lashes to some pampering.
3. Remove your makeup
As tempting as it might be to skip this step after a long day, make sure to cleanse your lashes from all traces makeup before going to bed. It's an easy way to ensure all makeup, debris and oils are not weighing the lashes down and contributing to lash loss.
When should lashes falling out become a concern?
Many would be surprised to learn that the average person loses about 1-2 lashes a day,
Many would be surprised to learn that the average person loses about 1-2 lashes a day, so some fallout is totally normal. Of course, if fallout becomes more apparent, it's best to consult your physician. Your lashes go through their own development cycle, consisting of active growing (the anagen phase), a period of transition (the catagen phase), and a dormant resting period before naturally shedding (the telogen phase), after which the process begins again with all-new baby hairs.
Not all lashes are in the same phase at the same time, which is why they don't all fall out once - and thank goodness for that!
Shop the full Grande Cosmetics range at LOOKFANTASTIC.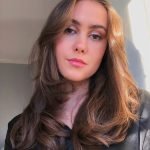 As someone with an affinity for all things beauty, discovering fantastic new products is my not-so-secret obsession. Over the years I've tried and tested a mountains worth of creams, serums and cleansers, finding some of my favourite 'holy-grail' products along the way. However, I'm always on the lookout for more ways to nourish my hair, perfect my dewy base, or enhance my skincare routine. Working as a beauty blogger for over 3 years, I've been lucky enough to collaborate personally with lots of amazing beauty brands including Christian Dior, The Body Shop and Dermalogica. I've used the Dermalogica special cleansing gel religiously since I first got it and their products are some of my ultimate skincare faves. When it comes to cosmetics, NARS Sheer Glow foundation is definitely my go-to - I live for a light, glowy base!