Murad are known for their amazing skincare, with cleverly developed products that target specific problems. Their latest launch is the Murad Eye Lift Firming treatment and I've put it to the test. Read on for my review.
What is the Eye Lift Firming Treatment?
This is a targeted treatment, designed to help smooth and firm the delicate skin around the eyes for a more youthful appearance. It is like a face mask for the eyes, delivering powerful ingredients in a quick burst, perfect for topping up your skincare regime.
Packed with Hyaluronic Acid for hydration and  Amino Acids that help to lift and plump, it has been shown to reduce the appearance of lines in just a week. But what does it feel like and what are the results?
What I thought of the Treatment
I am in my late 20s, so whilst I don't yet have any real wrinkles, I am noticing fine lines and that tiredness and dehydration can show around my eyes.
Ever since finding out that the skin around the eyes is the most prone to dehydration and ageing, it has been a part of my skincare regime that I don't want to ignore. With life and work being busy, I'm definitely happy with any product that can help my eyes look smoother and fresher.
The Murad Eye Lift Firming Treatment comes in a box with the pump cream and 40 eye pads. To apply, you use 3 pumps of product under the eyes. It comes out as a thick, gel-like cream and it is easy to put a good thick layer under the eyes.
You then pop on the eye pads over the cream and just let everything soak in for about 15 minutes. I liked applying the pads as it felt like it kept the product from slipping but I also know from using sheet masks that these kind of sheets help everything absorb better, so even though it looks a little ridiculous, I'm happy wearing them!
I definitely could feel a tingling as it all soaked in and after 10 minutes, it had all absorbed. It didn't leave any kind of oily or sticky feel on the skin, so I just applied my usual night moisturisers before heading to bed.
After using it a few times a week for the last couple of weeks, this definitely leaves my eyes looking fresher- the dark circles look less noticeable, the small creases at the corners of my eyes look smoother and the skin under my eyes looks tighter.
I like that it is like a little pamper ritual and you really feel as though it is making a difference to the condition of your skin.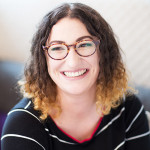 Major fan of scented candles, Make Up brushes and Highlighter. I'm always on the hunt for those Holy Grail products and my dressing table is covered in more beauty products than I like to admit. As an adopted Northerner originally from Brighton, I spend most my days wondering what all this rain is about. My hair isn't grateful for the move. Currently loving:
NIOD Photography Fluid