Want to master one of the hottest beauty trends of the year? Then look no further. Join us on the 28th April at 7pm for an exclusive student masterclass with TikTok star Abby Roberts, as she recreates a stylish Butterfly E Girl Look with her favourite LOOKFANTASTIC products.
Want to bag your front row spot? Sign up to the waitlist and be the first to join Abby live with LOOKFANTASTIC. 
Masterclass schedule
Your friendly host will run through a full outline of the schedule and you'll have the chance to send across your quick-fire questions for Abby to answer. 
Meet the star of the show Abby Roberts as she reveals the inside scoop around what it's like to be a TikTok star! 
Get your trusty mirrors and favourite beauty products at the ready as Abby shows us how to create the ultimate Butterfly E Girl Look. 
Keep your eyes peeled for 4 exclusive giveaways throughout! 
Sit tight, as the fun doesn't end here! You'll be greeted by a surprise guest who will reveal the grand finale look. Who's it going to be?
Bag yourself a selection of top beauty prizes, as our host announces our giveaway winners!
Exclusive giveaways!
Thought we couldn't spoil you anymore? Then think again. Keep your eyes peeled for our four exclusive giveaways with your favourite brands throughout. You'll be in with the chance to win over £500 worth of Anastasia Beverly Hills and NYX goodies along with an OUAI haircare bundle worth £200 and finally a Beauty Works treat worth £120! 
Recreate the look at home and shop Abby's top beauty picks
To help you create the look at home, we've curated a list of products that Abby will be using so you can follow along in real time. We're also giving you an exclusive student code (MASTERCLASS) so you can get 20% off the beauty staples!Click here to discover more. 
5 minutes with Abby Roberts
Want to find out more about the beauty guru? We caught up with Abby herself to find out how she gained such a huge following and her favourite beauty trends to brace our screens.  
You've gained such a huge following at such a young age, which is so impressive! Do you have any tips for beauty enthusiasts wanting to make a mark in the industry?
Do what is authentic to you, don't feel pressured to fit into someone else's ideas of what kind of content you should create, it's what you do different that will make you stand out. 
What is your favourite TikTok beauty trend?
Right nowI'm loving all the cream contour trends, they're not super practical but it's so fun to play around with different contour designs! 
What's been your biggest 'pinch me' moment of your career?
Working with doing Liam Payne's makeup – I grew up being a One Direction fan so it was super surreal, I don't think 12 year oldAbby could have ever imagined that would happen! 
Who's been your favourite celeb to collab with?
Such a difficult question! I obviously loved all the things I did with Liam and getting to go on his show was quite crazy. I also loved the Halloween videos I made with Yungblud and doing his makeup for the MTV EMAs red carpet was so much fun, the looks we did together were all super crazy which is exactly my style! 
Which beauty product couldn't you live without?
Lashes! I feel like a look for me is never complete without them, they just bring it all together. 
If you want to get access to this exclusive virtual beauty masterclass, join our waitlist and be the first to bag a 'front row spot'! Don't forget to use your university email address, we can't wait to see you there!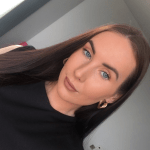 As a beauty fanatic I'm always on the lookout to try and experiment with new products! I've been writing about everything beauty for over 3 years and specialise in skincare so have plenty of tips and tricks to help put blemishes at bay and get your complexion glowing. Whilst being a content writer at LOOKFANTASTIC I've had the opportunity to collaborate with incredible brands including Tom Ford, Dolce & Gabbana and La Mer, taking my understanding of the industry to the next level. In the past I've been a freelance makeup artist and have collaborated with brands including NYX and Revolution Beauty on a personal level, sharing my makeup creations for the world to see. My ride or die brands have to be PIXI, Laura Mercier and Bobbi Brown and I can't live without my trusty MAC Velvet Teddy!