We picked up a few insider secrets when we attended the Redken Symposium. We always wondered why it is that we can never get our hair quite like it is when we leave the Salon but product cocktailing might just be the explanation.
Product Cocktailing Hair Products
What do we mean by product cocktailing? Well, it is just mixing multiple styling products to create the perfect finish.
Want texture with shine? We can do that! Usually in the salon, your stylist will mix together lots of products without you even noticing. It is a trick you should definitely try out for yourself.
The Redken team are passionate about styling products and their ability to totally transform your hairstyle. As one of their top stylists Sam Villa said to us:
Product is not an option, it is a necessity.
We took notes to find out which Redken styling products the experts like to mix together for the ultimate results. Whatever combination you are looking for, these are the product cocktails you need to try.
For Texture and Hold
If you're a fan of the choppy, textured styles that are everywhere right now but still need to fight against frizz, then this is the combo for you.
Redken Stylist Brayden Pelletier recommends mixing Pillow Proof Blow Dry Genius Extender and Powder Grip 03.
Puff on the Powder Grip over hair before spraying with the Pillow Spray and running your fingers through the hair. They will combine together to give an incredible frizz-free, texturised finish.
For Volume and Softness
Volumising products can often leave hair feeling a little matte and stiff. The Redken stylist recommned getting the best of both worlds by combining Stay High 18 Gel To Mousse and Satinwear 02.
With damp hair, apply the Stay High to the roots, massaging well. This will give you volume and lift. Then add Satinwear along the lengths and ends to give control and softness.
To Stop Static and Boost Colour
Getting hair shiny and bright without static can be a styling nightmare. The perfect mix from Stefano Santoro is Extreme Anti-Snap Treatment with the One United Multi-Benefit Treatment.
Apply the Anti-Snap Treatment to damp hair before blow drying and then boost with the One United Treatment, which you can apply to damp or dry hair, before or after styling. The two together will keep hair sleek and shiny.
For Flexible Styling on Short Hair
Having short hair doesn't have to mean you can't have fun with styling. Sam Villa talked about how styling products can give you a 'double identity', which you can change up as you like. The perfect combination is Rough Paste 12 and Powder Grip 03.
Take a small amount of Rough Paste into the palm of you hand and then spray the Powder Grip on top. Massage the two together so they emulsify before rubbing into the hair. This combo lets you play around with your style, moving from sleek and flat to textured and choppy.
To Get Matte Hold
Lots of hairsprays add shine, whilst matte texturisers don't necessarily have the hold for up-dos. The combination of Wax Blast 10 and Quick Dry 18 is the magic mix.
As you style your hair, spritz the two in layers. The Quick Dry will set your look in place and the Wax Blast will add a modern, matte finish.
For Control and Smoothness
For hair which feels silky, sleek and soft, this duo are your must-haves. The Redken team mixed together Outshine 01 and Diamond Oil Glow Dry Oil.
Apply the Glow Dry Oil to damp hair before styling, to keep hair slick. Then add the ultimate sheen with Outshine over the top. If your ends are a little dry, then add a touch more Glow Dry Oil through the ends.
For the Slicked Back Wet Look
Whilst it definitely isn't an everyday look, we have seen slicked back hair across the runways and red carpet and it can make a great statement look on a special event. For a wet look that isn't greasy, the combination of Shine Flash 02 and Shape Factor 22 is ideal.
Use a stiff, small brush to apply the Shape Factor through the roots of the hair, to slick it back into place. It will give it the hold it needs. Then, use the Shine Flash mist all over to add incredible gloss. The avante-garde style without the mess!
Why not check out the whole Redken styling range on Lookfantastic and see what cocktailing recipes you can come up with?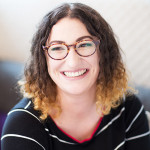 Major fan of scented candles, Make Up brushes and Highlighter. I'm always on the hunt for those Holy Grail products and my dressing table is covered in more beauty products than I like to admit. As an adopted Northerner originally from Brighton, I spend most my days wondering what all this rain is about. My hair isn't grateful for the move. Currently loving:
NIOD Photography Fluid