We love it that Fashion Week isn't just about what goes down the runway. Is there any other moment when quite as many influential fashion and beauty insiders are all in one place? We're sharing some of the best beauty looks from the streets of London over the last week.
6 Street Style Beauty Trends We Love
Burgundy Lips
We know this is always a huge Autumn trend but we love seeing it paired with a laid-back day look like this. Keep the rest of your look simple with light coverage on the skin and hair kept natural.
Get the look: Estée Lauder Pure Color Envy Sculpting Lipstick in Brazen is the perfect rich tone with a gentle satin sheen.
Caramel Tones
Lydia's golden tan, brown lipstick and caramel highlights looks perfect together. With the slightly darker lip and brows, it takes your Summer tan right into Autumn Winter.
Get the look:Vita Liberata's Body Blur helps smooth your skin tone and add even beautiful glow to the skin, ideal for extending that tan.
Braids, Everywhere
From subtle twists to full crowns, braids are everywhere. They are a great statement hairstyle with so many variations possible that can work with every look. We love how this look pairs a killer black dress with a more laid-back braided half-up do.
Get the look: The Redken Braid Aid 03 Braid Defining Lotion helps to add grip and texture to your hair so it is easier to get a perfect braid that lasts all day.
Natural Skin
Flawless skin, that almost looks unmade up is one of our top trends for the season. It looks totally effortless and polished, especially when teamed with statement fashion; this is makeup that lets your outfit do the talking.
Get the look: Hylamide Photography Foundation is incredible at giving your skin an even, radiant glow without heavy coverage. It gives an incredible, airbrushed finish that looks amazing on camera; a stree style essential!
Hollywood Glamour
We're noticing a big move back to sophisticated styles. We're talking perfect brows, red lips and beautiful waves. It looks incredible with the midi skirts and grown-up blouses we're seeing at all the shows this season.
Get the look: For a real Hollywood red lip, try the NARS Velvet Matte Lip Pencil in their limited fall edition shade Infatuted Red.
Dramatic Smoky Eyes
A statement outfit needs a statement makeup look. This all red outfit is balanced out with gorgeous deep smoky shadow; it all feels very Victoria Beckham. Plus, if you can't add a little drama in Autumn, when can you?
Get the look: For the ultimate smoky eye palette, we love the "Secret Crush" Eyeshadow Palette from PUR, with its perfect mix of shimmer and matte shadows in deep neutral tones.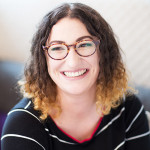 Major fan of scented candles, Make Up brushes and Highlighter. I'm always on the hunt for those Holy Grail products and my dressing table is covered in more beauty products than I like to admit. As an adopted Northerner originally from Brighton, I spend most my days wondering what all this rain is about. My hair isn't grateful for the move. Currently loving:
NIOD Photography Fluid