2017 is well and truly under way and I'm still in "new year new me" mode. It's time for a fresh start, so healthy regimes, fitness goals and beauty revolutions are go go go! I have put together my top beauty tips and secrets, alongside some product suggestions to help you shakeup your beauty routines this year.
The Best Beauty Tips to refresh your Skincare Routine
Discover some of my favourite secrets to gorgeous hair and a beautiful complexion, in collaboration with lookfantastic.
Take a Hair Supplement
Viviscal Max Hair Growth Supplement
I was super sceptical about this at first, as I feel there are so many hair growth supplements on the market that DO NOT work. However, my trusted hair dresser at Paul Edmonds gave me these, and promised me that they absolutely work. So I gave them a shot, and at first I didn't notice much (I usually look for an instant change, and this takes a few months) but when I went back to the hairdresser three months later, I suddenly saw all this new hair that had grown. The supplements aren't meant for immediate hair growth or lengthening, but they actually stimulate long-term hair growth, making them a worthwhile investment. So I am going to get more and keep going.
You can read more about the Viviscal supplements to discover why you could benefit from them!
Exfoliate your skin
Alpha-H Liquid Gold Ultimate Resurfacing Duo
This is an award-winning solution that works like an overnight facial to boost radiance and reduce the appearance of fine lines and wrinkles, revealing a youthful-looking complexion. Enriched with 5% Cosmetic Grade Glycolic Acid to remove dead skin cells and minimise pigmentation, the treatment also delivers intense hydration for smoother and decongested skin. I have just been on holiday in the sun and generally not looking after my skin very well, so this has been great to use overnight to bring my skin back to life. It's quite expensive, but it's worth it to keep your skin looking youthful.
Discover all about this iconic product and just how it came to be the cult beauty item it is today.
Use a Facial Oil
DECLÉOR Aromessence Neroli Concentrate
An all-time favourite brand of mine, the French really do do it better when it comes to skincare. As I am getting older I am enjoying using oils a lot more; I feel like they get deeper into the skin and don't just sit on top of it, so your complexion really benefits. Use two drops morning and night to leave your skin radiant and glowing.
The DECLÉOR brand has such a fantastic and rich history, which can help you to discover your next skincare product.
Try Body Brushing
Hydrea London Beech Wood Body Brush
Dry body brushing will improve your energy and well-being and is essential for the removal of toxins from your system. It's a hard habit to get into but I really feel a change when I make the effort to do it, and once you make it part of your routine you will feel and see the benefits. With this Body Brush you can increase lymphatic drainage, remove dead cells and encourage cell renewal, as well as reducing cellulite.
Use a Hydrating Cleanser
Eve Lom Cleanser
Eve Lom. The mother of all beauty brands. I find their packaging in itself irresistible. Simple, chic and elegant. This cleanser I have been using for months and have no desire to change. Combined with the Foreo facial device, they're a match made in heaven. Its doesn't dry out the skin at all, and its super hydrating texture creates a protective film over your skin. Big thumbs up from me!
Invest in a Facial Cleansing Device
FOREO LUNA™ mini - Petal Pink
I've raved about it before and I will rave about it again! Foreo is incredible. The LUNA™ mini is an innovative facial-cleansing device that directs T-Sonic™ pulsations through an ultra-hygienic silicone brush. Compact and travel-friendly, it requires no replacement. I got my Mum one a few months ago and she looked at it like I was mad, but called me up to say how great it is! So I seriously recommend you get yours from lookfantastic as soon as possible!
We sat down with FOREO's Alexandra Finlayson to discuss all things skincare and cleansing.
Take care of your sensitive skin
Avène Tolérance Extrême Cream
Another winner from the French, this is for the sensitive ones out there. My skin can be quite sensitive, and this is one of the least irritable products on the market. It's super lightweight and contains several essential skin friendly ingredients, which always rebalance my complexion. Use after the Eve Lom cleanser morning and night.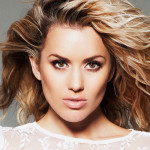 A TV personality from the UK, currently splitting my time between London and LA. I am delighted to be a Beauty Ambassador for Lookfantastic as it allows me to keep connected wherever I am in the world. I am currently in LA, pursuing acting and music, whilst sharing all my beauty secrets with you and Lookfantastic.com.