Amal Clooney is undoubtedly one of the most envied women on the planet. Not only is her style impeccable, she is also a high-flying lawyer and married to one of Hollywood's heartthrobs. However, here at Lookfantastic, it is her incredibly voluminous hair we desperately want to emulate. Those glossy locks look like they have come straight off a haircare advert, and we cannot help but be a little bit jealous! We really want to know how to blow dry hair like Mrs. Clooney...
So, we are on a mission. Now that Summer is here, and our skin and hair looks a little more sun-kissed than in Winter, it's time to seriously look after our locks and get them glowing like Mrs. Clooney's. In order to replicate her style, it's time to master how to blow dry hair and mix the right cocktail of products together to get shine, volume and hydration.
How To Get The Perfect Blow Dry
It might seem like a mammoth task, but achieving the perfect blow dry is actually easier than you think. Though you may not have the same time as your hairdresser does to dry your hair, or have the right angle to style each section individually, you can get salon-worthy results at-home with the right tools and tips. Below are all the products and tools you'll need to master how to blow dry hair to perfection.
1.
Volumise Your Hair
Before blow drying your hair, make sure to use a volumising product on your roots to help lift them. We love this one from
Show Beauty
, which contains a base of Mango, Aloe Vera, Kiwi and Lavender. Not only do these help your hair to smell beautiful, they provide essential nutrition and hydration to limp locks; helping to add bounce and volume.
We heard a little secret however
, that for her wedding, Amal Clooney's Hair Stylist, Max Coles, used the
Philip Kingsley Maximizer
on her roots to help add lift.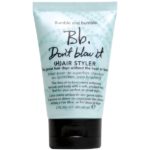 2.
Use A Blow Dry Lotion
Apply a small amount of blow dry lotion from the mid-lengths to the tips of your hair. This will help to control frizz, static and any fly-aways, and leave you with a smooth and sleek finish. This one from
Bumble and Bumble
is formulated with both UVA and UVB filters to help keep your hair protected from sun damage - perfect for the Summer months! Make sure to read our
guide on the top 5 blow dry lotions
for your hair type to choose a formulation that will give your locks the best finish.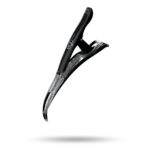 3.
Divide Your Hair
You may not be able to spend the exact same amount of time on your hair as your hairdresser, or be able to reach all the angles, but you can borrow some of their techniques. Sectioning your hair into smaller areas allows you to concentrate on one section at a time to make sure it is completely dry and has volume. It also allows you to really work your styling tools into the hair so that each section has been coiffed to perfection. We love the
ego Professional Flexigrip Clips
, which keep hair in place without any movement.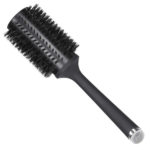 4.
Use A Barrel Brush
Using a rounded brush helps to add volume and definition to your hair. Once you have clipped the sections into place, dry each one by curving hair underneath the brush and curling up. The heat from your hairdryer, alongside the rounded shape of the brush will help to keep volume in place. Make sure to dry your hair by placing the hairdryer nozzle downwards, to help prevent frizz and encourage shine. We love the
T3 Featherweight Dryer,
which gives us glossy locks. ghd has a great selection of natural bristled rounded brushes, which help to give volume. We love
this one for normal hair
, but if you have fine hair,
opt for the thinner style
, and for thicker hair,
opt for the larger barrel.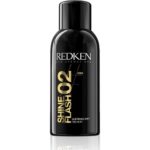 5.
Seal In The Shine
To finish your look, and give your hair some serious shine, make sure to spritz a light mist of
Redken's Shine Flash 02
all over. Infused with Vitamin B5 and Camelina Oil, the mist works to nourish and hydrate your hair, all while adding incredible gloss and vibrancy. If you are going on to curl your hair and add texture, then make sure to use
Show Beauty's Premiere Finishing Spray
, which keeps your hair in place using a unique polymer memory system. Perfect for long-lasting curls!

Our team of beauty experts cover everything from makeup to skincare, picking out the most effective products from the best brands and latest trends. Stay up to date on everything beauty with the LOOKFANTASTIC blog, and find all your essentials in one place.