As a pharmacist of almost eight years, I have always wanted to help and advise on medications that are clinically safe and effective, especially when it comes to skin products. I have worked as a prescribing pharmacist in many different areas of the pharmaceutical sector – community, primary care and hospital – whilst having hands-on experience working in the beauty community. Working as a beauty consultant alongside my pharmacist role really helped to strengthen my skincare knowledge by combining both sectors into one. 
Finding efficient, hardworking skincare has been a passion of mine for many years now. I have always been fascinated by the beauty industry and the science behind the products. Having suffered with breakouts in my adolescent years, I learnt how to manage my skin by discovering the latest scientific skincare innovations, combined with my personal interest in skincare – a passion that spilled over into my profession as a pharmacist.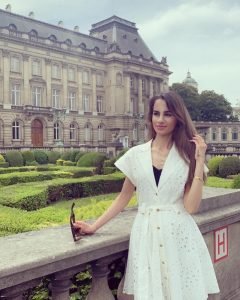 Utilising my expertise, knowledge and passion for beauty, I can advise on the best skincare suited to your skin type, the best skincare ingredients to look out for, and how to manage your personal skin concerns. 
Now we've finally entered the month of June, I've been searching for the best skincare products to update my regime. As LOOKFANTASTIC's resident pharmacist, I'm here to recommend my current favourite formulas to leave skin feeling healthy and comfortable through the summer months.
Discover my top skincare picks below...
Start your day the right way – with a microcurrent facial workout! I love this innovative device – it helps my skin to feel tighter, thanks to non-invasive pulses of electricity that work around the facial features to smooth and tone the skin. This is the perfect boost to kickstart my day, allowing me to showcase a firmer-looking complexion quickly and efficiently – and it only takes 5 minutes to use!
Top Tips: 
I also use this device to help massage products into my skin. It's suitable for all skin types too.
The device is great for keeping the muscles active, acting like an at-home facelift. But the microcurrent can be powerful, so make sure to find the right intensity for you. 
If you have sensitive skin, apply a thicker layer of conductive gel. Start at a low setting and work your way up; increase intensity slowly. 
I look forward to giving myself a daily cleanse with this creamy, non-drying cleanser, consisting of the brand's LaB6 skin-clearing complex of lactic acid, niacinamide, and mild, naturally-derived cleansing agents. The products applies as a foam, feeling gentle on my skin, and it does not leave it feeling dry or irritated. 
Top Tips: 
I'd say this cleanser is best suited to oily, blemish-prone skin – it really helps to soothe the appearance of my breakouts while thoroughly cleaning my skin. 
Lactic acid can help to smooth and refine most skin types, even if you're sensitive. However, if your skin is prone to irritation, then try limiting this cleanser to once a week. 
Although this is a gentle cleanser, avoid using around the eye area. 
This gentle, exfoliating toner is powered by five acids: salicylic, glycolic, tranexamic, lactic and malic acid, to help smooth, refine and tone the skin. It has hyaluronic acid for an added moisture boost, combined with specialised acid ingredients which are a great decongestant for the skin, helping it to feel smooth and radiant. 
Top Tips: 
This one's fine for all skin types, including sensitive skin. 
A toner is a great way to introduce your skin to acids. A tingly sensation is perfectly normal, but if you notice any signs of irritation, discontinue use immediately.
Malic acid is a great supporting acid in this formulation as it gently exfoliates while attracting moisture to the skin. 
I really love this brightening moisturiser. It has a combination of 3% azelaic acid, 2% alpha arbutin and a 5.75% phyto-botanical blend, that work together to help my skin look fresher and clearer. This is my favourite daily moisturiser to apply in the morning; the exfoliating properties help to even my skin tone and revive any tired, dull areas.
Top Tips:
The moisturiser has a lightweight texture that is oil-resistant, making it suitable for all skin types. 
If you would like to introduce acids into your skincare routine, azelaic acid is often tolerated better on sensitive skin.
This product is suitable for multiple skin concerns, such as acne-prone and dehydrated skin, as it helps to improve clarity and skin texture.
A luxe, multi-tasking moisturiser to help target signs of ageing and fatigue. Fortifying peptides and powerful antioxidants, like vitamin C ester, deliver a brightening and firming effect. The moisturiser has a blend of vegetable lipids (jojoba, soybean and olive oil) to target classic signs of skin ageing, from wrinkles and dullness to uneven tone and loss of elasticity.
Top Tips: 
This one's great for dry, dull and mature skin types. It's fragrance-free, too. 
Apply this as the last step of your morning and evening skincare routine, and don't forget the neck! 
I love the hydrating, non-sticky feel of this SPF. Formulated without that traditional suncream smell, which I personally prefer, the formulation is made with Avène's thermal spring water to soothe and protect my skin while giving high sun protection. I can quickly re-apply this suncream during the day, especially on my hands and neck, as it absorbs rapidly and blends into my skin. Overall, an impressive defensive formula offering UVA, UVB and blue light HEV protection.  
Top Tips: 
I'd recommend this formula for normal to combination, and especially sensitive, skin types.
Always add SPF as the last step in your morning routine and don't skip this step – sun protection can help to prevent premature ageing.
Wait until the suncream is fully absorbed before applying your makeup over the top.
If you are applying retinol or acids as part of your skincare routine, SPF is essential during the day.
ELEMIS's fan-favourite eye mask is now available in a supersized version. The 3-in-1 treatment can be used as an overnight mask, an under-eye primer or as a nourishing eye cream throughout the day. It features hyaluronic acid, watermelon snow algae and antioxidant-rich plant bush clover to intensely nourish and hydrate delicate eye contours.  
Top Tips: 
Mature skin types may benefit from this eye cream; it is formulated for fine lines, wrinkles and tired-looking eyes. 
The hydrating properties of hyaluronic acid can help to plump the appearance of lines around the eye area. 
The clever eye mask provides a cooling sensation to help minimise the look of puffiness. 
I am always keen to try new beauty products and love keeping up with the latest beauty trends and launches – it helps me to feel and look my best as a healthcare professional. I like to keep my skincare routine full of skin-beneficial ingredients. At the moment I'm enjoying the Indeed Labs Hydraluron range and Clinique's three-step Anti-Blemish range.