Long gone are the days whereby you had no choice but to deal with obvious roots if you hadn't been able to get to the hairdressers, or you were nervous about colouring your own hair. All thanks to fantastic advances within the hair industry, you can now confidently conceal your roots between salon appointments or home hair colouring.
Here, we'll be sharing the very best root touch-ups and instant root concealers that are so easy and effective to use, you won't be reaching for a hat anytime soon. So whether you're looking to cover greys, blend your roots, or growing out your hair colour, achieve a beautiful I-just-came-back-from-the-salon look whenever you need it.
What Is A Root Touch Up Product?
Root touch up products are available in a number of different forms including concealing chalks, sprays and pencils as well as traditional hair colourants which are intended for root touch-ups only as opposed to whole head colouring. Check out our edit on how to touch up your roots.
The Best Root Touch Ups
Available in a number of shades to blend seamlessly with your hair colour, you'll be sure to find the root touch up product that is best suited to your hair.
The best root touch up for on the go
To quickly disguise the appearance of roots or greys, call upon the L'Oreal Magic Retouch Root Touch Up. Brought to you in a handbag-friendly 75ml can, this multi-use spray blends away roots and greys in just a few sprays. What's more you can use the Magic Retouch Root Touch Up to hide obvious roots when you are growing out your natural hair colour or wanting to blend clips or seams in hair extensions.
The best root touch up for redheads
Calling all radiant redheads! Conceal pesky roots that are ruining your red with the Goldwell Dualsenses Color Revive Root Touch Up Copper Red. The silky powder formula blends seamlessly with the rest of your hair greetings the illusion of gorgeous freshly coloured tresses, all without stepping foot in the salon.
The best permanent root touch up
For root touch-ups at home that give you the long-lasting results you've been looking for, choose the Clairol's Root Touch-Up Permanent Hair Dye which is an at-home hair dye specially designed for concealing greys and fading roots that need a colour boost. Thanks to an expert precision brush with angled bristles, you will have no problem at all with a quick and easy application.
The best root concealer
Instantly camouflage roots and regrowth with the Color WOW Root Cover Up Blonde. Thanks to an easy to apply, mess-free formula, this mineral powder touch-up includes multiple pigments that help blend roots without causing your hair to look or feel greasy. Apply effortlessly on dry hair with the dual-ended brush for water and sweat resistant results that last until your next hair wash.
The best root touch up pencil
The super portable, super easy to use Josh Wood Root Marker is ideal for covering grey hairs. For instant coverage that can be applied in a jiffy, this easy to apply marker also includes an eyebrow brush for an extra helping hand when it comes to concealing greys.
The best fast drying root touch up
Redken's Root Fusion blends seamlessly with your hair to cover up roots and regrowth in no time at all. The lightweight, super-fast drying spray contains colour-concealing pigments to touch up roots in an instant.
Sick of pesky greys and banded regrowth? Root touch-ups and root concealers can be so handy to have around, we hope we've helped you find the right one for your hair.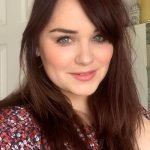 I've been writing about hair and beauty for over 10 years. I am a collector of vintage perfume and my go-to look always includes a bold pink lip! For more, visit https://www.goodgollymisshollie.co.uk