As happy as we all are to be getting out again, the outdoor only restrictions can leave you out in the cold, thanks to the unpredictability of British weather. To make sure you're looking your best for those cocktails al fresco, we've put together a guide to making your hair and makeup fully weather-proof.
Keep your cool, whatever the weather, with completely waterproof makeup, from your eyeshadow down to your lipstick. To be fully prepared for a night outdoors, you'll also need wind-proof hair, to minimise flyaways and frizz. With this guide by your side, you'll be prepared for whatever the elements throw at you, safe in the knowledge that your hair and makeup are fully weather-proof.
Waterproof makeup
Make sure your makeup stays firmly in place by choosing something waterproof. Although this can be great for holidays where you're in and out of the pool, waterproof makeup is also a must for rainy British weather.
Eyes
Eye makeup is the most prone to smudging and the biggest giveaway, so it's probably the most important part of your look to weather-proof. Eyeliner and mascara are normally the first things to go when the weather gets out of hand, or if a joke is particularly funny and you end up crying with laughter.
Going for completely weather-proof makeup protects you from all of this. If you're particularly prone to outbursts of laughter, like I am, I would recommend going fully waterproof with the eyes. Even if you're nowhere near water and the sun is shining, it's an easy way to ensure your looks stay firmly in place, no matter how funny the joke is.
Mascara:
Maybelline Lash Sensational Waterproof Mascara - Black

Skin In Motion Ltd Lift IT Waterproof Mascara - Black 8ml

Lancôme Hypnôse Drama Mascara Waterproof 01 Excessive Black

Clinique High Impact Waterproof Mascara 7ml
Eyeko Sport Waterproof Eyeliner - Black

Barry M Cosmetics Bold Waterproof Eyeliner (Various Shades)

Daniel Sandler Velvet Waterproof Eyeliner (Various Shades)
Eyeshadow: 
This may surprise you, but there are even eyeshadows available in waterproof form. If you're tired of your smoky eye transferring throughout the day, prime first and then go in with a sturdy, waterproof formula.
Too Faced Melted Chocolate Matte Eyeshadow (Various Shades)

Too Faced Shadow Insurance Eye Shadow Primer 7ml

Revlon Colorstay Crème Eye Shadow (Various Shades)
Complexion
Creating looks that stay firmly in place starts with sturdy foundations (pun intended). As your base covers different skin textures, it can be the most prone to creasing and fading. This can especially become a problem around the nose and mouth, where the most movement happens.
As well as choosing a long-lasting foundation, you'll need a trusty primer and lightweight setting spray to make sure your canvas lasts all day. benefit's Porefessional Super Setter Setting Spray can extend makeup wear to 16 hours. Water-based, the formula is infused with blurring pigments to conceal the appearance of enlarged pores. Polishing off your look and extending wear, this super spray will keep your makeup flawless, all night long.
Primer:
Bobbi Brown Vitamin Enriched Face Base 50ml

The Ordinary High-Adherence Silicone Primer 30ml
Yves Saint Laurent All Hours Liquid Foundation SPF20 25ml (Various Shades)

L'Oréal Paris Infallible 24hr Freshwear Liquid Foundation (Various Shades)

MAC Pro Longwear Nourishing Waterproof Foundation 25ml (Various Shades)
benefit Porefessional Super Setter Setting Spray 120ml

Decorté Comfort Day Mist Fix and Protect 60ml
Lips
Finally, you're going to need a lip look that will survive dinner or drinks. Rather than having to be reapplied after every mouthful, our selection has super staying power, guaranteed to last the evening.
If you're wanting to warm up your complexion, the versatile NUDESTIX Intense Matte Lip and Cheek Pencil can be used as lipstick, lip liner or blush. This waterproof pencil lasts for up to six hours, thanks to a crease and flake-resistant formula. Available in seven sultry shades, the NUDESTIX can be worn for any occasion.
Elizabeth Arden Beautiful Colour Moisturising Lipstick (Various Colours)

Urban Decay Vice Liquid Lipstick 5.3ml (Various Shades)

NUDESTIX Intense Matte Lip and Cheek Pencil 2.8g (Various Shades)
Windproof Hair
To accompany your long-lasting canvas, you'll need a hairstyle that's going to stick around. What's worse than spending hours curling your hair, for them to drop out within the first hour of date night?
The trick to long-lasting hairstyles is in the products you use. Styling products not only help your hair to look more refined, smoothing any frizz or flyaways, they also help the style to stay in place, letting you enjoy your masterpiece for longer.
For added protection, you'll also need a hair spray. Now, I don't mean the sticky stuff that leaves your locks rock hard. I'm talking about the haircare infused, fine mist formulas that nourish your hair while holding it in place.
The Color Wow Dream Coat Supernatural Spray protects hair for up to 72 hours, lasting for up to two to three shampoos. Ideal for those with colour treated hair, this formula tightens the fibres to help the hair hold onto its natural moisture for longer. The result? Healthier looking hair and silkier feeling tresses. The waterproof veil repels moisture, keeping your hair perfect.
Polish it off
Matrix Style Link Smooth Setter Smoothing Cream 118ml

Kérastase Chronologiste Thermique Blow-Dry Cream 150ml
Set it in place
After something else? Our full collection of waterproof beauty products even includes skincare, safeguarding your skin against any weather.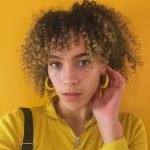 As a haircare obsessive, I'm always on the lookout for new products and methods that will define my crown. I can never stick with a hairstyle for too long, and I love to pair minimal makeup with a bold lip. I specialise in haircare, with a mission to make all hair types and textures look and feel fantastic. If you're after a new routine or product – I'm your girl, I've tried every haircare challenge and all the curl creams I can get my hands on. I couldn't live without my wash-and-go routine, and I follow the Curly Girl Method religiously. Unable to find my perfect salon, I've always cut, braided and dyed my own hair, working as a freelance hairdresser since 2016. Although I'm a long-time fanatic, I've been writing about beauty since 2019, working with haircare specialists from Cantu, Boucleme and Mielle Organics to uncover the best tricks and tips. Felicia Leatherwood is my haircare guru, and Scary Spice is my all-time icon.