There are two types of people on Halloween, those who go all out with a terrifyingly creepy look, and those who go down the cute route. From freakish clowns, to bloody Disney princesses, there are endless ways to get in the Halloween spirit.
Whatever your personal style, 31st October is the perfect time to experiment and have fun with your makeup, and here at LOOKFANTASTIC, we have all the beauty tools you need to transform yourself for the scariest night of the year.
So, in the battle of the Halloween looks, which genre will come out on top? Take a look at our roundup of creepily cute and spine-chillingly scary looks to decide for yourself.
Cute
First up, meet the cute Halloween looks we're obsessed with this year.
The sparkle skull
This glitter infused skull design from @powderedreign is giving us major Halloween glam vibes. Because who says you can't be spooky and chic at the same time?
The bold blue hues in this look are a perfect example of how you can execute Halloween makeup, without sticking to a simple black and white colour palette. When recreating a skull design, the devil is in the detail. Use a precision eyeliner to carve out your 'teeth', cheekbones and eye sockets. One you've got your stencil, fill in using a blend of rich blue and green pigments.
No glam look is complete without glitter. Apply a loose pigment to your skin using an adhesive primer, our advice? The more, the better.
If you needed more proof that Disney Princesses are an appropriate costume choice all year round, then here it is. This cute-yet-creepy look from @glambysuzie is ideal for those who don't want to scar any young children this holiday.
The best thing about this look is that it starts with a classic 'night out' makeup look. Combine a glowy foundation with a liquid highlighter for a radiant base, and use a simple smoky brown palette to define your lids.
Lastly, double up your favourite red lipstick for your perfect pout and bloody cheeks, keeping it scary and cute.
Say goodbye to winged liner and hello to batwing liner. Because doing a simple flick wasn't already difficult enough...
@aliciamayartistry is giving us serious liner-envy with this pretty yet impressive Halloween look. Kick off your vibrant lids with a creamy blend of orange and red tones. Then, take a precision liner to draw out and fill in your ghoulish bats.
Top off with a touch of red lipstick and your sassy yet spooky look is complete.
The ultimate cool-girl look for Halloween, we're dying to recreate @devonabigail's Harley Quinn makeup this October 31st.
The best thing about this look, is that you don't need to be a makeup maestro to pull it off. In fact, the messier, the better. Kick off your mis-matching lids with a bold blue hue on one eye, and a hot pink shade on the other, taking the colour down onto your cheeks in smudged lines. Top off with a touch of glitter and a vibrant strip lash for that 'messy glam' look that Harley is famous for.
Taking a precision liner, give yourself a heart shaped beauty spot and, for those who are good at writing backwards, print the word 'ROTTEN' on your cheeks. A bold red lip is the ideal finish for this perfectly undone look.
Scary
You've seen cute, now it's time to meet the terrifying looks that will satisfy your ghoulish cravings this Halloween.
The smiler
Proof that a smiley face isn't always a friendly one. This freakishly good Halloween look from @powderedreign is enough to keep us up all night.
This creepy look begins with a poreless base, so take an airbrushed foundation for a seamless, blurred effect. Using a trio of black, red and white eyeliners, draw on your exaggerated smile and bloody cuts. Lastly, top off the look with some dramatic lashes, because we still want to slay our eye look (even on the scariest day of the year).
Notorious for giving people nightmares, we won't be able to forget @suziegee.mua's clown-inspired look in a hurry.
This look is all about smudgy outlines and high contrast colours, so a smokey palette is essential. Taking the darkest shade, start by creating a smudgy, blown out eye look, extending the colour in a line right down the centre of your eyes.
Creating your terrifying smile using a deep black lipstick in combination with your shadow. No spine-chilling look is complete without some fake blood. Drip a deep red liquid blush around your mouth, fingers and neck to finish off your freaky ensemble.
If there's one look you're going to be seeing everywhere this Halloween, it's this one. @makeupbycharleybp's recreation of the doll in Netflix's hit series Squid Game is scarily accurate and totally creepy. We're obsessed.
Starting with a matte base, take a white and black eyeliner and draw out your oversized, doll-like eyes. A sharp contour is essential to achieving that puppet-like look, so take a contour stick and carve out your cheekbones and chin.
Complete your terrifying transformation with spritz of liquid blush blood. Our top tip: use a hard bristled brush to flick the colour onto your face for an authentic look.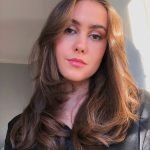 As someone with an affinity for all things beauty, discovering fantastic new products is my not-so-secret obsession. Over the years I've tried and tested a mountains worth of creams, serums and cleansers, finding some of my favourite 'holy-grail' products along the way. However, I'm always on the lookout for more ways to nourish my hair, perfect my dewy base, or enhance my skincare routine. Working as a beauty blogger for over 3 years, I've been lucky enough to collaborate personally with lots of amazing beauty brands including Christian Dior, The Body Shop and Dermalogica. I've used the Dermalogica special cleansing gel religiously since I first got it and their products are some of my ultimate skincare faves. When it comes to cosmetics, NARS Sheer Glow foundation is definitely my go-to - I live for a light, glowy base!