Clean beauty brand Kora Organics has just landed at LOOKFANTASTIC! Certified organic, toxin-free and cruelty-free, the brand sources highly-active organic ingredients that help to transform your complexion and deliver powerful results. We caught up with founder, Miranda Kerr, to discover more about the brand that's taking the beauty industry by storm.  
Q&A with Founder Miranda Kerr
How did Kora Organics begin?  
KORA Organics was born out of my desire to use healthy organic skincare that delivered powerful results. I was taught that health is wealth from a young age as when I was 16 my mum got cancer in her spleen and we started researching more of the ingredients in all the products we were using. We were shocked to see how toxic certain ingredients can be that were in products deemed safe. From this I decided to create KORA Organics, a label with powerful yet healthy skincare products that are approved by a strict world certification agency.The brand was launched in my home country of Australia in 2009 and is now sold across 30 countries making us the global leader in organic skincare! 
As the CEO of the brand, what does a typical working day look like? 
As a working mother no two days are the same for me. I work from home, so I try to schedule meetings and calls during my children's nap time and school. I am usually up by 5:30am to do my morning mediation and skincare routine.This alone time is very important self-care time for me and helps set the tone for a great day! 
After a morning walk, I usually begin calls and virtual meetings around 9am. I do my Live Instagram series "Wellness Wednesdays with Miranda" every Wednesday and when I'm not on calls I'm usually shooting various content for KORA such as virtual masterclasses, podcasts and skincare routines.I generally try to be done with work by 5.30/6pm so I can relax and carry outmy evening bedtime ritual. 
Why was it important to you that the brand was organic?
Our skin is our largest organ and what we put on it sinks in. People are concerned about eating natural and organic, so why wouldn't we take that same approach and care with the products we are putting on our skin? It was important from day one that KORA was certified organic as having that transparency about the ingredients is just as important as the efficiency of the products.  
What does your morning skincare routine consist of?
I keep the Turmeric 2in1 Exfoliating Mask in the shower and use it every morning as an invigorating exfoliation scrub. Then I use the Balancing Rose Mist followed by the Noni Bright Vitamin C Serum, which contains a 12% Vitamin C Superfruit complex to help brighten and firm your complexion. I then use the Noni Glow Face Oil, which I press into my skin or massage in using ourGua Sha Rose Quartz Heart Facial Sculptor to help the oil penetrate deeper and help depuff and sculpt my face.This combination is so powerful - it's like an at-home mini facial, and also a great way to prep your base for makeup! 
What products would you recommend for a night time skincare regime?
First, I double cleanse with the Cream Cleanser, then follow with the Noni Night AHA Resurfacing Serum. This product has helped me so much with my pigmentation, pore and fine lines. I then follow this with the Noni Glow Sleeping Mask. It's like a coconut jelly that you apply all over and it dies as a translucent veil so it won't rub off on your pillow. It contains hyaluronic acid to really lock in moisture and hydrate you skin.The combination of all these is the BEST overnight treatment – I wake up with fresh, hydrated, plump and glowing skin.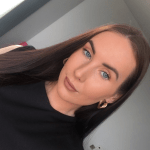 As a beauty fanatic I'm always on the lookout to try and experiment with new products! I've been writing about everything beauty for over 3 years and specialise in skincare so have plenty of tips and tricks to help put blemishes at bay and get your complexion glowing. Whilst being a content writer at LOOKFANTASTIC I've had the opportunity to collaborate with incredible brands including Tom Ford, Dolce & Gabbana and La Mer, taking my understanding of the industry to the next level. In the past I've been a freelance makeup artist and have collaborated with brands including NYX and Revolution Beauty on a personal level, sharing my makeup creations for the world to see. My ride or die brands have to be PIXI, Laura Mercier and Bobbi Brown and I can't live without my trusty MAC Velvet Teddy!