Sexual wellness has well and truly boomed in the last 18 months, with more people looking to make up for the intimacy drought experienced by many throughout the dreaded 'pandemic-driven lockdown'.
Attitudes to sex have changed significantly over the last few decades. According to Natsal (National Survey of Sexual Attitudes and Lifestyles), the percentage of 16 to 44-year-olds living in Britain who view one-night stands as "wrong" fell substantially between 1990 and 2010, from around 50% to around one in five. This is something we're seeing increase as sex becomes less  taboo within society and a more holistic approach is taken to the topic.
So, we decided to take a deep dive into all things sexual wellness around the globe to determine the latest trends, top selling sexual wellness products and the areas celebrating sex the most!
Sexiest Cities
We analysed Google search data over the past year, for both UK and global cities to calculate a sexual wellness score for each location. We then combined these searches with internal data to reveal which cities are embracing their sexuality and championing sexual wellness around the world. The search terms analysed and ranked by each city include:
Monthly search volumes for STI tests
Monthly search volumes for Pornhub
Monthly search volumes for OnlyFans
Monthly search volumes for masturbation
Monthly search volumes for sexual products
Each metric is then given an index ranking to help calculate each city's sexual wellness score out of a total of 500.
The world's sexiest cities
| | | | | | | | | |
| --- | --- | --- | --- | --- | --- | --- | --- | --- |
| Rank | City | Country | STI test SV | Pornhub SV | OnlyFans SV | Masturbation SV | Sexual products SV | Sexual Wellness score (/500) |
| 1 | London | UK | 100 | 98 | 98 | 98 | 100 | 494 |
| 2 | New York City | USA | 99 | 97 | 98 | 98 | 99 | 491 |
| 3 | Los Angeles | USA | 98 | 96 | 98 | 97 | 97 | 486 |
| 4 | Sydney | Australia | 92 | 93 | 96 | 93 | 98 | 471.7 |
| 5 | Chicago | USA | 96 | 91 | 96 | 93 | 95 | 470.7 |
| 6 | Melbourne | Australia | 94 | 89 | 95 | 89 | 96 | 462.6 |
| 7 | Houston | USA | 97 | 89 | 92 | 89 | 93 | 459.6 |
| 8 | Toronto | Canada | 94 | 85 | 89 | 89 | 94 | 450.4 |
| 9 | Paris | France | 64 | 100 | 89 | 100 | 86 | 438.4 |
| 10 | Atlanta | USA | 91 | 85 | 89 | 84 | 90 | 438.3 |
London tops list as world's sexiest city
London tops the leaderboard as the world's sexiest city with a total sexual wellness score of 494 out of 500. London achieved a high ranking when looking at search volume data across PornHub, OnlyFans and masturbation. The UK's capital city ranked number one in the world for people searching for STI tests which is an excellent reflection of the health-conscious population. The city also ranked number one when looking at the number of searches for sexual products, ranging from more traditional vibrators to more experimental toys, showing Londoners are open to spicing up their sex lives.
NYC ranked as world's second sexiest city
New York City comes in second place with a score of 491 out of 500, ranking in the top three cities for searches across all five metrics, making it one of the most sexually empowered cities in our study!
LA, Sydney and Chicago round out the top 5
Los Angeles, California follows with a score of 486, with Sydney, Australia coming in fourth place thanks to its high score of 471.7. Chicago rounds out the top five with a score of 470.7. These big cities are all pretty liberal when compared to other smaller locations within the same regions. Larger cities are always much more likely to be sexually liberal due to the melting pot of people and personalities allowing a more relaxed attitude towards sex and sexuality.
The UK's sexiest cities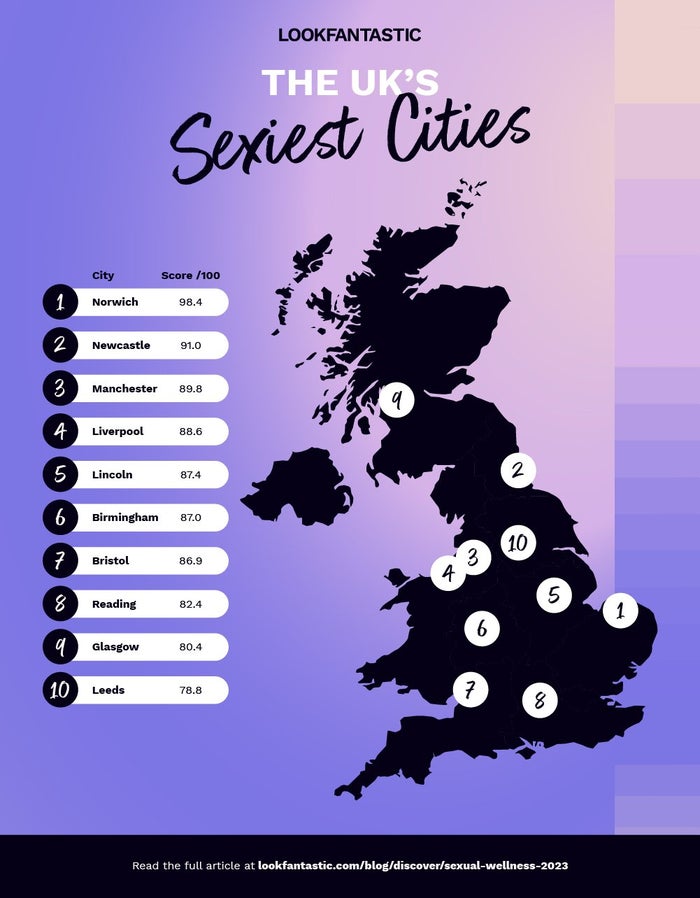 When it comes to the UK, where takes the top spot on the sexual wellness leaderboard?
Norwich is revealed to come top in the ranking of the UK's sexiest cities, with a score of 98.36 out of 100. The small city in Norfolk has the highest number of sex-related Google searches in proportion to the population. Norwich also had the largest number of searches for both Pornhub and OnlyFans, as well as for sexual products in proportion to the population size, out of all cities in the UK.
Newcastle ranked second with a total score of 91.02 out of 100. Seemingly less surprising since the Northern city is renowned for its party lifestyle and thrilling nightlife. Newcastle scored in the top 5 per capita search volume across sex products, OnlyFans, and searches for STI tests.
Manchester comes in third with a score of 89.82 out of 100, after ranking in the top two cities for masturbation search terms per capita, falling only behind Nottingham.
Liverpool comes in fourth with a score of 88.58, followed by Lincoln which rounds off the top five with a score of 87.36.
UK's Sexual Health Hotspots
Liverpool ranks number one out of every UK city for searches for STI tests per capita, showing that although they might be having fun, Liverpudlians take their sexual health seriously and are getting tested frequently.
Birmingham takes second place, whilst Norwich follows in third place. Leicester and Newcastle round out the top five sexual health hotspots in the UK.
Despite stereotypes, STIs are not just a 'young people' problem. If we want people of all ages to embrace their sexual wellness then it is important to acknowledge that there are no age restrictions to contracting a common infection.
According to a report by the Local Government Association, sexual health behaviour is changing leading to more demand for sexual health services. In fact, the report highlighted that the number of STIs diagnosed in people over 65 is increasing! This means as sex habits change in this generation, an emphasis needs to be put on recognising your sexual health within your wellness.
To fully embrace your sexual wellness, it is important to practise safe sex and get tested regularly to reduce the risk of contracting or transmitting infections.
UK's pleasure capitals
Pleasure and masturbation are two topics that have absolutely exploded into the self-love zeitgeist. Statistics say that around 27% to 40% of women and 41% to 65% of men masturbate each month. However, this number is likely significantly higher, but due to the stigma surrounding masturbation, many people still feel shame about the subject. A 2019 survey revealed that 25% of people watch porn every single time they masturbate. We wanted to find out which cities were embracing their self-pleasure the most by analysing the number of searches for sexual products and toys in proportion to the population.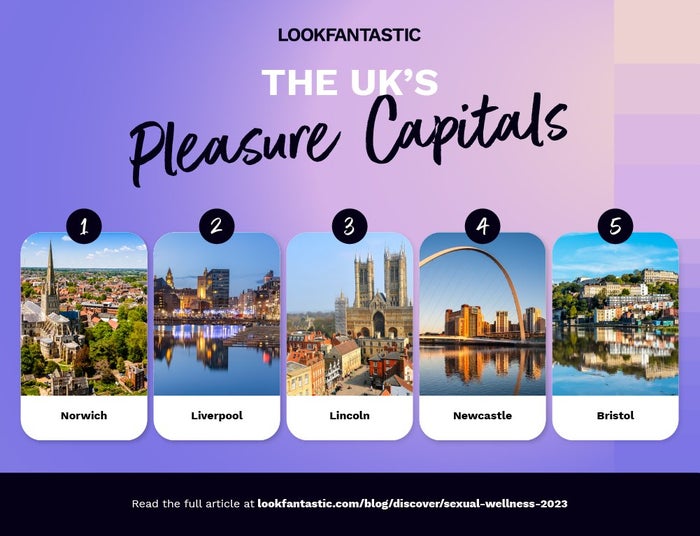 Norwich retains its sexual wellness crown and tops the list of self-pleasure capitals in the UK, with the highest number of searches for sex products in proportion to the population. Liverpool and Lincoln follow, whilst Bristol makes an appearance in the rankings with the fifth-highest demand for sex products in the UK.
The most popular sexual wellness products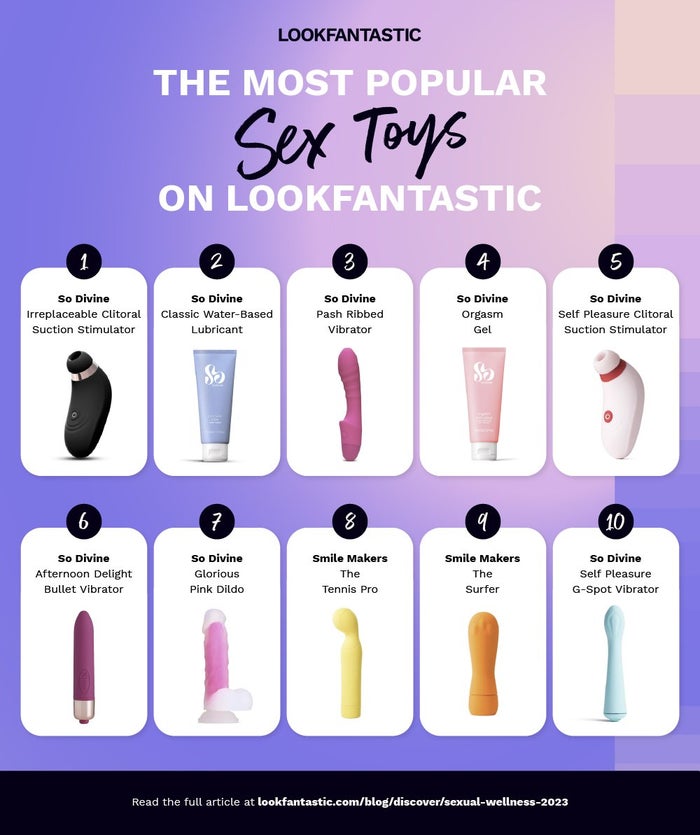 So Divine's Irreplaceable clitoral suction stimulator came in as the number one sexual wellness product sold in the UK. Clitoral suction toys have massively taken over the sex-toy space in recent years, and the So Divine options offer a really affordable alternative for this style of product.
Two different So Divine lubricants rank in the top five most popular products. Lube increases pleasure by reducing friction and enhancing sensation, so can be a great thing to introduce according to the sexperts.
The So Divine Pash Ribbed Vibrator ranks as the third most popular sex product and is the most popular product providing more internal stimulation than a classic vibrator.
Of course for many women, sex toys and products play a large role in both sexual wellness and self-pleasure. In fact, it's reported that approximately 50% of people with vaginas have used a vibrator.
Cameron Long-tel, Sexpert and Sex Educator, LELO offers tips on how to figure out which products to go for:
"When thinking about what toy is right for you, you need to think about what you want from the toy. Do you want external stimulation and are looking for something simple like a bullet or clitoral vibrator? Or do you want something more elaborate that can work both internally and externally, like a rabbit or a g-spot vibrator? Are you looking for a toy you can use with a partner to enhance your experience? Of course, there is no such thing as the perfect toy, as with a healthy sex life sometimes you need to switch things up a bit."
Studies have shown that the average number of sex toys owned by both men and women is three! Whether looking for your first toy or your fifth, explore different options and see what you enjoy as part of your collection.
2023 Sexual Wellness Predictions
1. People want ethical erotica
As we grow more conscious of what really is behind many mainstream adult content platforms, conversations around ethics in porn have become much more common. Ethical porn is content that sticks to workers' rights, including pay, safety and treatment, according to sex educator Evie Plumb, who says that performers' pay, safety and treatment are put first, whilst "consent, sexual health and credit are paramount."
Many Gen Z people are turning away from traditional porn videos for a wider net of erotica. Audio-focused Dispea or erotic novels are gaining fast traction among younger people.
2. Sex toys for men are becoming more popular
Men's sexual wellness as a topic has been growing rapidly over recent years, with search demand for the term growing by over 200% in the last 12 months. Toys aren't just for women who want a bit of extra stimulation, they can also add more intensity and pleasure for people looking to spice things up. Some popular male sex toys include the So Divine Men Vibrating Stimulator and the LELO Hugo Prostate Massager.
3. Customers are investing in higher quality lube
People are starting to pay attention to what they're using down there, in a bid to minimise the risk of infections that can come from using poor-quality lube. Instead, it is a great idea to invest in a condom and toy-safe lube that isn't going to disrupt the biome of your vagina, such as the LELO Personal Moisturiser. Look for a pH-balanced formula that doesn't encourage bacterial overgrowth.
CBD is also seeing a massive surge in demand and popularity in the bedroom, with Google trends showing an increase of over 2500%. CBD lube is said to heighten sensation, decrease inflammation, increase blood flow, relax muscles and provide better orgasms for women, especially those who often experience pain during intercourse.
4. Aftercare for all
Aftercare is a practice that originated in the BDSM community but has been made applicable to all sexual encounters to help prevent the post-sex blues felt by many. The practice essentially describes the extra TLC needed to stave off a chemical crash after all those feel-good hormones. The practice is encouraged in the same vein as love languages are analysed and personality types are quizzed and are likely to become much more commonplace between more casual sexual encounters.
5. Sexfluencers
Influencers exist in every niche imaginable: from beauty, food and books, to therapists, exam revision and even sex. Social media has allowed people to create brands, informing and advising people of a multitude of different projects, and sex is no different. Sexfluencers enable taboos to be broken, any feelings of shame to be overcome, and help close the pleasure gap as they share educational and empowering content online.
Oloni, author of the Big O, and host of Podcast Laid Bare is objectively one of the most famous sex and relationship experts in the UK. However, she is not alone. More people are heading to social media, namely TikTok, in search of sexual wellness advice, and of course, tips to adopt in their own relationships. Another emerging Sexpert to watch is milliegshields, who empowers women to be proud and share their self-love journeys online.
To explore your own sexuality and figure out what product best suits your needs, explore our sexual wellness products today.
Methodology
The Search Volume data for the keywords were gathered for each city, and then the total number of searches were ranked out of 100. Internal Data was used to obtain values on how many Sexual Wellness products had been purchased from each country, these values were then ranked. The Search Volume data for the keyword 'Sexual Wellness' was gathered for each city, and then the YoY Trend % was ranked out of 100, to find the city with the highest increase in searches in 'sexual wellness'. If multiple cities have the same search volume for a certain keyword, the one with a higher trend data will rank higher
Working with brands at LOOKFANTASTIC for over two years I have developed my knowledge of all things beauty from key skincare concerns to niche makeup tricks and haircare hacks. I have a major passion for finding effective solutions that are easily accessible to everyone so that we can all achieve our best, glowing complexion.