Can't tell your AHA's from your BHA's? Not sure if acids are suitable for your sensitive skin? Then you've come to the right place! We caught up with Medik8 who shared the in's and outs of acids. Their results-driven exfoliating acid formulas are designed to resurface and smooth the appearance of skin, while visibly brightening stubborn skin concerns.
The Medik8 difference
You can be rest assured that Medik8 takes every step to avoid any unnecessary discomfort with exfoliating acids. When developing their exfoliating acid products in their in-house laboratory there are many areas they take into consideration: careful selection of what exfoliating acids they use based on extensive research, trialling and testing different inclusion levels (%), and experimenting with different ways of delivering the acid to the skin. Medik8 also ensures that their directions of use are crystal clear and combine these amazing ingredients with hydrating and nourishing actives to counteract any drying or flaking. Medik8 believes that when exfoliating acid use is done right, they are comfortable on the skin and can promote a healthy skin barrier, resulting in smooth, glowing, resilient skin.
How do acids actually work?
Before we get into the different acid products at Medik8, let's look at how they actually work. Exfoliating acids break down the bonds between skin cells to allow them to shed off more easily, helping to stimulate a faster skin cell turnover. As a result, they can help to resurface the texture of the skin and minimise the appearance of hyperpigmentation. They can even reduce congestion and the likelihood of blemishes forming while smoothing the appearance of fine lines and wrinkles.
There are many different exfoliating acids to choose from, and it's super important to tailor your 'acid wardrobe', as Medik8 likes to call it, to your individual skin type and your concern.
AHA vs BHA vs PHA
So, let's meet our 3 types of exfoliating acids: AHA's, BHA's and, PHA's. They all have different ways of working on the skin, all with slightly different end results.
AHA - Alpha Hydroxy Acid. Usually water soluble and work to exfoliate the upper layers of the skin. Examples include Glycolic Acid, Lactic Acid and Mandelic Acid.
BHA - Beta Hydroxy Acid. Oil soluble and can therefore penetrate deep into pores, unclogging blockages to prevent blemishes. Examples include Salicylic Acid.
PHA - Polyhydroxy Acid. Water soluble and made up of big molecules therefore they stick to working on the top surface of the skin. Examples include Gluconolactone.
Medik8's acids
Now we've met each type of acid, let's get into some of Medik8's powerful acid products in detail!
Wake up to visibly brighter, smoother, and decongested skin with Medik8's Sleep Glycolic Serum. With an innovative take on at-home, high-strength glycolic acid, the hydrating leave-on treatment delivers the powerful exfoliation potential of this AHA in a way that helps to keep our skin barrier in good health. Recommended for use 2-3 times a week, the Sleep Glycolic Serum is crafted with time-release technology that gradually delivers the 10% true glycolic acid throughout the night, minimising any potential for irritation. This is ultimate glycolic power without the downsides, it's a true overnight sensation!
Your secret weapon. Visibly reduce breakouts in just 24 hours* with Blemish SOS. This rapid action treatment gel works quickly to diminish the appearance of blemishes while remaining completely invisible on the skin. Infused with maximum strength Salicylic Acid (a BHA) and soothing Niacinamide, the dual-action formula helps to clear pores and calms visible inflammation to promote a flawless, healthy-looking complexion. Complete with a handbag-friendly tube, this fuss-free gel can be used at home or on-the-go to see you through any skin emergency.
*Results may vary per person
Finally, we have Medik8's Blemish Control Pads, designed to reveal a visibly clear, decongested complexion. Soaked in maximum strength BHA salicylic acid (2%), the innovative water-based serum provides effective exfoliation while keeping skin hydrated. Perfect for blemish-prone skin, it's also suitable for use up to twice a day.
Top tips for keeping your skin barrier healthy when using exfoliating acids:
1) SPF is a must! It's important to use in any skincare routine but especially if you use acids, as some can leave skin more susceptible to sun damage.
2) Moisturiser! Following each acid use with a moisturiser can keep skin comfortable and the skin barrier replenished.
Shop all Medik8 at LOOKFANTASTIC.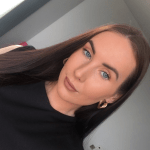 As a beauty fanatic I'm always on the lookout to try and experiment with new products! I've been writing about everything beauty for over 3 years and specialise in skincare so have plenty of tips and tricks to help put blemishes at bay and get your complexion glowing. Whilst being a content writer at LOOKFANTASTIC I've had the opportunity to collaborate with incredible brands including Tom Ford, Dolce & Gabbana and La Mer, taking my understanding of the industry to the next level. In the past I've been a freelance makeup artist and have collaborated with brands including NYX and Revolution Beauty on a personal level, sharing my makeup creations for the world to see. My ride or die brands have to be PIXI, Laura Mercier and Bobbi Brown and I can't live without my trusty MAC Velvet Teddy!