When it comes to skincare, the earlier you start creating a routine to suit your skin type and its specific needs, the better. By the time you reach your 30s, you may find dark circles are more prominent under your eyes, with fine lines and wrinkles also starting to appear.
Eye cream can be extremely useful in helping you to get on top of the earlier signs of ageing. We have previously discussed how your skin ages in your 30s and as the skin is typically more delicate around the eye area, your eyes are one of the first places to start showing the signs of natural ageing.
What Is The Best Eye Cream For the over the 30s?
Adding an eye cream to your routine is the perfect way to replenish and rejuvenate your eye area. Here are some of the best anti ageing eye creams for 30+...
The best anti ageing eye creams for puffy eyes
You may find that your eyes are looking puffier. Target the visible signs of ageing in your 30s with the Filorga Optim-Eyes Eye Contour Cream. This triple-action eye cream works to tackle dark circles, puffy eyes and fine lines. Utilising a potent blend of Hyaluronic Acid and NCTF (Filorga's exclusive complex), this vitamin-rich eye cream aims to plump skin and reduce the appearance of wrinkles and fine lines.
The Elemis Peptide4 Eye Recovery Cream is a luxurious formula that works to brighten, revive and refresh tired eyes. The lightweight, quick-absorbing treatment targets under-eye dark circles, whilst soothing puffiness and diminishing signs of fatigue for eyes that look well-rested and revitalised.
The best anti ageing eye serums
The BIOEFFECT EGF Eye Serum is a potent anti-ageing eye treatment which addresses the signs of ageing and fatigue around the delicate eye area. The refreshing, gel-like serum effectively reduces the appearance of fine lines, wrinkles and puffiness, as well as significantly firming and brightening the skin's appearance.
Suitable for all skin types, Combat ageing around the delicate eye area with Sarah Chapman's Skinesis Eye Recovery, a multi-functional formula that is enriched with vitamins and antioxidants to target dark circles, puffiness and visible lines around the eyes.
The best eye creams for tired eyes
The 111SKIN Celestial Black Diamond Eye Cream is designed to improve the appearance of more advanced wrinkles while tightening and brightening the delicate eye area. Black Diamond technology and added liquorice root works on lightening hyperpigmentation to make your eyes look wide awake.
Alleviate tired eyes with Erno Laszlo's Multi-Tasking Eye Gel Cream. This hybrid eye treatment has the nourishing properties of a serum, infused with a textured cream that easily melts into the skin. This serum works to dramatically reduce the appearance of fine lines, bags, puffiness and dark circles for a well-rested look.
The best luxury anti-ageing eye creams
Combat the visible signs of ageing with the gorgeous Caudalie VineActiv Energizing and Smoothing Eye Cream, this gentle cream works hard to visibly reduce the signs of ageing and fatigue around the delicate eye area. Offering brightening and anti-wrinkle properties, this luxe cream refreshes and revitalises whilst smoothing the eye and lip contours for younger-looking skin. Vitamin C restores a healthy glow and Vitamin E provides antioxidant protection.
Looking for a cooling, ultra-hydrating gel serum to moisturise and awaken your eyes? Look no further than the BIOEFFECT EGF Eye Mask Treatment. It's double the magic here with this two in one anti-ageing eye cream solution.  Including 1 anti-ageing eye serum and 8 hydrogel eye masks this effective solution targets various areas of concern, such as fine lines, wrinkles, puffiness and dark circles, promoting a bright and youthful-looking appearance.
The Set Contains:
EGF Eye Concentrate (1 x 3ml)
Imprinting Eye Mask (8 x pairs)
By easing into a dedicated skincare routine now and using one of the aforementioned eye creams, you'll be helping nourish the delicate skin around your eyes to help combat the onset signs of ageing in your 30s.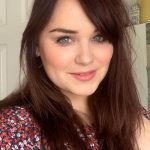 I've been writing about hair and beauty for over 10 years. I am a collector of vintage perfume and my go-to look always includes a bold pink lip! For more, visit https://www.goodgollymisshollie.co.uk