To achieve a flawless base, you can call upon makeup sponges to get the job done with minimal effort. Available in a number of different shapes and sizes, there's a makeup sponge to work effortlessly with your favourite foundation or face powder.
If you're wondering how to actually use a makeup sponge, or aren't sure about which makeup sponge would best suit your desired look whether it be light, medium or full coverage, we can help! Our beauty experts have pulled together the best in class beauty sponges that will revolutionalise the way you apply your makeup.
How does a makeup sponge work?
Makeup sponges are a great alternative to using your hands, or makeup brushes to apply your base. Made from a foam that can hold water, when gently dampened, a makeup sponge effortlessly blends foundation and applies powder with finesse. You can also buy silicone-based makeup sponges which allow for even less product wastage.
Beauty sponges typically have three sides, a large rounded side for foundation application, a precision tip for when you need a delicate application and a flat edge for contouring. When the makeup sponge is bounced over your face, it buffs in your base seamlessly.
How to look after your makeup sponge
To avoid spreading bacteria around your face, you must wash your makeup sponge after every use. Makeup sponges are incredibly easy to wash by lightly soaping them with a gentle shampoo up under warm water. Once clean, wring out the excess water and allow the makeup sponge to completely dry through.
The Best Makeup Sponges
When it comes to beauty tools that get the job done, you can rely upon Real Techniques to deliver. The Real Techniques Miracle Complexion Sponge is ideal for use with powder, cream and liquid makeup products. Made with large rounded sides to stipple your favourite base products into your skin, the precision tip applies product to conceal blemishes and the flat edge blends foundation and concealer into the contours of your face.
Looking to complete your base makeup with as minimal effort as possible? Let your makeup sponge do the work by choosing the brushworks HD Wonder Sponge. This latex-free three in one design caters for all your makeup needs. Use the rounded side for applying your foundation, the flat side for expert contouring and the pointed tip for working around your eyes and nose.
Create a seamless and airbrushed finish with the NYX Professional Makeup Complete Control Blending Sponge. This ultra-soft and easy to use makeup sponge contains two bevelled sides for the easy application of creams, liquids and powders. The precision tip is ideal for those hard to reach areas such as around the nose and corners of the eyes.
Converted to makeup sponges? Give them a try and see what flawless airbrushed results you can achieve.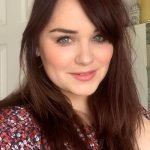 I've been writing about hair and beauty for over 10 years. I am a collector of vintage perfume and my go-to look always includes a bold pink lip! For more, visit https://www.goodgollymisshollie.co.uk