As a nation of animal lovers, spoiling our fur babies has become one of our favourite pastimes. Over the last year, we've had more quality time than ever to spend with our pets, and many of us have taken this opportunity to give them a little extra TLC. Whilst most pets aren't barking mad about bath time, we all want to keep them super soft and smelling fresh as a daisy. For all those pet parents out there who like to groom at home, OUAI has the purrrrrfect product to pamper your fluffball with their new FUR BÉBÉ shampoo.  
Formulated with natural ingredients, this gentle, all-vegan wash cleanses and hydrates the skin, whilst conditioning your pet's coat to leave it super soft and shiny. Aloe Vera adds moisture and Hydrolyzed Vegetable Protein improves fur strength, whilst Rambutan Seed Extract's natural antioxidant powers help to protect the coat from pollution. What's more? For those who love twinning with their furry friends, FUR BÉBÉ is scented with the same Mercer Street Fragrance infused in their fine, medium and thick shampoo and conditioner range, so why not have a pamper night together?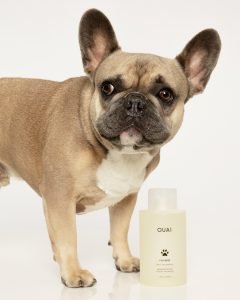 When washing your pets, it's extremely important to be careful about which ingredients you are using, as certain chemicals can irritate their skin, and even leave it vulnerable to infections and parasites. OUAI's formula is completely free from harmful ingredients such as parabens, SLS, SLES and phthalates, making it super safe and gentle to use on your pet's delicate skin. Whether you're looking to pamper your pooch, care for your cat or bathe your bunny, FUR BÉBÉ will cleanse their coat and leave them looking fur-bulous!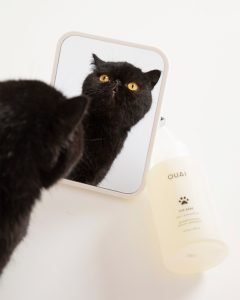 3 Steps to the purrrrfect coat 
Step one: Start by brushing your fur baby before shampooing.  
Step two: Now it's time to wet your pet's coat – massage FUR BÉBÉ liberally from the backs of the ears, all the way to the tail (making sure to avoid the eyes).  
Step three: Rinse well and towel dry to reveal their paw-some new look!  
Want to smell as good as your pooch? Discover the OUAI range and find products to suit your unique hair type and thickness!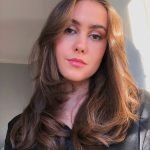 As someone with an affinity for all things beauty, discovering fantastic new products is my not-so-secret obsession. Over the years I've tried and tested a mountains worth of creams, serums and cleansers, finding some of my favourite 'holy-grail' products along the way. However, I'm always on the lookout for more ways to nourish my hair, perfect my dewy base, or enhance my skincare routine. Working as a beauty blogger for over 3 years, I've been lucky enough to collaborate personally with lots of amazing beauty brands including Christian Dior, The Body Shop and Dermalogica. I've used the Dermalogica special cleansing gel religiously since I first got it and their products are some of my ultimate skincare faves. When it comes to cosmetics, NARS Sheer Glow foundation is definitely my go-to - I live for a light, glowy base!