With Easter around the corner why not make a statement for the big day? Whether you want to experiment with spring pastels or try something new, we've rounded up the hottest makeup looks from our beauty experts for you to trial! 
Perfect pastels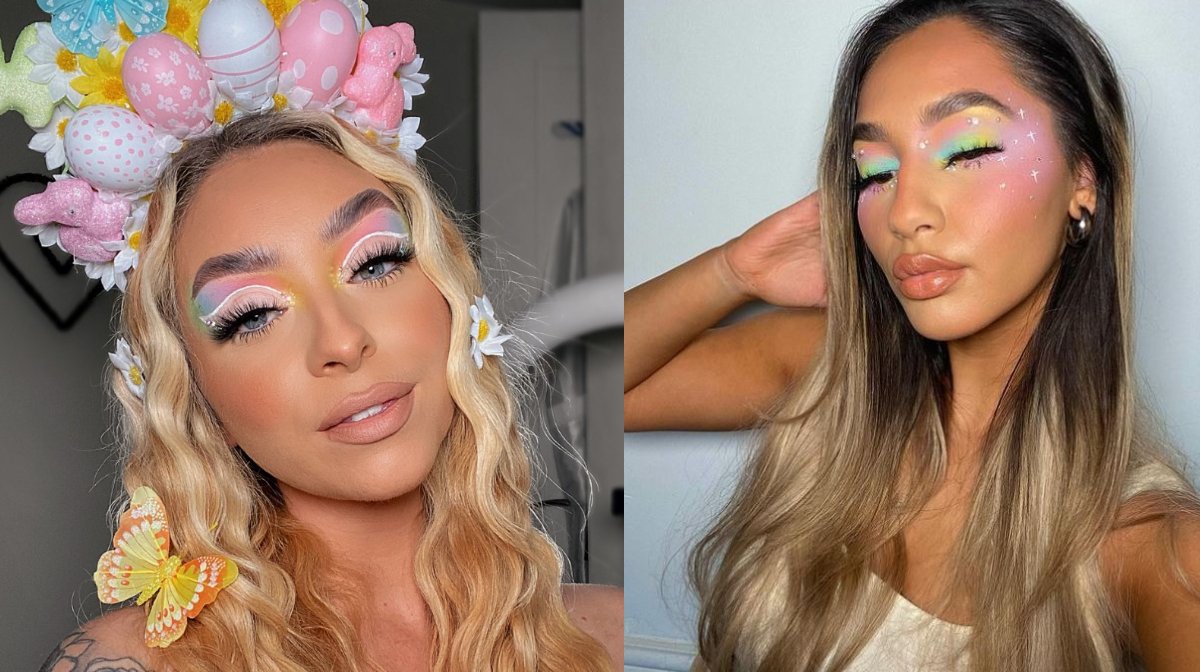 With spring approaching, now is the perfect time to delve into pastels to create fresh, playful looks!
Step 1: For this look we recommend starting with a full coverage base to really make your shadows pop. We love using the Estée Lauder Double Wear Stay-in-Place Makeup to cover up any imperfections, leaving you with a flawless canvas. 
Step 2: Now it's time to get creative! Take the Barry M Cosmetics Baked Eyeshadow Palette Paradise and select which shadows you'll be using. Take one shadow at a time and buff gently into a section of your lid. Once all the colours are packed on, take a clean fluffy blush and blend them all together to get a seamless finish. 
Step 3: Finish off your look with a killer pair of lashes to really make your eyes stand out. If you're after a soft glam finish instead, we recommend sweeping a coat of the Eyeko Black Magic: Cocoa Edit Mascara in brown onto your lashes to create a more natural finish.  
Spring glow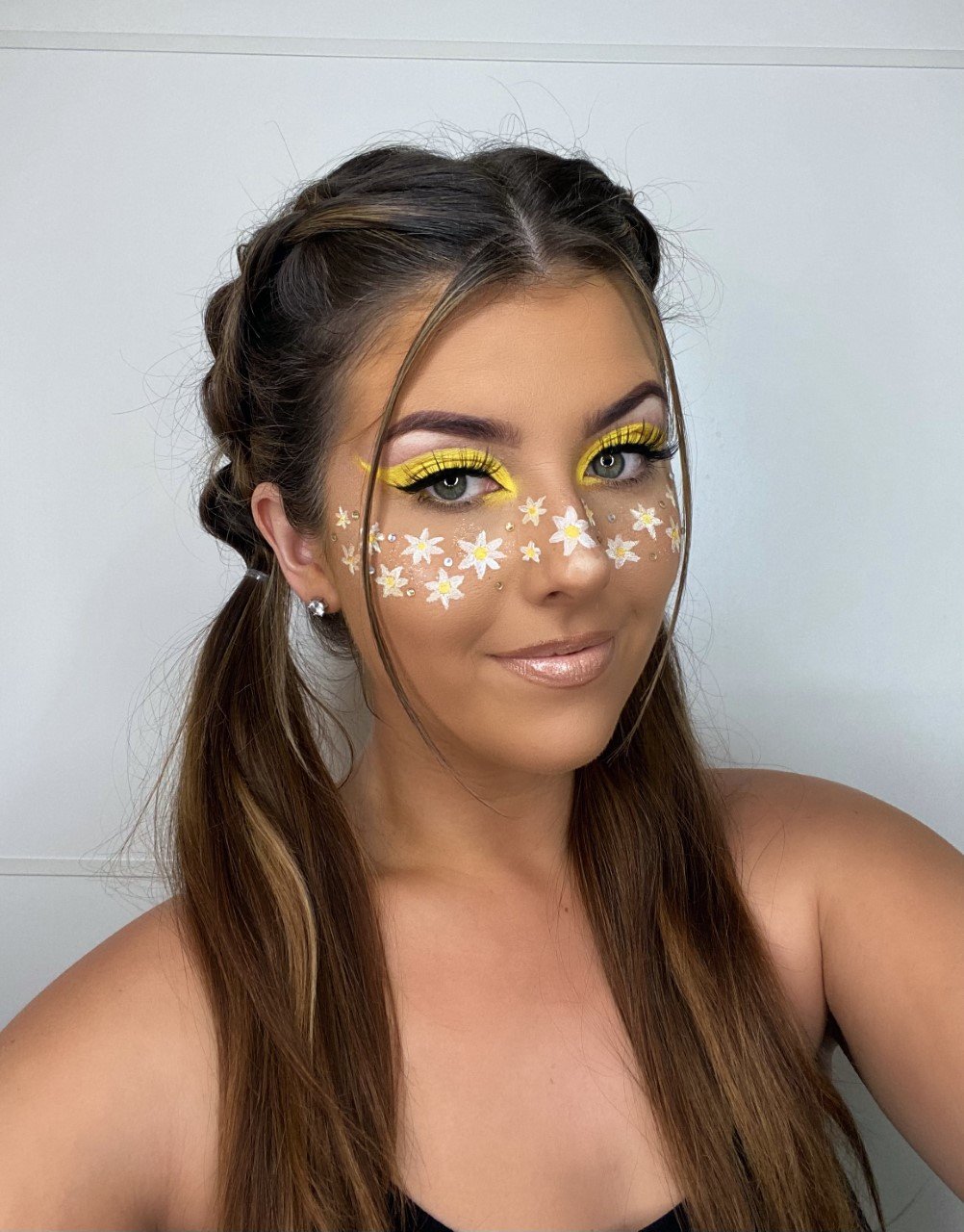 This season is all about the brights and yellow is here to stay! Take a twist on your dainty look and pack a punch with some colour...
Step 1: Start your look off by using the NARS Sheer Glow Foundationto create a fresh dewy base. 
Step 2: Next, take the yellow shade from theLottie London Laila Love Neon Ibiza Palette and pack it all over your lid. If you really want to create definition take the Eyeko Black Magic: Cocoa Edit Liquid Eyelinerin shade brown and create a cat eye in your inner corner.  
Step 3: For a more wearable look you can leave it like this or you can take a small detailed brush and create super cute spring flowers with a white eyeliner!
All about the eggs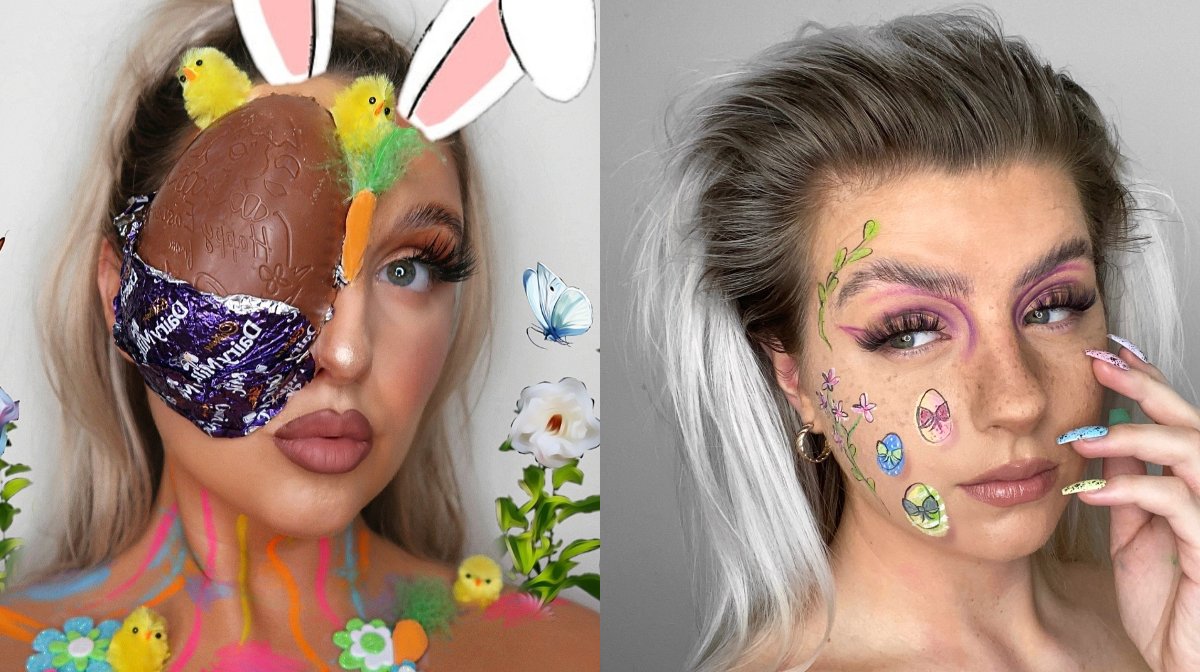 If you really want to make a statement this Easter, why not incorporate eggs into your makeup look?! Yes even real ones... 
Step 1: As the eggs are the focal point of this look, we recommend using a single shadow to create bold lids. The Too Faced Just Peachy Eyeshadow Palette is ideal if you're after a sweep of colour.  
Step 2: Now for the fun bit... the eggs! If you're wanting to keep it subtle you can take a small detailed brush such as the MAC 210 Precise Eye Liner Brush and create outlines of the eggs with your chosen eyeliner. Once you've created those, fill them in with an eyeshadow of your choice and finish off with a decorative bow. 
Step 3: If you want to take your look to the next level you can use a chocolate egg to finish off your look. We recommend gently breaking it in half, wrapping the foil around andapplying it with an adhesive that's suitable for your skin.Although it might not be the best to wear if you're out and about, it sure will look good on the 'gram!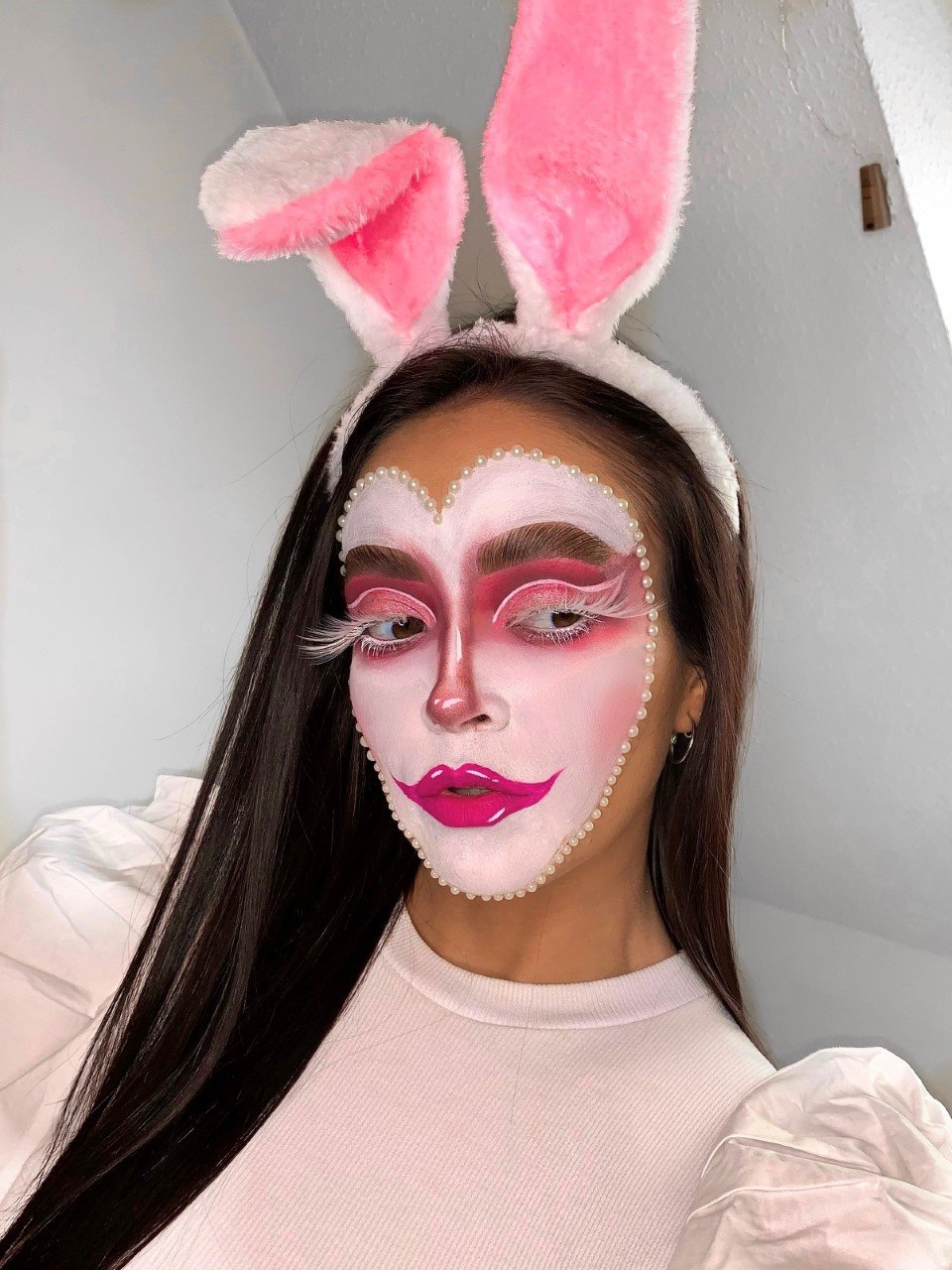 Take the stage this Easter with this super creative rabbit style look with a romantic twist. 
Step 1: For this look we recommend using a white face paint to create the base of your heart. If you don't have one to hand you can use the MAC Studio Fix Fluid SPF 15 Foundationin the shade NW10 for the same full coverage results. Once you're happy with your shape set with a translucent powder and a spritz of the Illamasqua Hydra Setting Spray to keep it in place. 
Step 2: Next, take a range of pink shadows and create your desired eye look, whether this be a dramatic cut crease or soft glam.  
Step 3: Once you're happy take a daring shade of pink lippy such as theMavala Sensation Lipstick - 625 Flirting Pink to create the perfect pout.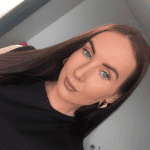 As a beauty fanatic I'm always on the lookout to try and experiment with new products! I've been writing about everything beauty for over 3 years and specialise in skincare so have plenty of tips and tricks to help put blemishes at bay and get your complexion glowing. Whilst being a content writer at LOOKFANTASTIC I've had the opportunity to collaborate with incredible brands including Tom Ford, Dolce & Gabbana and La Mer, taking my understanding of the industry to the next level. In the past I've been a freelance makeup artist and have collaborated with brands including NYX and Revolution Beauty on a personal level, sharing my makeup creations for the world to see. My ride or die brands have to be PIXI, Laura Mercier and Bobbi Brown and I can't live without my trusty MAC Velvet Teddy!