Love is in the air this season as weddings have finally been put back on the map. For the first time in what feels like forever, we actually have a reason to go full glam, and we couldn't be more excited if we tried. Everyone knows that no wedding look is complete without a stunning hairstyle to compliment your outfit, and whether you're a guest, or part of the bridal party, perfecting your photo ready hairdo is essential for the big day. From chic updos to braids and twists, discover the top trending wedding guest hairstyles that you can create this season.  
Twisted braids  
We're completely crushing over this stunning braided updo. Ideal for a summer ceremony, this beautifully delicate hairstyle looks intricate, but is deceivingly easy to recreate.  
Step one: Start by dividing your hair into two even sections on either side. Brush through to get rid of knots with the Tangle Teezer Compact Hair Styler. 
Step two: Create a fishtail plaits on each side, leaving out the front fringe section. Do this by splitting each side into two sections, and taking a small section from the outer left and bringing it into the middle. Repeat by taking a section from the outer right, then keep going until you reach the ends and secure with a clear hair band. 
Step three: Tease out the plaits gently with your fingers to get your desired look.  
Step four: Pull one plait upwards and lay it along your head like a hairband. Secure with a hair grip at the base and tip, then do the same with the other plait.  
Step five: Secure in place all night with the Beauty Works Hairspray. For an extra cute feel, add a few dainty flowers along the plaits to create a floral headpiece! 
Sleek ponytail 
Nothing beats an elegant ponytail look for a wedding. This style is the ultimate keep-hair-out-of-face-on-the-dancefloor look, whilst being effortlessly chic at the same time, what more could you want? 
Step one: Begin by lightly curling your hair for a gorgeous loose wave using the BaByliss Titanium Brilliance Curls wand.  
Step two: Section your hair into a smaller upper layer and a thicker lower layer. Secure the top layer in a hair band. 
Step three: Loosen the hair band slightly and create an opening at the base of the upper layer. Twist to the side and pull the underneath layer through the hole you have created.  
Step four: Create an ultra-glossy finish by applying the Olaplex No.7 Bonding Oil through the lengths of your hair using your fingertips.  
Perfect for a bride, a bridesmaid, or a wedding guest, this gorgeously chic updo is bound to get heads turning on the big day.  
Step one: Begin by creating loose curls using the Beauty Works Professional Styler. For a super smooth finish, add a little bit of the Percy & Reed Time To Shine Mirror Shine Serum.  
Step two: Take a small section from each side of your hair on the outer edge, and bring together in the middle. Once they meet in the middle, twist together to the right. Repeat the process until you get half way down you head.  
Step three: Secure with hair grips in the middle, then secure the hair beneath in a clear hair band. Wrap a strand of hair around the hair band to cover it up.  
Step four: Spritz with the MUGLER Angel Perfuming Hair Mist for that finishing touch and a scent that lasts all night!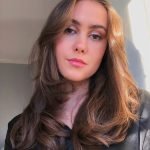 As someone with an affinity for all things beauty, discovering fantastic new products is my not-so-secret obsession. Over the years I've tried and tested a mountains worth of creams, serums and cleansers, finding some of my favourite 'holy-grail' products along the way. However, I'm always on the lookout for more ways to nourish my hair, perfect my dewy base, or enhance my skincare routine. Working as a beauty blogger for over 3 years, I've been lucky enough to collaborate personally with lots of amazing beauty brands including Christian Dior, The Body Shop and Dermalogica. I've used the Dermalogica special cleansing gel religiously since I first got it and their products are some of my ultimate skincare faves. When it comes to cosmetics, NARS Sheer Glow foundation is definitely my go-to - I live for a light, glowy base!