We've told you all about the FOREO LUNA before and now there are new cleansing brushes on the block; the FOREO LUNA Play and the FOREO LUNA Go.
These two new launches bring you the smallest facial brushes in the range, with powerful cleansing powers in adorably small packaging. We're filling you in on all the features and benefits of these ultra-portable versions of the classic FOREO LUNA, as well as the differences between the Play and the Go.
Why FOREO?
FOREO have revolutionised facial cleansing brushes with their LUNA Series and the new LUNA Play and Go editions bring all the high-tech benefits of their larger siblings.
Unlike other cleansing brushes, there is no need to replace any brush heads and the silicone is ultra-hygenic thanks to its quick drying and nonporous nature.
FOREO cleansing brushes use T-Sonic pulsations to deep cleanse the skin and help reduce the appearance of pores. They have been shown to remove 99.5% of dirt, oil and makeup residue, for gorgeous, clear looking skin.
The brushes are also 100% waterproof, so you can use yours in the shower, the bath or wherever you like!
What Are the Differences?
Both the Play and the Go are ultra-convenient for travelling- they are about the same size as a cotton pad! They both have the usual benefits of all FOREO cleansing brushes, but there are definitely some key differences between the 2.
The LUNA Play is:
The miniature of the LUNA Mini 2.

Non-rechargable

but holds charge for up to 100 uses.

Universal for all skin types

, with thicker touch-points at the tip for oilier skin and thinner touch-points below for more sensitive skin.
Available for just

£29.00

.
For sale in

7 vibrant colours

to brighten up your skincare routine.
Used with a

single intensity setting

.
The LUNA Go is:
The miniature of the full-size LUNA 2.

Rechargeable

, with a battery that lasts up to 30 uses per charge.

Targeted to each skin type

, with specially designed touch-points for Oily, Combination, Normal and Sensitive Skin.

Double-sided

, with 1 side for cleansing and 1 for an anti-aging massage.
Available for

£69.00

.
Used with

2 settings

, 1 for cleansing and 1 for anti-aging.
Which One Should I Buy?
With its affordable price point, the LUNA Play is perfect for those that are new to facial cleansing brushes and sonic skincare systems. It is the ideal way to try out FOREO if you are thinking of buying a full size version.
The Luna Go is ideal for those who want a smaller version of a cleansing brush that they can take with them on the go; on holiday, at the gym or weekends away. With its anti-aging benefits, the LUNA Go is also ideal for those aged 25 and over.
Whichever one you choose, you'll discover beautifully clean, glowing skin.
If you're new to cleansing brushes, then why not check out our cleansing brush guide? We have all the information you need to find which cleansing brush is right for you.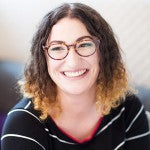 Major fan of scented candles, Make Up brushes and Highlighter. I'm always on the hunt for those Holy Grail products and my dressing table is covered in more beauty products than I like to admit. As an adopted Northerner originally from Brighton, I spend most my days wondering what all this rain is about. My hair isn't grateful for the move. Currently loving:
NIOD Photography Fluid