If you're after insider beauty hacks from self-professed beauty addicts, you've come to the right place. When it comes to beauty routines, #Teamfantastic is always on the lookout for quicker, easier and better ways to perfect our looks. Although it was hard to choose, we whittled down the list to pick our favourite beauty hacks. From the best nail hack you'll wish you'd have known sooner, to makeup facelifts and an ancient hair growth trick - this list of the ultimate beauty hacks has something for everyone. Thank us later.
Sophie
What's your favourite beauty hack?   
I love using my concealer to create the illusion of an instant "face lift". This hack works on any skin tone. Simply take your concealer, follow the steps below and watch the magic happen.   
How does it help you in your beauty routine?    
As a result of wearing a face mask, my cheeks have been breaking out like crazy, so I love that this hack gives dimension and shape to the face without me having to apply multiple layers of different products. This hack uses minimal product and so it allows my skin to breathe and prevents future breakouts.   
How long have you been using it?   
Back in January, I saw this hack all over my For You page on TikTok. After trying it, I understood why it had become so popular! It really does create the illusion of a lifted face, yet it's so simple and uses minimal products on the skin.  
How do you do it?   
Apply your concealer under the eyes on the inner section as well as the outer section, bringing it all the way up towards your hairline. Next, on the bottom half of the face, take the concealer from the corner of your lip and draw a line under your natural cheekbone all the way up towards your ear. Also, apply on your smile lines. Then simply blend in with a beauty sponge. 
Holly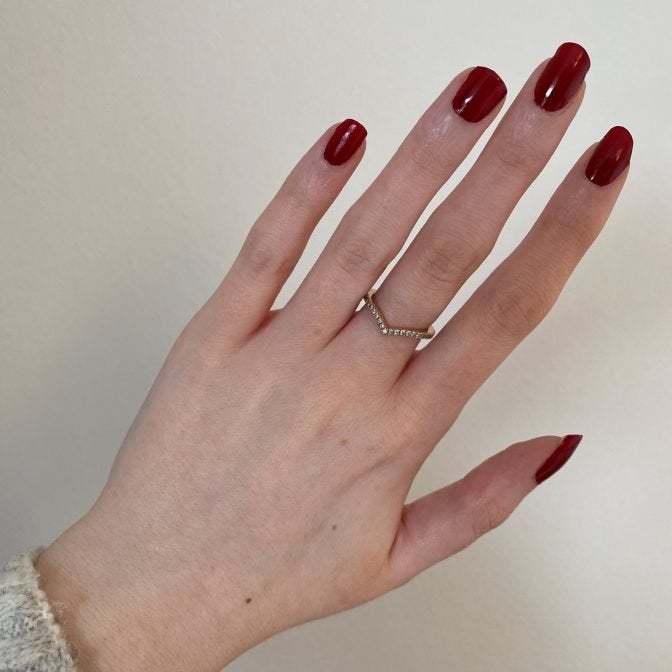 What's your favourite beauty hack?   
My favourite beauty hack has to be cleaning up my cuticles by using PVA glue to create the perfect manicure! Sometimes it can be hard to keep a steady hand when applying nail varnish but by using this technique you get perfect results time and time again.  
How does it help you in your beauty routine?    
It makes doing my nails so much quicker as I don't have to spend time perfecting them at the end. My nail varnish never overflows and once the glue is off they're good to go! 
How long have you been using it?   
This is a trick I've been using for years, I never do my nails without it. It's such a simple step that not a lot of people think of when it comes to manicures.  
How do you do it?   
I start by filling an old nail varnish bottle with PVA glue. To create a 'liquid tape' I simply apply it to the surrounding skin on my nail bed using a brush. Once this is dry, I go ahead and paint my nails as normal. I love using the OPI Nail Polish in shade 'Mod About You'. Then, I peel the glue off and have the perfect manicure in an instant.  
Ellie
What's your favourite beauty hack? 
My favourite beauty hack when it comes to eyeshadow is to use a light-coloured concealer to create the ultimate spotlight eye in seconds! I learnt it from YouTube years ago and it's stuck with me ever since.  
How does it help you in your beauty routine? 
If I'm going full glam, this makes my look 10x quicker to do! It also doesn't irritate my eyes like using wipes would to create a spotlight effect.  
How long have you been using it? 
I've been using this trick for years! As I used to be a freelance makeup artist, it was a quick and easy step to use on my clients who wanted a spotlight eye or bold eyeshadow. This is also my go-to look for a night out, it's simple but effective and looks great in pictures! 
How do you do it? 
I start by creating a normal eyeshadow look and making sure everything is perfectly blended. I then dip a flat concealer brush in a light-coloured concealer and make a straight line down the centre of my eye. Next, I set it with a translucent powder and buff my eyeshadow into it. To top it all off, I pop on a glitter pigment and voila! A spotlight eye in seconds. 
Henna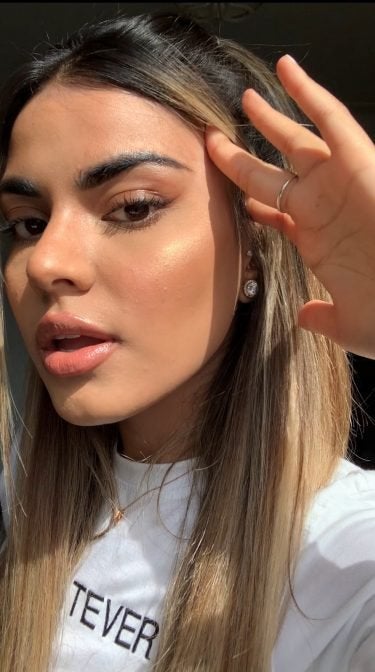 What's your favourite beauty hack?​
 My favourite beauty hack has to be concealing under my eyebrows! I go in with a concealer or skin colour crayon to create the illusion of a neat and tidy brow. I usually use the benefit brow contour pen, or nars concealer to outline around my eyebrow and blend out seamlessly to make perfect looking brows!​
How does it help you in your beauty routine?
It pulls my whole makeup look together and saves me a lot of time getting my eyebrows done and covers little fine hairs that are growing back! It's so easy to do and the results are so effective, you wouldn't believe it. It adds shape and tidiness to my eyebrows.​
How long have you been using it?
I've only started using this since lockdown began early last year. It was hard to always make sure eyebrows were looking perfect with salons being closed, so this has helped create a quick solution for me. My eyebrows look perfect almost every time and no one knows.​
How do you do it?
All I do is go in with a concealer that is closest to my skin tone or a crayon that is a pale shade and outline all around the brows' top and bottom. This helps create the desired shape and also covers any fine little hairs, while evening out my skin tone. I then blend it out until my eyebrow looks neat, tidy and perfectly shaped. To finish off, I set all around it so it won't budge. 
Gigi
What's your favourite beauty hack?
The Rice Water Method, it's how I got my hair from this: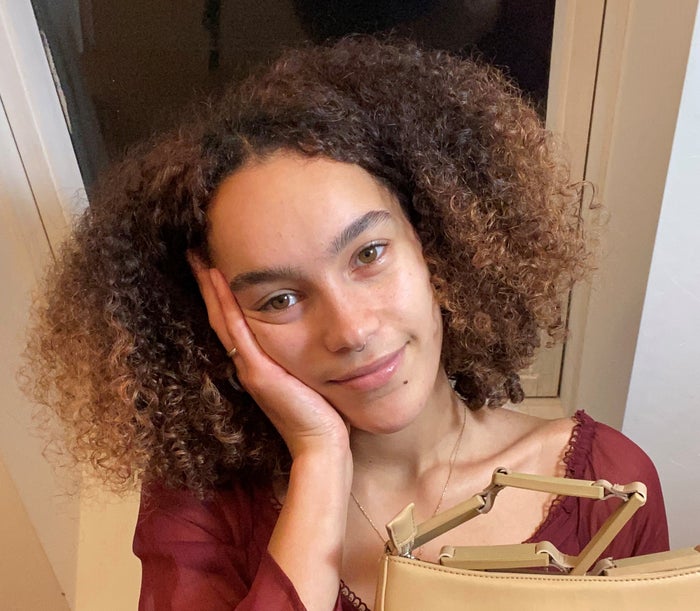 To this…in just two weeks!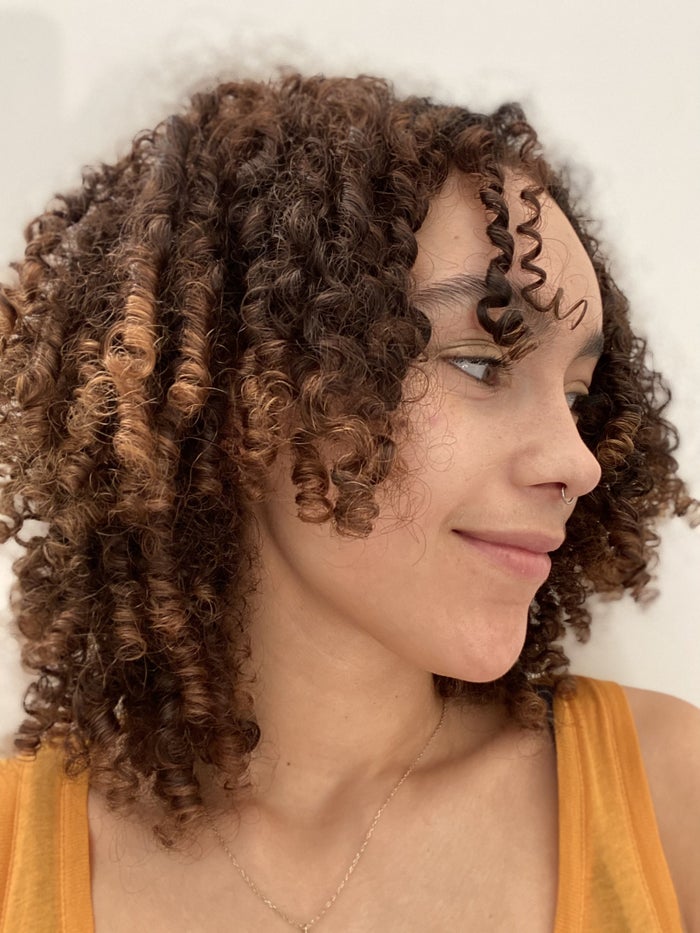 How does it help you in your beauty routine?
You may not notice a huge difference in length, but after just two tries I'm already seeing an improvement in the quality of my hair. As you can see in the first photo, my hair is normally quite dry and frizzy, curly but lacking definition. In the second picture, my curls are defined and even a little bit shiny. My hair feels stronger to touch and my dry ends have disappeared.
The Yao women of Huang Luo in China practise the method regularly, and are famous for their long, strong and shiny hair. After reading their story I was inspired. Who wouldn't want hair like theirs?! (give them a quick google to be seriously wowed).
Rice contains proteins that are believed to strengthen the hair while also stimulating growth. I had to give it a try, and I was blown away by the results.
How long have you been doing it?
Only for the last two weeks, but I'm sure it's a hack that's here to stay.
How do you do the Rice Water Method?
Step 1: Place rice in a container and add water
You can use any kind of rice you like, they all work. However, I would recommend Jasmine for the light scent. You can use any container with a lid, like a large jar. Personally, I used a protein shaker bottle that was lying around. Once the water and rice are mixed, give the rice a little stir before attaching the lid.
Step 2: Ferment rice in the fridge
You can use the rice after just 30 minutes of fermenting, but I like to wait for 2-3 days. That way, the water will have absorbed plenty of the rice's protein. When you look inside, the water should look viscous and slightly shiny. That's when you know it's done. Decant the liquid into a spray bottle, ready for application.
Step 3: Rinse hair
After shampooing, conditioning and detangling your hair, you can go in with the rice rinse. If you want to know more about my styling routine, check out our Curly Girl Method Guide. Starting with the ends and moving upwards, spray the rice water onto clean hair. Once you have covered all your hair, open the spray bottle and tip the remaining rice water over your scalp.
My favourite shampoo, conditioner and curl creams:
Step 4: Let it sit for 20 minutes
Once your hair has stopped continuously dripping (a little bit of dripping is fine – you don't want to lose all that sacred rice water), put your wet hair up in a shower cap. I'd recommend having the shower cap next to you before you start the rinse. That way you don't have to walk around your home with sopping wet hair. You can also place a towel around your neck to absorb any excess water.
Keep your wet hair in the shower cap for up to 20 minutes, but not any longer. If you leave it on for too long, you can overload your strands with protein, which can cause damage.
Step 5: Rinse again
Now your 20 minutes is up, rinse your hair again with clean water. Make sure you are very thorough, especially on the scalp, to avoid irritation. Once that is done, dry your hair with a microfibre towel or t-shirt, and continue with your usual styling routine. You'll notice that your hair feels softer and absorbs your curl creams better – you're welcome.

Our team of beauty experts cover everything from makeup to skincare, picking out the most effective products from the best brands and latest trends. Stay up to date on everything beauty with the LOOKFANTASTIC blog, and find all your essentials in one place.