For the conscious consumer, finding sustainable beauty products that don't affect the quality of your beauty routine is a dream come true. With the ever-growing shift to become plastic-free, solid shampoo and conditioner bars are leading the way for planet-friendly haircare. With most bars promising to last just as long as your conventional plastic bottle, they provide an eco-conscious option, without compromising on quality. Discover our round-up of the best shampoo and conditioner bars to add to your shower routine today.
Small but mighty, this little shampoo bar packs all the punch of a normal bottle, cleansing away impurities in an instant. Free from sulphates, silicones and dyes, this 95% naturally formulated bar lasts for up to 80 washes and clarifies locks using nourishing ingredients such as red clay, leaving hair with a healthy-looking sheen.
For those who suffer with dry, frizzy locks, this aloe vera-enriched shampoo bar from FOAMIE is perfect to restore some moisture. This powerhouse ingredient works to lock in moisture, preventing dryness and keeping locks healthy and shiny. Effortlessly transforming into a foamy lather, this bar wraps strands in hydration for a soft, shiny finish from root to tip.
Ideal for those with sensitive scalps or fragile strands, this nourishing formula will keep your locks calm and soothed. Enriched with oat milk to fight dryness and lock in moisture, whilst rice cream leaves hair feeling smooth and soft. With a 94% plant-based origin and 97% biodegradable formula this is a great affordable option for the conscious consumer.
Formulated with coconut oil, this conditioner bar works to soften, moisturise and detangle strands, leaving them soft and shiny. Suitable for everyday use, this bar lasts up to 60 washes, leaving locks feeling super smooth time after time.
If it's shine you're after, look no further than this moisturising shampoo bar. Handmade in the UK, this gentle, gloss-boosting bar is formulated with henna and juniper to create a sleek appearance. Ideal for those who want to preserve their coloured locks, the formula works to enhance vibrance of your tone.
Formulated with mangoes, known for being naturally high in fatty acids and polysaccharides that nourish and protect, this luxuriously-scented shampoo bar aims to transform dry locks into soft and shiny strands. Suitable for children as young as three years old, the whole family can be more eco conscious with their beauty regimes.
If you're suffering from limp and lifeless locks, this volume boosting shampoo bar from KMS is an ideal conscious option for you. Their best-selling shampoo, now in a solid bar form, this formula is fueled by botanicals with 78% natural ingredients. Enriched with an AHA structure complex, this shampoo bar eliminates impurities, whilst lifting and thickening fine strands.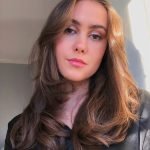 As someone with an affinity for all things beauty, discovering fantastic new products is my not-so-secret obsession. Over the years I've tried and tested a mountains worth of creams, serums and cleansers, finding some of my favourite 'holy-grail' products along the way. However, I'm always on the lookout for more ways to nourish my hair, perfect my dewy base, or enhance my skincare routine. Working as a beauty blogger for over 3 years, I've been lucky enough to collaborate personally with lots of amazing beauty brands including Christian Dior, The Body Shop and Dermalogica. I've used the Dermalogica special cleansing gel religiously since I first got it and their products are some of my ultimate skincare faves. When it comes to cosmetics, NARS Sheer Glow foundation is definitely my go-to - I live for a light, glowy base!