We can't get enough of glowing skin and the new NARS Atomic Blonde Eye & Cheek Palette has made us fall in love with bronzers, highlight and shimmering shadows all over again.
The only palette you need to achieve the ultimate golden goddess glow, the palette is made up of four warm-toned shadows to define and enhance your eyes in addition to a shimmering golden highlighter and a deep bronzing powder. Ultra-fine and silky, each powder blends beautifully and adds a golden hour radiance to your complexion.
Exclusive to lookfantastic, the Atomic Blonde Palette is so versatile and perfect for helping you achieve a sunkissed glow all year round.
Glow day to night with NARS
From a subtle glow to a rich highlight, we're showing you how to take your look from day to night using the NARS Atomic Blonde Eye & Cheek Palette.
Daytime glow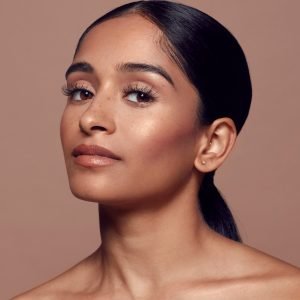 1.
Begin by prepping your skin with NARS Radiance Primer SPF35. With a gorgeous glowy finish, it creates the perfect radiant canvas for your makeup and protects your skin throughout the day with SPF35.
2.
For your base, apply NARS Sheer Glow Foundation all over your complexion for a perfected yet radiant finish. If you want a sheer, skin-like finish, apply with a sponge. For a little more coverage, use a foundation brush.
3.
Taking the NARS Ita Kabuki Brush, bronze and define with Unleashed, the deep bronzing shade in the palette. Apply in a '3' shape from your temple, down your cheekbones and along your jawline.
4.
With the same brush, apply the highlighting shade Last Call to the high points of your face for an ethereal, golden goddess glow.
Nighttime glow
1.
Building on the beautiful, glowing base you have already created, get your look ready for the evening by firstly applying NARS Pro Prime Smudge Proof Eyeshadow Base all over the lid.
2.
Using the NARS Blending Eyeshadow Brush, apply Kink, a metallic warm copper, all over your lid. Add definition the outer corner of your eyes with Galapagos, the deepest shadow in the palette. Finally, add a shimmering final touch by applying Isolde II with your finger to the centre of your lid.
3.
Add lashings of the NARS Climax Mascara and a swipe of NARS Semi-Matte Lipstick in Pigalle to complete your look.

Our team of beauty experts cover everything from makeup to skincare, picking out the most effective products from the best brands and latest trends. Stay up to date on everything beauty with the LOOKFANTASTIC blog, and find all your essentials in one place.