If you have fine hair, you will understand how difficult it is to find hair products that nourish your locks whilst also giving them incredible volume and bounce. I have struggled for years. I have tried more shampoos, conditioners, mousses and mists than I care to admit, and yet none of them seemed to make a huge difference to my hair. Some made it soft without any lift, others made it dry with slight volume. It was then that I decided to turn to one of the world's leading and most-loved brands in the haircare industry: Kérastase. If they couldn't sort out my hair, who could?
If you haven't heard about Kérastase, then you will definitely want to. A French brand; they are at the helm of haircare science and use the most advanced technologies that aim to make a real difference to your hair. They have an extensive range of different collections for all hair types. I opted for the Kérastase Resistance range, which is designed to give lift and volume to fine hair that struggles to be anything other than flat.
What Is My Hair Type?
What Does Kérastase Resistance Aim To Do?
The collection aims to gently cleanse and condition your hair to rid it of product build-up, impurities and dirt. This is what can actually cause fine hair to become limp and lifeless. When your hair is heavy with oil and excess product, it can become weighed down. The technology works to thicken each hair strand by using an exclusive complex known as the Ampliflex System. Containing Cellulose Powder that helps to amplify each fibre when it comes into contact with water, the products are also enriched with Cationic Polymer, which works to add shine and protect damaged hair. Together, these 2 ingredients combine to create a range of products which not only add volume to fine hair, but essential hydration and nourishment.
Review Of The Resistance Collection
I have to say that as a whole, the Kérastase Resistance collection is quite simply game-changing when it comes to solving the problems associated with fine hair. I absolutely loved using the products, and they have all become firm favourites in my bathroom cabinet, which has never before happened. I would definitely recommend adopting the whole regimen if you want to try the collection, as I find that while they work brilliantly on their own, they do seem to add extra bounce and shine when used together.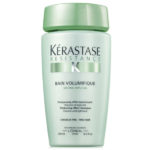 1.
The Shampoo
This shampoo feels incredible. It lathers up perfectly and feels like it really is cleansing my hair, without being too harsh. The scent is light and floral and reminds me of holiday. With this shampoo, you won't need to double cleanse as it does such a great job on the first wash. This is great as it lasts much longer!
"You only need to use a very small amount of this shampoo to deeply cleanse. I use the size of a 5 pence piece - anymore and it can feel too heavy."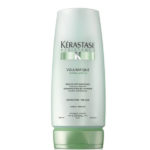 2.
The Conditioning Treatment
Usually, I am nervous about trying a new conditioner. In the past I have found them to be either too heavy and make my hair feel greasy, or too light and my hair feels dry. This one from Kérastase is a little different. The formulation is much different to your traditional creamy conditioner, and therefore feels a lot lighter on your hair.
"I like to use this on my ends only and leave on for about 5 minutes for my hair to really soak it up."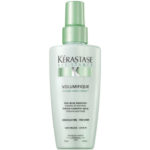 3.
The Nourishing Spritz
Where I have the choice, I prefer to use sprays over mousses as I find them quicker and much less messy. This one spritzes lightly onto the hair without feeling heavy or greasy. In fact, I have found that it actually helps to detangle my hair and make it easier to comb. I love the light and fresh scent it gives too.
"This is incredible for giving a high-shine finish and polishing your hair before blow-drying."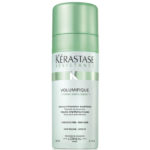 4.
The Volumizing Mousse
I would never choose to use a mousse over a spray, but I wanted to give the whole collection a go so I tried it too. I cannot tell you how glad I am that I did! The mousse feels completely different to traditional textures, and goes on smoothly through the hair without feeling crunchy or sticky. In fact, it actually gave my hair feather-weight texture.
"When I had finished blow-drying my hair, I noticed considerable volume and softness throughout, and I have to thank the mousse for this."

Our team of beauty experts cover everything from makeup to skincare, picking out the most effective products from the best brands and latest trends. Stay up to date on everything beauty with the LOOKFANTASTIC blog, and find all your essentials in one place.