Who else is going to be spending tonight watching the Eurovision Song Contest Final? We know a few people who definitely will be; with our international team, it is quite the event. Not that we get competitive...
Anyway, we thought we would celebrate a little by asking our team members what beauty items always get full points from them. It's the Eurovision Beauty Contest!
Sweden
Of course we have to start with Sweden! The home of Eurovision superstars, ABBA, how could we not? However, we have also noticed Sweden is also making waves in the beauty world thanks to Scandi-cool brands like FACE Stockholm and Sachajuan
Here is what Emy, who works on Lookfantastic Sweden had to say:
What is your Beauty Number One?
Right now it is the Redken Extreme range. It is selling like mad in Sweden and I wanted to see what the fuss was about! I dye my hair a lot so it can be very dry and I can really tell the difference in texture using this. 
Who will you be supporting tonight?
I should say Sweden but I think it might be Russia because their song stands out so well and is so addictive. I'll probably vote for Sweden as well though.
Any favourite Eurovision moments?
When Sweden won last year after winning just 2 years before. I really didn't expect it but when the '12's kept on showing and the flags started going mad, it was amazing. We take Eurovision much more seriously in Sweden!
Spain
You might think of Spain being bold and bright but in beauty terms it is all about pared back, natural-looking beauty. If your hair, skin and tan look perfect, then that is all you need! Haircare is a really big thing with brands like Aveda, Redken and ghd flying off the shelves.
Here is what Belen, who works on Lookfantastic Spain had to say:
What is your Beauty Number One?
The new Hylamide C25 booster has to be my favourite because nothing else has given me such a glowing complexion and healthy skin tone. I took it home to Spain with me and made all my friends try it!
Who will you be supporting tonight?
I don't usually watch Eurovision but I do love the ridiculous entries by Spain. I have to say Spain right?
Germany
Despite the Eurovision acts traditionally being very fond of a a slightly more out-there look, Germany is definitely all about the Organic and natural beauty ingredients thanks to brands like Weleda, Kniepp and Dr. Haushka.
Here is what Veronica, who works on Lookfantastic Germany had to say:
What is your Beauty Number One?
I can't live without mascara. It is all I need! The Clinique High Impact Waterproof Mascara is my favourite for long lasting results that can still be taken off easily in the evening.
Who will you be supporting tonight? 
I will have to cheer for Germany but I can't decide which song is actually my favourite, because there are some really nice ones this year.
Any good Eurovision memories? 
I had such fun watching the Eurovision with the International Societies at university.
It is such a good way for everyone to get together!
Got any European beauty must-haves that we have missed off? Let us know by tweeting @Lookfantastic and don't forget to get cheering for Eurovision tonight!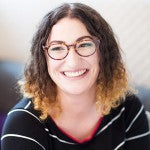 Major fan of scented candles, Make Up brushes and Highlighter. I'm always on the hunt for those Holy Grail products and my dressing table is covered in more beauty products than I like to admit. As an adopted Northerner originally from Brighton, I spend most my days wondering what all this rain is about. My hair isn't grateful for the move. Currently loving:
NIOD Photography Fluid