Summer is calling, and its going to be a good one.
This year is speeding along the tracks so fast that we've barely had time to stop and smell the roses. But as the imposing pandemic begins to ease, there's still time to squeeze in a couple of weeks of hot girl summer. And what better way to kick off the festivities than with our July Beauty Bag.
Containing 6 of the best products, we're going to give you a run-through of what we consider to be the ultimate makeup look for summer. From tan to setting spray, we'll give you the ultimate top-tips of how to dazzle and shine this summer, without the fuss (and hopefully without the mask).
PREP
As we all know by now, prep is one of the most important stages in any routine. It primes the skin for makeup and also helps combat any potential breakouts or flare ups. We can't think of a better partner for this first step than the Starskin 7-Second Luxury All Day Mask. Ideal for busy lifestyles, the dual-texture pads are able to massage, exfoliate and tone skin using one side, whilst the other side functions as a serum, moisturiser, leave-in mask and primer.
PRIME
Next up we have the Elemis Superfood Glow Priming Moisturiser. An essential base for makeup, use this primer as a hydrating base before application. Combining a potent cocktail of some radical ingredients, this moisturising primer help brighten your complexion whilst bringing collective anti-ageing properties. The formula also contains a rich blend of Tea extracts which support a healthy barrier function and respects the skin's delicate microbiome.
It layers perfectly beneath makeup and helps to grip your foundation and concealer for longer wear (handy for those long summer days). Massage daily into your skin to hydrate and enliven your complexion's natural luminosity.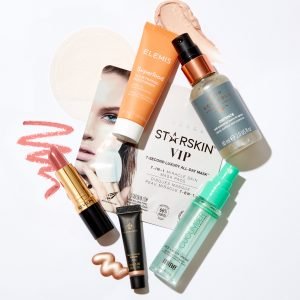 DON'T FORGET ABOUT YOUR HAIR
Whilst the main focus is on getting the right contour line or the right shade of lipstick, its important to not forget about your hair. Perhaps one of the most damaging times of year, the suns UV rays can damage fibres and lead to split ends and damage follicles. Not only the sun, but external aggressors such as pollution can have a damaging impact on your hair. Luckily for us, the Grow Gorgeous Defence Anti-Pollution Leave-In Spray aims to shield your strands from the harm urban areas can cause. Protecting against environmental aggressors as well as fading colour and heat, the spray is a handy 3-in-1 product.
Top-tip: As well as your hair, why not complete the entire sun kissed look with a light spritz of the Minetan Cucumber Hydrating Face & Body Mist. This gradual formula gives the skin a golden glow, natural looking and long lasting, making it easier than ever to tan. Designed for use on the body and face, this mist is all you'll ever need.
THE MAIN EVENT
We all have our rituals with makeup. Foundation, contouring, eye shadow, mascara, the list is endless and so are the possibilities. But to complete our summer round up of the ultimate makeup look, there's nothing better than the two amazing inclusions in this months box.
First up, we have the Illamasqua Beyond Liquid Mini Highlighter. The highlighter works to add depth and definition to the high points of your face, making cheekbones, Cupid's bow and brow bones even more eye-catching. The buildable formula allows you to top-up your summer glow throughout the day, or to create a more bold, dramatic gleam that allows you to conform to the current glass-skin trends being seen across the beauty community.
A smaller brush allows for a more targeted application and once applied, you can set the entire look using Translucent Powder to ensure your makeup lasts. But for a more defined look, use a small brush and apply over your foundation to the high points of the face, such as cheekbones, brow bones, the bridge of your nose and cupid's bow.
And finally, what is any makeup look without a hit of luscious lipstick; Revlon Classic Super Lustrous Lipstick (Rose Wine) to be exact. This non-caking formula is the perfect cherry-on-the-top product for that ultra-defined and radiant summer look.
To top it off, all these products are available now in our July 'Wanderlust' bag. Contained within a handy makeup bag, take your makeup look with you wherever you go this summer. Get your hands on one now before they're gone!
As the Beauty Editor for LOOKFANTASTIC Beauty Box I'm always hunting for a good beauty story, I like to remain ahead of the trends. But aside from this, I'm a keen reader and writer in my spare time. You'll find me with my head in a good book most of the time- Beauty & Fashion related or otherwise! You'll often find me obsessing over the latest tropical-scented body oil or lathering on the coconut moisturiser. As you may have already guessed, I have a natural affinity for all things tropical. Beauty and grooming for me is escapism, a little slice of heaven away from the day-to-day.