Whether your skin is oily and blemish-prone, you suffer from acne, or find that every now and again you're left battling with a few spots, you may be wondering what it takes to achieve clear skin. Never fear as we've enlisted the help of Paul Connors, Vice President of the clean beauty skincare brand, Farmacy to include his dos and don'ts when it comes to helping your skin look its beautiful best.
How to get clear skin
Cleanse your skin

Use A Toner

Exfoliate

Moisturise
Skin types that are typically on the oilier side tend to be more prone to blemishes and acne. It is therefore important that you use products that are specially targeted towards your specific skin type to ensure you are treating your complexion to the right kind of care.
Step 1: Cleanse your skin with an oil-based cleanser
 "While it's true that dry, stripped skin may lead to more irritation and breakouts, it does not mean you should not be washing your face every day".
Every good skincare routine should include a cleansing routine both morning and night. Cleansing your face helps to remove excess oil and sebum that has collected on your face, whilst helping to clear your pores and eliminate bacteria that causes breakouts. Paul from Farmacy advises using an oil-based cleanser if you have oily skin that is prone to breakouts.
Paul says: "As counter-intuitive as it may seem, oil-based cleansers are ideal for oily skin. While the thought of rubbing oil on your face may seem downright wrong, the oil in a cleanser actually acts as a magnet, attracting excess oil and debris from your face.
The key is to find a cleanser that doesn't strip the skin. Gentle, oil-based cleansers will also protect your skin's moisture barrier, which will help prevent your oil production from going into overdrive. A great oil-based cleanser will remove every trace of excess oil, debris and makeup – without stripping skin".
Step 2: Use A Toner
The toners of today are not the harsh alcohol-based solutions you may have been familiar with in the past. Modern toners prepare your skin for moisturizers and serum while getting rid of excess oil, dirt or makeup leftover on your face after cleansing. A good toner is a refreshing solution for oily, blemish-prone skin.
Paul says: "After you wash your face, you can easily incorporate a daily gentle toner to help control excess oil. Look for ingredients like beta hydroxy acid (BHAs), which go deep into your pores to remove excess sebum and dead skin cells, thus helping to control oil and help reduce the look of pores. Make sure you choose one that is alcohol-free and non-stripping."
Discover: 10 of the best toners for oily skin
Step 3: Use An Exfoliator
Use an exfoliator to help buff away any dead skin cells from your face and create a clear canvas for applying the nourishing products in your skincare routine. An exfoliator also helps to remove any stubborn oil and dirt from within your pores that may still be lingering around. Look for exfoliators that contain salicylic acid for the best results when your skin is blemished.
Why is salicylic acid good for the skin?
Step 4: Apply Moisturiser
It's important to use a moisturiser to pack the hydration back into your face following your skincare routine. If you have oily skin, lightweight moisturisers may be the best option to prevent a greasy or heavy application.
Paul says: "If your skin isn't properly moisturized, or is over-stripped from harsh acids and exfoliants, it may cause your skin to actually increase oil production as a response, leaving you even more oily! When your skin's moisture barrier is compromised, the skin reacts by producing more oil to try to 'balance' out the skin. The key for oily skin is to find the right moisturizer for your skin type. Stick to oil-free formulas that are lightweight with oil-controlling or mattifying properties."
Paul says that while everyone's skin type is different, remember to incorporate only one new product into your skincare routine at a time and be patient with the results.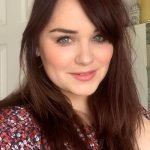 I've been writing about hair and beauty for over 10 years. I am a collector of vintage perfume and my go-to look always includes a bold pink lip! For more, visit https://www.goodgollymisshollie.co.uk