We're guessing you've landed here because you've had a bit of bother with brow tint? Or perhaps you're just curious about what to do if anything ever does go awry when tinting your eyebrows? Whatever the reason, we're here to help! 
Whether you've been to the salon and your brows have come out way darker than you'd have liked, or you've tinted your brows yourself and they've ended up the wrong colour, don't worry there are multiple ways to easily and effectively remove eyebrow tint.  
How Long Does it Take for Eyebrow Tint to Wear Off? 
Your normal cleansing routine, paired with the natural oils on your face being secreted will help to fade your brow tint in around 5-7 days. But if you can't wait and need to remove excess eyebrow tint ASAP, then keep on reading for our top tips.  
5 Ways to Easily Remove Eyebrow Tint 
1. Use a silicone-based or oil-based makeup remover to erase excess eyebrow tint 
One way to remove eyebrow tint is to wipe over your brows with a silicone-based or oil-based makeup remover and a cotton pad. This will help to knock out some of the excess pigment in just a few swipes of the cotton pad.
Discover our picks of the Best Eye Makeup Removers
2. Use a clarifying shampoo to cleanse away eyebrow tint
You can also remove eyebrow tint by cleansing your brows with a clarifying shampoo. Clarifying shampoos work by stripping hair of build-up from natural oils and products, including brow tints. Use a flannel and warm water to work the cleansing shampoo into a lather and massage into your brows. Leave for a few minutes before rinsing and repeating until the brow tint has faded. 
Shop All Clarifying Shampoos on LOOKFANTASTIC
3. Use baking soda to cleanse away eyebrow tint 
If you don't have a silicone-based makeup remover or a cleansing shampoo to hand, you could try using an old store cupboard favourite, baking soda. Combine a teaspoon of baking soda with your normal shampoo to form a thick paste. Apply the paste to your brows and massage in, leave the paste on your brows for a few minutes before rinsing clear.
4. Use brow makeup to tone down the intensity of the eyebrow tint
For a super quick fix on-the-go, use mineral makeup, or pressed powder on your brows to dial down the colour of the tint. You could also use a brow gel in a lighter shade to help add some lightness to your brows.  
Shop all Eyebrow Makeup on LOOKFANTASTIC
5. Use a makeup toner to remove excess eyebrow tint 
Grab your face toner and apply a little product to a cotton pad, rub the pad all over your brows until you start to see some of the brow tint coming away from your brows. 
Shop all  Face Toners  on LOOKFANTASTIC
Which is the Best Professional Eyebrow Tint for Home Use?
If you're looking for some professional brow tint that you can use at home, then look no further than these tried and tested favourites. 
The black Eylure Pro-Brow Dybrow kit will allow you to achieve defined darker brows. Boasting a proven formula that will give you dark, glossy brows for up to six weeks, the set will allow you to tint your brows in the comfort of your own home with no need to visit a salon!
For beautiful brows, the Max Factor Browfinity Longwear Brow Tint boast natural-toned pigments designed to give your brows a natural look that lasts all day. The waterproof, smudge-proof and transfer-proof formula promotes fuller, thicker-looking brows ideal for day to night wear.
If you're worrying that your eyebrow tint is too dark, or just not quite the right colour, then fear not - now you know how to effectively remove eyebrow tint when things haven't quite gone to plan. Ready to reapply for more defined, thicker looking brows? Read our expert's guide on how to tint your eyebrows like a professional.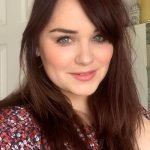 I've been writing about hair and beauty for over 10 years. I am a collector of vintage perfume and my go-to look always includes a bold pink lip! For more, visit https://www.goodgollymisshollie.co.uk