Hair matters. It is a part of our identity, our sense of self and a way to express ourselves. From the latest trends to the best-selling products, we are constantly looking for ways to treat our tresses  and celebrate it. 
But when we look at the shelves of our supermarkets and flick through the pages of magazines, the disparity between products and representation of white and Black haircare is frustratingly visible. 
Although major retailers are increasingly stocking brands catering to Black hair, Black women struggle to find the specific products they need for their hair, with research finding that only 1% of Black British women buy haircare products at supermarkets and 59% shop at independent stores.
Without a full array of options available and a lack of mainstream conversations around Black hair, the trial and error of testing products comes at a cost with Black British women also spending six times more than their white counterparts on haircare.
Black haircare is not spoken about enough in the mainstream media and it's about time we had a discussion. 
From the biggest trends and styles to the most popular products and brands, alongside talking to brands and influencers, we've taken a deep dive into the world of Black hair to guide you on your haircare journey and celebrate that beautiful crown on your head.
MOST POPULAR BLACK HAIRCARE BRANDS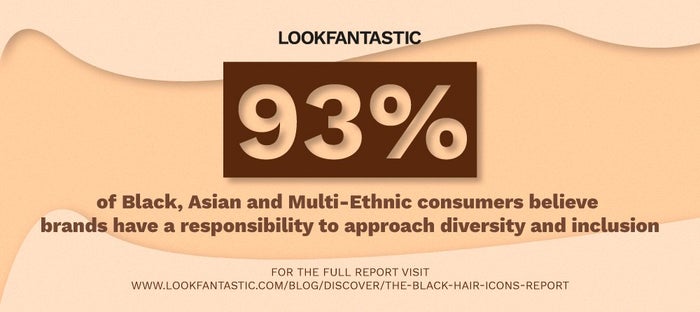 93% of Black, asian and multi-ethnic consumers believe brands have a responsibility to approach diversity and inclusion and with the likes of Fenty Beauty, Beauty Bakerie and other empowering brands paving the way for a more diverse and inclusive offering of black beauty products, we can see this mission progressing.
Commenting on the state of the industry, Janell Stephens, founder of Camille Rose says, ''I do see a positive shift in the industry. I have had many different retail stores, other brands and influencers reach out to me to be included in their marketing efforts. However, I do feel that there is more work that needs to be done. Minority owned brands need to be highlighted and featured on bigger platforms in the same manner as brands that are not minority owned. We need to be invited into decision making conversations about the industry.''
With this lack of mainstream conversation and marketing of smaller black haircare brands, the current beauty market is dominated by big brands which are mostly targeting a white audience and this can make finding the right products and brands suited to textured hair a never-ending journey of trial and error.  
So to help you discover and celebrate the best brands to invest in for Black haircare, we've analysed Google search and Instagram data to identify the most popular Black haircare brands of 2022. These are the brands that people are searching for the most as well as having the biggest Instagram following and engagement.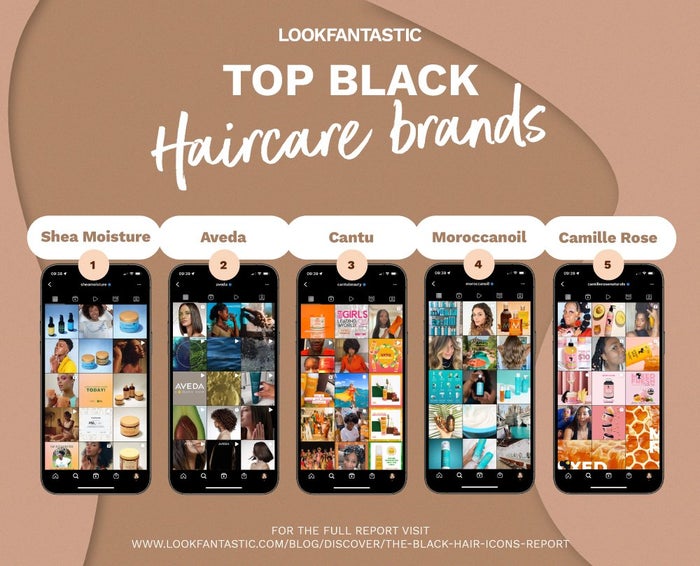 Coming in at number one is Shea Moisture, the brand that attracted a huge TikTok audience during lockdown and now rakes in an incredible 27,100 monthly searches on Google alongside having 854,732 followers on Instagram. 
With a history that dates back to 1912, Shea Moisture is a beauty brand for shoppers looking for hair products that focus on natural goodness and no-nonsense ingredients. The original Shea Moisture product, Shea Butter, was sold back in 1912 by co-founder, Richelieu Dennis', Grandmother in Sierra Leone. Now, the brand offers an extensive range of affordable products that cater to all curl patterns and textures which are sure to revitalise, hydrate and strengthen your hair with the love and belief in the wisdom of age-old recipes and traditions.
The second most popular haircare brand that appeared in Black hair searches is Aveda, a range of products made from 98% naturally derived ingredients crafted to help intensify naturally textured hair while keeping it healthy and frizz-free. The brand's focus on haircare with an environmental responsibility, has helped it rise to fame and rake in a staggering 27,100 monthly searches on Google alongside a whopping following of 453,755 on Instagram. Although not entirely focused on Black hair, its use of ingredients such as argan, jojoba and jasmine oil provide optimum nourishment for naturally textured hair and is a brand to have on your haircare radar. 
Cantu, the award winning brand for textured hair, comes in as the third most popular Black haircare brand. Its practical approach to haircare where the site provides a breakdown of the products to use for each hair type makes looking after your mane simple and efficient. 
Whilst a huge 12,100 people search for the brand each month, the love the brand and its celebration of natural hair lies in its Instagram which hosts a staggering 408,485 followers. Afro and textured hair needs adequate moisture to keep it in optimum health and Cantu, with its products enriched with Shea Butter and nourishing ingredients suited for natural hair is the go to to quench your curl's thirst.
Founded by Carmen Tal in 2008 after discovering the magic of argan oil on her travels following a fateful hair appointment, the revolutionary Morrocanoil remains one of the most popular Black haircare brands in 2022, attracting 5,400 monthly searches alongside a whopping 597,637 followers. Although the brand is not solely targeted to natural hair, its use of that hero ingredient, argan oil, and its signature scent has pioneered an immense love for the brand from Black hair. Its use of the highest-quality ingredients and versatile functions make it a go-to for Black haircare which strengthens, repairs, protects and even reduces drying time.
Completing the top 5 most popular Black haircare brands is Camille Rose, the clean beauty range that now rakes in an incredible 3,600 monthly searches alongside having 490,101 Instagram followers, but stays true to its humble beginnings. 
At a time when the natural hair industry was just starting out, Janell Stephens, founder of Camille Rose, was in her kitchen brewing concoctions with natural ingredients and gourmet blends to treat her children's eczema and natural curls that are now the benchmark of the Camille Rose brand and loved by thousands. Stephen's philosophy is, "whatever you put on your body should be good enough to put in it," and the brand's decadent hair jelly,Curl Maker, is a perfect example of this. Made with marshmallow and agave extract, it's a bona fide remedy for smoothing and defining curly, textured and afro hair. 
The Top 10 Most Popular Black Haircare Brands of 2022
| | | | |
| --- | --- | --- | --- |
| Rank | Brand | No. of Average Monthly Google Searches | Brand Instagram Followers |
| 1 | Shea Moisture | 27,100 | 854,732 |
| 2 | Aveda | 27,100 | 453,755 |
| 3 | Cantu | 12,100 | 408,485 |
| 4 | Moroccanoil | 5,400 | 597,637 |
| 5 | Camille Rose | 3,600 | 490,101 |
| 6 | Bumble and Bumble | 8,100 | 352,386 |
| 7 | Mielle Organics | 1,600 | 902,770 |
| 8 | Devacurl | 1,900 | 565,750 |
| 9 | Curlsmith | 5,400 | 284,987 |
| 10 | Ouidad | 27,000 | 125,387 |
For black haircare, your curl type and texture is the guiding light when it comes to choosing the products to make your hair look happy, bouncy, and healthy. 
But with the lack of mainstream conversation about what the different curl categories are, it can be difficult to understand what and how important it is to know your hair type and treat it appropriately. 
We break it down to help you understand your locks which will in turn, let you find those killer products to tame your mane.  
What are Curl Types?
Curl type is essentially determined by the shape of the follicle that your hair grows out of from the scalp.
Why is it important to know what hair texture we have?
Knowing what hair type and texture you have is crucial so we can learn how to look after it in the best way. Think of your hair like fabric. Within fabric there's silk, linen, cotton and so on. You'd use different products on each to look after them appropriately and it's the same with hair. If someone's got more dense type 4C hair, a product that's more creamy will be preferred whereas someone with finer 4A curls may prefer something more liquid based.
How do you classify different curls? 
The most common system was created by Andre Walker, Oprah Winfrey's stylist back in the 90s and combines numbers and letters to refer to different curl types. The numbers refer to the curl families and the letters, from A to C, indicate how tightly wound your curls are within that family. 
Type 1 is straight with the absence of curls, type 2 is waves, type 3 is spiralled curls and type 4 is kinks and coils with the letters then indicating how strong that type is. So for example, 2C would be strongly waved, 3B would be medium curly hair and 4A would be loose coils. 
Afro and natural hair types generally come in the 4A-4C category. This kinky coily category is naturally very dry and spongy in texture and can be soft and fine or coarse and wiry. Strands form very tight, small curls of zig-zags right from the scalp and are prone to major shrinkage.
How to examine which curl type you have? 
It's best to examine your curl type when your hair is in its natural state after you've washed your hair and it's still slightly wet as the texture becomes more evident. Then simply take a strand of your hair, pull it, let go and observe what pattern it makes. 
What are the Type 4 categories to identify in Afro-hair and how do you care for them?
Image Credit: Instagram / Megan Thee Stallion 
TYPE 4A: Known as the type 4 texture that flaunts a more visible curl pattern, type 4A hair features small and tight coils in a visible S pattern. Look to Megan Thee Stallion's type 4A texture here, it looks coarse, but is actually delicate and can be dense, stringy, wiry or fine. 
How to care:Type 4A hair mainly struggles with dryness as its distinctive coils make it difficult for the scalp's natural oils to travel down the length of the hair. So daily moisturising is key and avoiding hair products with sulphates and parabens which can strip away your hair's natural oils. A leave-in conditioner is great for 4A hair - it will hydrate the hair and once rinsed out will not weigh down your curls. 
Image Credit: Instagram / Teyonah Parris
TYPE 4B:Unlike other curly textures that have a defined shape, Type 4B hair is in a class of its own. These strands have a 'Z' shaped pattern that tends to bend in sharp angles instead of curling.
How to care: Due to the tightness of the coils in 4B hair, it is even drier than type 4A hair meaning your hair is extra prone to shrinkage and breakage. You'll need to load your hair up with products that'll hydrate, define, and stretch your curls without weighing them down (think: leave-in masks, cleansing conditioners, and lightweight oils).  4B hair also benefits from hydrating serums that'll lock moisture in and downplay tangles for less breakage and more defined curls. 
Image Credit: Instagram / Lupita Nyong'o
TYPE 4C: 4C textures are similar to 4B textures, but the tightly-coiled strands are more fragile and have a very tight zig-zag pattern that is sometimes indiscernible to the eye. Due to the ultra-tight curl pattern, type 4c coils interweave easily to form knots and snarls. These densely packed strands are also prone to the greatest amount of shrinkage with less definition. 
How to care:This coil doesn't easily retain moisture or absorb product so applying too much of a waxy or thick hydrating cream can leave a white, gritty film. Instead, opt for rich moisturising hair masks with lighter ingredients like argan oil. Doing so leads to less frizz and more shine. 
MOST POPULAR BLACK HAIRCARE PRODUCTS 
There's no manual for figuring out your hair's unique product cocktail—it takes a ton of patience, trial, and error, but when it comes to afro type 4 hair moisture is key and knowing those hero products that will hydrate your curls is a great place to start. 
By analysing Google search data, we have revealed the most popular Black haircare products of 2022 that people return to time after time again to love their luscious locks.
The most popular Black haircare product of 2022 is none other than the Moroccanoil Curl Defining Cream, the all-in-one product that activates curls and fights frizz. Raking in an incredible 2,400 monthly searches, it has surprisingly outranked its cult classic ancestor Moroccanoil Treatment Original. People are raving about its advanced technology that provides curl memory factors to create well-defined natural looking, bouncy curls that last, topped off with its signature scent that TikTok and reviewers mouth-water over. 
What It Is: A weightless styling cream for waves and curls
What It Does: Hydrates and defines waves and curls
Who It's For: Type 4A hair and anyone who wants a conditioning treatment. 
Price: £25.45
It's not just ingredients and products that are central to Black haircare. With a similar 2,400 monthly searches on Google, satin bonnets also make the rankings for the most popular Black haircare products of 2022. They can be worn by people with all hair types, but are particularly beneficial for those with curly and Afro hair. They will prevent matting and breakage, and most importantly, make the hairstyles that you spend so much time on last much longer. Bonnets are also hugely popular due to the repellent nature of satin which allows natural oils and moistures to live on the hair. 
Gift your hair with a satin bonnet (we recommend the Grow Gorgeous Satin Bonnet!) and thank us and your nighttime hair routine later. 
What It Is: A satin bonnet 
What It Does: Prevents matting, breakage and preserves protective hairstyles 
Who It's For: Anyone with type 4 or styled hair. 
Price: £30.00
Coming in at number three is the cult classic Moroccanoil Treatment Original - an award-winning, multi-purpose formula that pioneered oil-infused haircare and created an entirely new beauty category that natural hair couldn't live without. The key to its cult success is not only its proprietary blend of the highest-quality ingredients, but also its versatility. The treatment does it all: it strengthens, repairs, reduces frizz, adds shine, protects from UV rays, and even cuts down on blow-drying time, and of course gives your hair a scent like no other. 
What It Is: A multi-purpose treatment that can be used on damp or dry hair
What It Does: Speeds up drying time, tames frizz and flyaways, repairs split ends, hydrates and restores shine
Who It's For: Anyone with Type 4 or dry, frizzy and dull hair.
Price: £32.85
It's a triumph for Moroccanoil who has two products ranking in the top 10 most searched for Black hair products of 2022. Shea Moisture, Curl Smith, Camille Rose and Boucléme's star products also make the rankings. All infused with natural ingredients with simple practicalities and application, these are the go-to products of the year for Black haircare. 
MOST PINNED HAIRSTYLES 
The beauty of Black hair lies in its versatility and ability to be styled in a multitude of ways. From fulani braids to cornrows and flat twists, the history and cultural identity behind Black hair styles is beautiful and empowering. 
But what are the most popular Black hairstyles right now? We've analysed the one-stop shop for hair inspo, Pinterest to identify the most pinned Black hair styles and combined this with Google search data to reveal the most popular Black hair styles right now. 
Looking for some hair inspo? Let's get into it.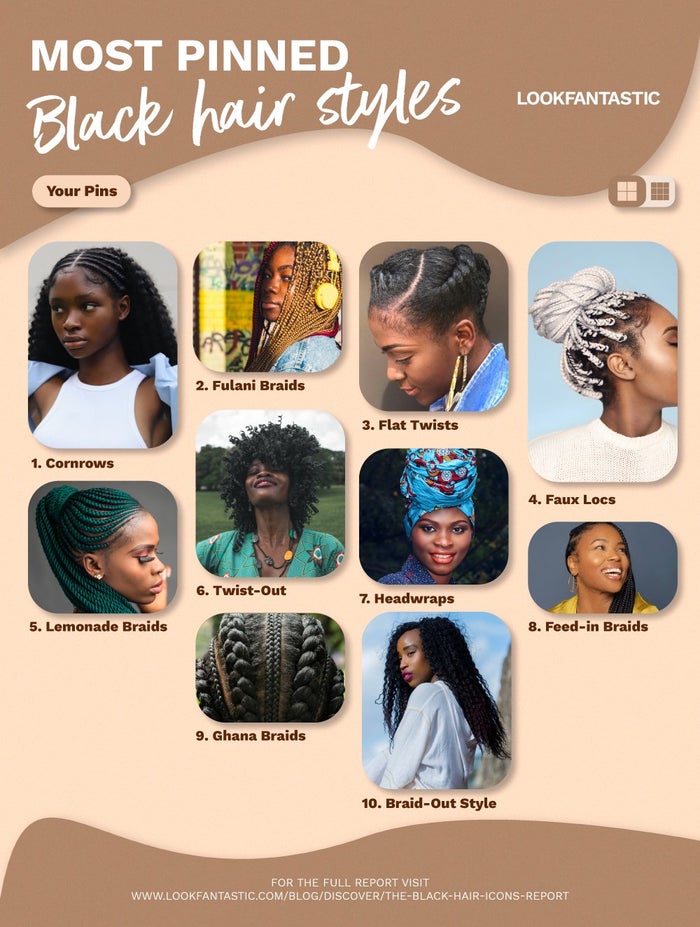 Seen on A-listers like Zendaya, Zoë Kravitz and Keke Palmer, cornrows are the most popular hair trend of 2022, with the look gaining an impressive 5,732 pins on Pinterest and an average 27,100 monthly Google searches. From classic straight-back and elegant updos to zig-zag and ponytails, there are countless ways to wear the versatile look - hence its popularity. Not only are they drop dead gorgeous, but they are a great protective style to wear that can last up to 2-8 weeks, making them a low-maintenance choice that removes having to apply heat to your every day which can cause damage. 
When it comes to braids, there are hundreds of options, but the most popular braids of 2022 are Fulani braids. Originating from the Fulani people of Africa, the style incorporates a mixture of cornrow and box braids, making them a unique and creative protective style. From Beyoncé and Solange to Rihanna and Alicia Keys, celebs have celebrated the cultural history of Fulani braids on the red carpet and if you haven't tried this versatile braid, you definitely should. The look has raked in 3,607 pins on Pinterest alongside 8,100 monthly searches on Google. Lasting four to six weeks, you can get playful with the style by adding colours, beads and extensions. 
With 4,987 pins on Pinterest alongside raking in 880 average monthly searches, flat twists are the third most popular Black hair style of 2022. A combination of two-strand twists and cornrows, flat twists are popular for minimising manipulation of the hair and being an ideal protective style for both natural and relaxed textures. From ponytail and mohawk flat twists to pineapple and low bun flat twists, the style is great to play around with and since it involves just two intertwined strands, they are a go-to for beginners or those working on their own hair. 
The fourth most popular Black hair style is faux locs, the look that Rihanna's role as Nine Ball in Ocean's 8 reminded us of how chic the style can be. Faux locs are basically commitment-free dreads that act as a great protective style where extensions are loc'd - not your real hair. They're a huge hit on Pinterest, with the style gaining 2,724 pins alongside 8,100 monthly searches on Google. 
Also ranking in the top 10 natural hair styles are Beyonce's infamous lemonade braids, Ghana braids, headwraps and braid-out styles. 
| | | | |
| --- | --- | --- | --- |
| Rank | Style | Pinterest Pins | Average Monthly Search Volume |
| 1 | Cornrows | 5732 | 27,100 |
| 2 | Fulani Braids | 3607 | 8,100 |
| 3 | Flat Twists | 4987 | 880 |
| 4 | Faux Locs | 2724 | 8,100 |
| 5 | Lemonade Braids | 2647 | 6,600 |
| 6 | Twist-Out | 2800 | 1,000 |
| 7 | Headwraps | 3531 | 320 |
| 8 | Feed-In Braids | 3516 | 3,600 |
| 9 | Ghana Braids | 2258 | 2,400 |
| 10 | Braid-Out Style | 4427 | 20 |
BIGGEST CELEBRITY BLACK HAIR ICONS 
Hair is a huge part of Black culture, and Black celebrities have created countless unforgettable red carpet moments, serving impeccable dos that not only inspire us to embrace our natural hair, but pay homage to the beauty of Black hair as a way to express our cultural identity. 
Black hair may not always be championed in the mainstream, but we want to celebrate the Black hair icons who help put it in the limelight and remind us everyday to embrace our natural hair, cultural identity and shun anyone that thinks otherwise. 
By analysing Google search data alongside Pinterest data, we've identified the biggest celebrity Black hair icons of 2022 that people are searching and pinning the most for some serious natural hair inspo. 
From her start on Shake It Up to her breathtaking performance as Rue in Euphoria, there's no denying Zendaya's acting has us on the edge of our seats. But it's her signature hairstyles that people can't get enough of. Each month, 320 people search for the 'Zendaya hairstyles' alongside 1,273 people pinning her gorgeous styles for inspo. Whether she's rocking her natural curls or switching things up with a wig, she gives us endless inspiration and often discusses the importance of embracing your natural hair. 
Let's never forget the time she rocked faux locs to the 2015 Academy Awards and hit back to some flat-out racist comments on Twitter with ''there is a fine line between funny and disrespectful," and that there is already enough "harsh criticism of African-American hair in society without the help of ignorant people." Amen. "To me," she stated, "Locs are a symbol of strength and beauty, almost like a lion's mane." 
After the ethereal sound of her voice, the single most mesmerising thing about singer SZA is her hair and its iconic inspiration. With 3,354 pins, the star has the most pinned hair of 2022 and her voluminous mane has a triumphant story of its own. After falling ill as a teenager, she lost all her hair from medication side effects, and her wild natural curls have been a badge of honour ever since. She swears by co-washing, meaning washing without a shampoo, and just using a conditioner and coconut oil followed by a rinse with lukewarm instead of hot water which strips hair of all the moisture. 
Riri is a hair chameleon. There isn't a colour, style, length or curl pattern that this hair icon hasn't tried - and hasn't been copied by the masses. 1,000 people search for the star's hair each month alone and she has influenced some of the biggest hair trends over the years. From her 2009 lacquered quiff and shaved sides, to her iconic red hair, braids and pixie cuts, Rihanna seems to be able to pull off any style out there and is a true Black hair icon who reminds us of the versatility and fun we can have with our hair. 
The Top 10 Biggest Black Hair Icons
| | | | |
| --- | --- | --- | --- |
| Rank | Celebrity | Average Monthly Search Volume for 'celebrity' + 'hairstyles' | Average Number of Pins per post |
| 1 | Zendaya | 320 | 1273 |
| 2 | SZA | 40 | 3354 |
| 3 | Rihanna | 1,000 | 405 |
| 4 | Yara Shahidi | 90 | 353 |
| 5< | Alicia Keys | 120 | 247 |
| 6 | Oprah Winfrey | 30 | 658 |
| 7 | Beyoncé | 260 | 238 |
| 8 | Issa Rae | 90 | 146 |
| 9 | Gabrielle Union | 50 | 144 |
| 10 | Tyra Banks | 30 | 215 |
BRANDS & INFLUENCERS SHARE EXPERT TIPS & TRICKS
When it comes to choosing a hairstyle and looking after your hair, it's so useful to have some tips and tricks up your sleeve to help you out. We sat down with Jemima, influencer and haircare enthusiast, who shares her top tips to consider implementing into your haircare routine. 
"Living in the UK, the harsh weather can easily dry out and break afro-texture hair, especially in the winter. So the best way to protect it and still look glam, is to go for protective styles, which I see as a form of haircare in itself. From cornrows and fulani braids to faux locs and lemonade braids, there's so many protective styles to choose from that not only look amazing but also protect your hair."
"When choosing a style or looking for haircare tips, chatting with friends about hair, exploring social media or watching YouTube is a great way to get some inspiration. Personally Temi Otedolaand Tobi Ojoraare my go-tos for inspiration on various protective styles and hair trends. They are always experimenting with new styles and colours, they truly motivate me to explore different styles and be more experimental with my hair."
Use a sulphate and silicone-free shampoo
"Some of the best advice I've received is to use a sulphate and silicone-free shampoo. This will help reduce scalp irritation, frizz and leave curly hair more intact. I am also a big advocate of letting your hair air-dry after washing it and trimming your ends often!"
"My top tip that I swear by is to incorporate the 'LOC/LCO' method into your haircare routine. It's so important to hydrate and moisturise your hair frequently and this is a great way to do it. 
You start off with a water or liquid oil based leave-in conditioner, then apply your favourite oil to seal in the oil from the leave-in. Lastly, you want to lock it all in with a hair moisturising cream as your final step. The last two steps are interchangeable depending on your hair porosity."
"Be patient with your hair, have fun with it, and experiment with different products. It might take some time to discover what works best for your hair. What might work for someone may not work for you, and that's perfectly fine. 
Hair will always grow back! So don't hesitate to cut it and start over as many times as you want. Experiment with different styles and colours, try not to concern yourself with what others may think. EMBRACE your culture and just go for it!"
THE VOICES BEHIND THE BRANDS
Black beauty brands have strong and independent founders and innovators behind them who have put in the work and determination to make empowering solutions for Black British women. 
We sat down with Janell Stephens, Founder of Camille Rose and Michelle Scott-Lynch, Founder of Boucléme to see what goes into making a brand and what inspires them. 
Janell Stephens, Founder of
Camille Rose 
What was it that inspired you to create your own haircare line? 
My beginnings have been humble, a mother of five feverishly researching and developing solutions for her children's chronic eczema, but my rise to the top has been nothing short of an inspirational tale of grit and determination. Vision and action. Prayer and self-motivation. 
After years of making products for my own family, Camille Rose was born in 2011 and took off in 2012 with a product line of skincare products ranging from diaper rash cream to nursing mom cream. Each homemade creation held true to the Camille Rose company mission to produce a line of high end, gourmet, ingredient inspired hair and body products that offer clean living beauty solutions to a sophisticated consumer base.
What do you feel like the current market needs to do better at in order to bridge the gap between mainstream haircare and haircare for Black women? 
I think minority owned brands need to be highlighted and featured on bigger platforms in the same manner as brands that are not minority owned. We need to be invited into decision making conversations about the industry.
Do you feel positive changes have already been made within the industry or is there more work to be done? 
Yes I do see a positive shift because I have had many different retail stores, other brands and influencers reach out to me to be included in their marketing efforts. However, I do feel that there is more work that needs to be done. We should be kept top of mind and be treated the same as other brands
What is your favourite thing about running your business? How does it empower you? 
My favourite thing about running my own business is having complete creative control over every one of my products. I also love being able to hire and work with so many creative people.
 Are there any other haircare brands that inspire you or you love to use?
I am inspired by Camille Rose every day.  This is the only brand that I love and use on myself and my entire family. 
Michelle Scott-Lynch, Founder of
Boucléme 
What inspired you to start your brand?
After embarking on my journey to curls I found it really hard to find effective and natural products. I was a natural health practitioner so I've always had a holistic approach to skincare and bodycare and wanted the same for my hair. Most hair products were laden with silicones, plastic film formers that create a barrier on hair if not removed effectively that long term prevent moisture entering the hair shaft and can lead to dry, dehydrated curls. I wanted to create products that had nutrients that benefited curls and would improve hair health long term.
What hair tips/hacks have you learned from other women throughout your life?
In the early days when I first began to embrace my curls I learnt a lot of tips from the incredible digital curly community. My mum didn't know how to look after my curls and neither did any of the hairdressers. The biggest tip I've learnt is that curly hair needs more moisture than other hair types, if you have frizz then it's a sign your hair needs more moisture. Co-washing and leaving conditioner in were game changers for my curls. The other tip is when beginning your journey to curls you need to have patience, it's a marathon not a sprint. Every bad hair day is a step closer to achieving your best curls as it's a learning opportunity.
At LOOKFANTASTIC, we're constantly expanding our brands and product ranges to ensure we cater to all hair types and concerns. Shop our Black haircare collection.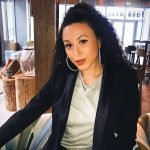 As a beauty obsessive, I'm always trialling and testing new, exciting brands and product discoveries. With over 6 years' experience in beauty writing, including freelancing on the Net-A-Porter beauty desk, I have lots of useful beauty hacks, tips and tricks to share. I'm constantly seeking the latest hair products to make my curls ultra-bouncy and defined. The Cantu Coconut Curling Creme is my Holy Grail! My lipstick collection is always expanding – and my favourite lip product of the moment has to be a nude lipgloss for the ultimate everyday look.