As our fleeting (and somewhat turbulent) relationship with summer slowly fizzles out, the colder months bring about an abrupt shift in our style and beauty routines. Parting ways with our summer wardrobe and open-toe shoes, we are reminded that all good things must come to an end, and nothing signifies a post-breakup glow up quite like a fresh new hair style. This autumn, we're swapping out beachy updos for tousled textures, dynamic cuts and rich tones. As the new season rolls on, there's never a better time to experiment and switch up your look. Need some inspiration? These are the styles you need on your radar this Autumn. 
The 90s face framers 
It rose to viral status earlier on this year, but this modern take on the 90s chunky highlight is still going strong into autumn. This low-maintenance, but high-contrast look is a great way for those with darker hair to dip their toes into the lighter side of life, with very little commitment. Plus, this style will work on pretty much any hairstyle or texture, and you can make the colour as bold or subtle as you like! 
Brave enough to lighten at home? Separate your front strands and apply the BLEACH LONDON Total Bleach Kit to lighten and deep-condition at the same time. Banish brassy tones and keep your face-framers looking vibrant with Redken's Color Extend Blondage Shampoo. 
Going into autumn and winter, the au naturel look is at the top of our radar. Celebrating our unique hairstyles and textures will always be in fashion, but this year especially, we are going to spend less time excessively heat styling, and more time making our natural locks the best they can be.  
Keep curls hydrated, nourished and defined with Bouclème's Curl Cream, or enhance natural waves for a fresh-off-the-beach look with Bumble and bumble Surf Spray.  
No matter what your hair type, using a hair mask in the colder months is always a good idea. We are obsessed with Garnier Ultimate Blends Hair Food Banana 3-in-1 Dry Hair Mask Treatment for a moisture boost that leaves hair smelling good enough to eat.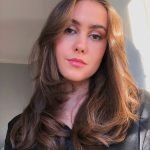 As someone with an affinity for all things beauty, discovering fantastic new products is my not-so-secret obsession. Over the years I've tried and tested a mountains worth of creams, serums and cleansers, finding some of my favourite 'holy-grail' products along the way. However, I'm always on the lookout for more ways to nourish my hair, perfect my dewy base, or enhance my skincare routine. Working as a beauty blogger for over 3 years, I've been lucky enough to collaborate personally with lots of amazing beauty brands including Christian Dior, The Body Shop and Dermalogica. I've used the Dermalogica special cleansing gel religiously since I first got it and their products are some of my ultimate skincare faves. When it comes to cosmetics, NARS Sheer Glow foundation is definitely my go-to - I live for a light, glowy base!