The beauty industry is one that is dominated by women; we are the customers, the creatives, the models and the founders. More and more, we are seeing women taking the world of beauty into their own hands, spotting the gaps and creating products for women, made by women.
With this month including Mother's Day and International Women's Day, there is no better moment for us to celebrate the power of beauty, by talking to the women who are shaping the industry.
In a series of interviews, we're asking some of the best women in the business about their careers, their experiences and their insights into what empowerment means to them.
A Q&A with Louisa Booth and Keli Craig
Today is the turn of Louisa and Keli, the founders of Popband. If you haven't heard of the brand before, they are who you need to turn to for beautiful, stylish and fun hairbands that look great without damaging your hair.
The brand has grown from a small idea the two founders had and is now loved across the beauty industry. Find out more about these two women and what has got them here so far.
Q

How did you begin your career in the beauty industry?

A

Keli - Both Louisa and I had completely different careers before Popband. I ran an accountancy business and Louisa worked in investment Banking, so Popband has been a very fun and exciting change in direction for us both.

Q

What inspired you to create your own brand?

A

Louisa - Popbands was created as a result of being frustrated with the products on the market. I would spend a fortune on my hair then have to tie it up with a band that ripped and dented my hair. At one point I had to cut a band out of my daughters hair; enough was enough!

Q

How do you begin your day with a positive attitude?

A

Louisa - I love our business, I know that that each day will be different; thats exciting!

Q

What has been the defining moment in your career?

A

Louisa - It sounds silly but it was the first time I saw a group of shoppers in Topshop oohing and ahhhing over which Popbands to buy!

Q

What beauty product is your source of power?

A

Keli -

Nourished skin is essential

so anything by

Eve Lom

is the basis of my skincare routine.

Q

What advice would you have for women starting out their careers?

A

Keli - Never let anyone tell you that you can't do it, you may have to juggle your time but anything is possible!

Q

What future ventures are in the pipeline?

A

Louisa - So many exciting ideas are in the pipeline, our SS17 range launches in March, and we have some exciting Active ranges launching this Spring!

Q

What for you is the best thing about being a woman? I

A

Keli - I think being a mum, thats got to be the best!

Q

Who is your female role model?

A

Louisa - Other than my mother, in business it would definitely be Mary Portas.

Q

What advice would you give your 20 year old self?

A

Keli - Have fun, it will all be alright!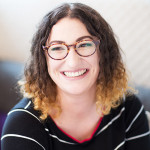 Major fan of scented candles, Make Up brushes and Highlighter. I'm always on the hunt for those Holy Grail products and my dressing table is covered in more beauty products than I like to admit. As an adopted Northerner originally from Brighton, I spend most my days wondering what all this rain is about. My hair isn't grateful for the move. Currently loving:
NIOD Photography Fluid