It's the most wonderful time of the year. Or at least, that's what all of the songs tell us. But as much as Christmas is a time for fun and enjoyment, the (somewhat chaotic) month of festivities can very quickly become a cause of stress for many. With studies showing that 51% of women feel stressed at Christmas time, keeping calm during the merry mania isn't quite as easy as it seems.* After a particularly tough festive period last year, in 2021, we all deserve to reap the benefits of a Christmas spent with family, friends, good food and in turn, a good mood. We caught up with Nicola Elliot, founder of wellness brand NEOM Organics, who gave us her top tips for keeping calm during December, so that we can all have a very merry Christmas.
*YouGov
What's the best way to avoid feeling burned out over the festive period?
Whilst Christmas is largely filled with joy and time spent with loved ones, it can be stressful too. Our top tip for avoiding burn-out this Christmas is to rest, reboot and prioritise time for yourself to invest in your wellbeing.
This can be as little as taking 10 minutes for yourself, but it's these small steps which can make a big difference. Giving yourself a much-needed break is crucial to your wellbeing, so why not light a festive candle, enjoy a warm bath, get an early night, or perhaps all three?
What are your top self-care tips during winter?
Focus On Your Breathing
It may sound simple, but we breathe in and out over 25,000 times a day yet most of us are not doing it quite right. Take some time to stop and be more mindful of your breathing.
One method I use to control my breathing is massaging a pea-sized amount of our Hand Balm into my palms, inhaling through my nose for seven seconds and exhaling for 11. Just three sets of these can be enough to completely change your mindset!
We breathe in and out over 25,000 times a day yet most of us are not doing it quite right
Stick To Your Bedtime Routine
Not getting enough sleep can have a huge impact on how we feel, so we always recommend ensuring you're getting enough shut-eye. Just like children, adults need a consistent nightly routine too. If you're yet to master yours, now is a great opportunity to have a reset. Try bath, book, bed. We swear by it.
Get Outside
Whilst it can be tempting to hibernate during the cold and dark months, getting outside can work wonders for relieving stress levels - just imagine breathing in that fresh air. It helps to lower cortisol and adrenaline levels alongside boosting your serotonin, melatonin and tryptophan (which are our feel-good and sleep-regulating hormones). The antidote for winter stress could be just as simple as a short walk!
Start Your Day Right
A good start will set the tone for the rest of your day, so take some time to find out what works for you. Choose your alarm carefully and resist that snooze button. Reach for a large glass of water to rehydrate and then boost your mood even further with our super uplifting Super Shower Power Body Cleanser. We can guarantee you'll be ready to face the day.
Eat Well
It's easy to reach for comfort foods during the winter, but they won't always make you feel good. Did you know that 95% of our serotonin (the hormone responsible for making us feel happy) is manufactured in our gut? With this in mind, try to eat a well-balanced diet. We're advocates of the 80/20 rule, keeping your diet nutritious 80% of the time, but leaving a little bit of room for some Christmas indulgence!
Did you know that 95% of our serotonin is manufactured in our gut?
How will you be keeping calm this year?
The one gift at the top of my wishlist this year to keep me calm and relaxed is one of our highly coveted Wellbeing Pods. With a variety of different sizes, there's one for every space and occasion. Simply drop in our pure essential oils and diffuse our all-natural scents at the touch of a button - there's even a selection of limited-edition festive blends too!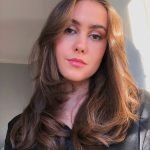 As someone with an affinity for all things beauty, discovering fantastic new products is my not-so-secret obsession. Over the years I've tried and tested a mountains worth of creams, serums and cleansers, finding some of my favourite 'holy-grail' products along the way. However, I'm always on the lookout for more ways to nourish my hair, perfect my dewy base, or enhance my skincare routine. Working as a beauty blogger for over 3 years, I've been lucky enough to collaborate personally with lots of amazing beauty brands including Christian Dior, The Body Shop and Dermalogica. I've used the Dermalogica special cleansing gel religiously since I first got it and their products are some of my ultimate skincare faves. When it comes to cosmetics, NARS Sheer Glow foundation is definitely my go-to - I live for a light, glowy base!