What is shrinkage?
Within the curly community, there seems to be a constant battle against shrinkage, as we try our best to keep our curls long and locks defined. For those of you that don't know, natural hair shrinkage is when your hair appears a lot shorter than it actually is. If you have curly hair, you'll know that your hair looks a lot longer when it's wet, compared to when it's dry - and that, my friends, is shrinkage.
What causes shrinkage?
As your hair dries, the weight of water that was holding it down starts to evaporate. Think of your hair like a sponge; it's heavier when it's filled with water, and lighter when it's not. This translates into curl length; heavier curls look looser and longer, while lighter curls look tighter and shorter.
Although it can reduce your length by up to 80%, the amount of shrinkage you experience can differ depending on hair type, porosity or the products you use. However, as a general rule of thumb, the tighter your curls, the more shrinkage you can experience.
Now, although it may not be ideal for those of us chasing length, shrinkage is actually a sign of healthy hair. It means your hair has drunk up all the lovely moisture you've given it. So really, it's a good thing.
However, we understand that some of you may not want to rock that look every day. Luckily, there's a whole host of products and methods you can try to minimise shrinkage. The beauty of textured hair is that it can look different every day, swapping from short and curly to long and wavy with some simple Bantu Knots.
Best products to fight shrinkage
There's a whole range of products out there, specifically designed to treat this concern. The way they work is by giving your hair more moisture. As we explained earlier, your hair looks looser when it's wet because the moisture helps to weigh it down. These products do the same thing. Products with a whipped texture contain water, which hydrates the hair. With the right haircare routine, you can lock in this newfound moisture. Oils and sealants are especially important, as they stop the newfound moisture from leaving your hair.
When it comes to curl creams that fight shrinkage, the Red Palm Oil & Cocoa Butter Elongating Pudding is a firm favourite. Shea Moisture actually has an entire range dedicated to shrinkage, and this pudding is their best seller. Free from any nasties and infused with that gorgeous Shea Moisture scent, this product uses Flax Seeds to elongate your curls. A natural humectant, Flax Seeds help to keep the hair hydrated and combat shrinkage.
If you have especially tight curls, Living Proof's Curl Elongator also does an excellent job of fighting shrinkage. Out of their range, this formula has the heaviest consistency, designed with tighter coils in mind. The weight helps to hold down the curls, minimising shrinkage. Thanks to it's rich consistency, curls look longer than ever before, while remaining hydrated and defined. Despite the weighty formulation, this cream is high slip, effortlessly absorbed by the hair for easy detangling.
If you like simple formulations that get the job done, you'll love Cantu's Curl Stretcher Cream. Saturated with the sacred haircare ingredient, Shea Butter, this cream works to make your hair humidity resistant. This stops the water in the air from messing with your curl pattern, and causing even more shrinkage.
Stretching techniques that fight shrinkage
1. Blow out your roots
This may sound crazy, but think of it as blowdrying the roots of your hair to loosen them, while leaving the rest of the hair curly. Once your hair is around 70% dry, you can try this method. Start by splitting your hair into two sections, horizontally, separating the half above your ears from the half below your ears. Put the top half into a hair tie to keep it out of the way.
Then, take a small section of hair. Using a round blowdry brush (or a normal brush if that's all you've got), brush from the root, heading towards the mid lengths. Once your brush is about two inches away from the root, stop and hold the brush there.
Now, take out your hairdryer, and blow dry the top two inches of hair. You'll only need to do it a little, running heat and the brush over the hair two or three times. Use the same method as you would for a full blow out. Repeat this motion for the whole of the bottom half.
Once you're done, you'll see that your hair instantly looks longer. Even though the roots have been loosened by the blow out, they'll be covered by the top half of your hair. You're welcome!
Top tip: if you buy a universal diffuser, you can use any dryer on curly hair!
Tangle Teezer Blow Drying Round Tool - Small

BaByliss PRO 3-in-1 Universal Diffuser
2. Stretch it out with a pineapple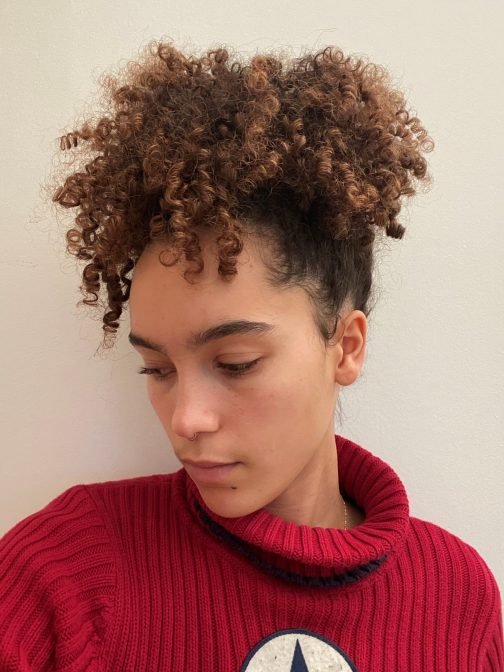 If you're on a heat detox, you can recreate the method above with a simple hairstyle. Gathering all of your hair, tie your curls in a pineapple ponytail. As long as you tie the hair fairly tightly, the bobble will do the stretching for you. Sleep with it overnight for the best results. It really is that simple!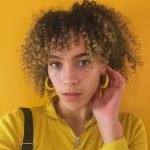 As a haircare obsessive, I'm always on the lookout for new products and methods that will define my crown. I can never stick with a hairstyle for too long, and I love to pair minimal makeup with a bold lip. I specialise in haircare, with a mission to make all hair types and textures look and feel fantastic. If you're after a new routine or product – I'm your girl, I've tried every haircare challenge and all the curl creams I can get my hands on. I couldn't live without my wash-and-go routine, and I follow the Curly Girl Method religiously. Unable to find my perfect salon, I've always cut, braided and dyed my own hair, working as a freelance hairdresser since 2016. Although I'm a long-time fanatic, I've been writing about beauty since 2019, working with haircare specialists from Cantu, Boucleme and Mielle Organics to uncover the best tricks and tips. Felicia Leatherwood is my haircare guru, and Scary Spice is my all-time icon.