It goes without saying that caring for your skin is super important, which means that following a good regime that works for your skin type is key. This doesn't mean that you need to invest in a wealth of products that cost the earth; many skincare brands offer purse-friendly, accessible products that do the job without scrimping on quality. So, if you're on the hunt for the Holy Grail skincare product that will leave your skin (and bank balance) a lot happier, we've rounded up the top skincare buys to suit every price point. Thank us later... 
Under £100 
Sarah Chapman Skinesis Overnight Exfoliating Booster 
The perfect remedy for that 'wake up and glow' feeling, this Overnight Exfoliating Booster by Sarah Chapman will leave your skin hydrated, plumper and fresh. Housed inside a stunning bottle (ideal for capturing the ultimate Instagram skincare 'shelfie'), this serum is lightweight and nourishing. It contains salicylic acid to gently exfoliate and unclog pores through the night. Apply a few drops to your skin each evening or incorporate into your routine 3 times a week and massage onto the face without rinsing off. Great for blemish-prone skin, your complexion will look and feel brighter, more refined and decongested. 
Zelens PROVITAMIN D Fortifying Facial Mist 
Vitamin D plays an important role in enhancing the skin's immune system and clearing the skin from free radicals that can lead to premature ageing. The Zelens PROVITAMIN D Fortifying Facial Mist is the skincare product you've been missing. This lightweight spray works to revitalise dehydrated skin to lock in healthy moisture and provide an instant refresh. Simply apply two or three spritzes to the face after cleansing, in the morning or evening. The mist can also be used to prepare the skin before makeup. What's more? It's contained inside a recyclable glass bottle, helping you to reduce your carbon footprint too. 
Elemis Pro-Collagen Marine Cream SPF30 
Packed full of anti-ageing properties, the Elemis Pro-Collagen Marine Cream is the perfect treatment for reducing the appearance of fine lines and wrinkles. Use daily to moisturise the skin after your usual cleansing routine. The cream works to absorb into the skin without leaving a greasy residue. It also contains SPF 30, which is vital for skin protection and helping to maintain a healthy, youthful complexion. 
Under £50 
GLAMGLOW Waterburst Hydrated Glow Moisturiser 
If your skin is dry or dehydrated, the GLAMGLOW Waterburst Hydrated Glow Moisturiser is the perfect solution. This moisturiser has a water-cream formula that applies like water droplets before absorbing into your skin to provide intense nourishment and hydration. Containing hyaluronic acid, the key ingredient for reducing signs of ageing and plumping the skin to create a fuller, healthier appearance, this moisturiser can be used morning or evening as part of your daily skincare regime. 
Farmacy Sleep Tight Firming Night Balm 
The Farmacy Sleep Tight Firming Night Balm is an overnight treatment that works to smooth, moisturise and revitalise the skin for a healthier, glowing complexion. Take a small amount of the balm and massage it between your fingertips to warm it up before applying to the skin. The balm transforms into a smoothing oil formula that sinks into the skin without feeling greasy. It contains vitamin C to create an even, balanced skin tone and reduce premature ageing. What's more? It has a relaxing scent to create a spa-like comfort zone before you go to sleep. 
Origins GinZing Glow Radiance-Boosting Gel Moisturiser 
Give your skin a new lease of life with the Origins GinZing Glow Radiance-Boosting Gel Moisturiser. This refreshing gel moisturiser contains light-reflecting particles that work to create an instant natural glow without leaving your skin looking 'shimmery' or with unwanted shine. The gel absorbs into the skin to provide hydration and an invigorated finish, perfect for waking your skin up in the morning after cleansing. Containing the ingredient panax ginseng, which works to reduce the appearance of fine lines, and coffee, which has anti-inflammatory properties, this moisturiser is the perfect base for makeup or can be worn alone for a naturally radiant finish. 
Gallinée Prebiotic Face Vinegar
Balance your complexion with the Gallinée Face Vinegar; a soothing and purifying formula that uses prebiotics to soothe stressed skin and postbiotics to support the healthy bacteria to protect skin from oxidative damage. The gentle exfoliating Vinegar improves the appearance of the skin's surface, reducing the appearance of pores and brightening the complexion whilst removing dirt and harmful, unwanted bacteria.
Under £20 
Caudalie Instant Foaming Cleanser 
Looking for an everyday cleanser? Look no further than the Caudalie Instant Foaming Cleanser. With a light, airy formula, apply this foam to damp skin morning or evening and it transforms into a creamy lather. Perfect for removing makeup, helping to unclog pores and remove grime, this cleanser is free from harsh ingredients and is suitable for all skin types.  
Liz Earle Instant Boost Skin Tonic 
After cleansing, you should follow the next step in your skincare routine with a toner. The Liz Earle Instant Boost Skin Tonic has a lightweight formula that brightens the skin and contains aloe vera, which has soothing and moisturising properties. Apply this product onto a cotton pad and gently swipe across the face. The tonic also contains vitamin E that aids hydration to prevent the skin from drying out. 
The INKEY List Polyglutamic Acid Serum 
If your skin is prone to blemishes or breakouts, the Polyglutamic Acid Serum by The INKEY List is for you. Polyglutamic acid works to maintain the skin's moisture levels, holding 4 times more moisture than hyaluronic acid. Blemishes can often be caused by dehydrated skin. This lightweight serum works to keep the skin ultra-hydrated and can be applied in the morning or evening alongside your regular serums and moisturiser. Your skin will be left feeling plumper, brighter and rejuvenated. 
Under £10 
The Ordinary AHA 30% + BHA 2% Peeling Solution  
Going for a facial can be pricey, but thanks to The Ordinary, you can do it yourself at home. The AHA 30% + BHA 2% Peeling Solution is an exfoliating facial treatment that works to combat blemishes, unclog pores and revitalise the skin. Boasting a vibrant red formula, it's not your average skincare treatment, but don't let this scare you away; the solution contains a unique blend of acids that help to improve uneven textures and encourage healing. 
*Please note this product is not suitable for sensitive skin. 
Rodial Dragon's Blood Eye Mask Single 
Banish tired, puffy eyes with the Rodial Dragon's Blood Eye Mask. This easy-to-use mask helps to brighten, revive and de-puff weary under-eyes thanks to the powerful ingredients, arnica extract and hyaluronic acid. Perfect for wearing at home or when you're travelling on a plane, leave the mask on for 20-30 minutes and peel away, gently massaging the excess serum into the skin. Dispose of the mask after use and follow with your usual skincare routine.  
Oh K! SOS Detoxifying Peel Off Clay Mask 
Give your skin some TLC with the Oh K! SOS Detoxifying Peel Off Clay Mask. Helping to minimise the appearance of pores, this mask uses Kaolin Clay and contains witch hazel that are both kind and gentle to the skin. Leave this mask on for 20-30 minutes and peel off, rinsing away any residue, to reveal a flawless, much brighter complexion. 
Can't find what you're looking for? Whatever your budget, discover our full LOOKFANTASTIC skincare range right here.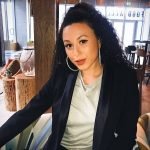 As a beauty obsessive, I'm always trialling and testing new, exciting brands and product discoveries. With over 6 years' experience in beauty writing, including freelancing on the Net-A-Porter beauty desk, I have lots of useful beauty hacks, tips and tricks to share. I'm constantly seeking the latest hair products to make my curls ultra-bouncy and defined. The Cantu Coconut Curling Creme is my Holy Grail! My lipstick collection is always expanding – and my favourite lip product of the moment has to be a nude lipgloss for the ultimate everyday look.