With summer just arrived, it's a great time to switch up your nail polish and follow a bright nail tutorial to help give your hands a pop of colour!
O.P.I's new Alice Through The Looking Glass Collection contains a great range of shades and textures, but the ones are resident Nail Expert selected were Mad For Madness Sake, Fearlessly Alice, and A Mirror Escape. The colours represent the madness of Alice in Wonderland and make the most gorgeous shades for summer!
Summer Nail Tutorial With O.P.I
Create bright summer nails with this easy tutorial from our resident expert, Amy Forsythe.
A Mirror Escape
Fearlessly Alice
Mad For Madness Sake
The Finished Look
Begin by creating a gradient with Mad for Madness Sake and Fearlessly Alice. You can do this by painting the polishes onto a makeup sponge and then applying directly to your nails.
Repeat until you are happy with the blended colours.
Add a top coat, such as the O.P.I. RapiDry Top Coat and allow to dry.
Once the top coat is completely dry, use striping tape to mark out the diagonal lines across your nails.
Paint the makeup sponge with A Mirror Escape and allow to dry. You can them remove the tape and you have beautiful nails!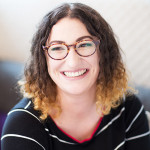 Major fan of scented candles, Make Up brushes and Highlighter. I'm always on the hunt for those Holy Grail products and my dressing table is covered in more beauty products than I like to admit. As an adopted Northerner originally from Brighton, I spend most my days wondering what all this rain is about. My hair isn't grateful for the move. Currently loving:
NIOD Photography Fluid