We so often hear about rules in the beauty world; all the things you should and shouldn't do in order to get the perfect makeup. But why play by the rule book all the time? There are so many ways to play with eye makeup and we're sharing the rules we love to break.
We feel like makeup is always a little bit of magic in a pot. It can be used to enhance, transform or reveal; it can be an incredible creative outlet and sometimes abiding by all the 'shoulds and shouldn'ts' can stifle that.
Why not shakeup your makeup routine and try something different? After all, rules are there to break aren't they? Plus, if you check out your new eye makeup basket on lookfantastic, you could be in with a chance of winning a pair of tickets to the glitzy BRITS 2017 Awards this year with Mastercard, along with an exclusive Illamasqua makeover. What are you waiting for?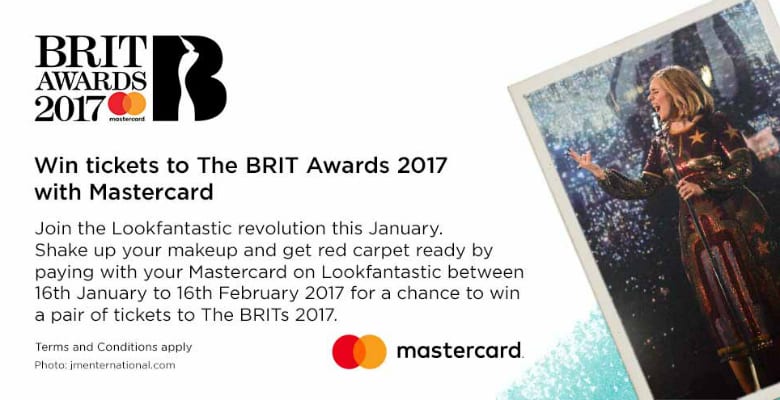 5 Eye Makeup Rules to Break
£16.00 Buy now

with Lookfantastic

We always hear about the necessity of a primer for making your eyeshadows pop.

Whilst it is definitely a great way to boost colour if you want an intense look, it isn't always necessary.

Why not try skipping the primer and applying just a sheer wash of eyeshadow? It works best with loose pigments in tones like peach, lilac and blue, blended lightly over the lid for a minimal, fresh look.

Our Favourites: 

Inika have some gorgeous options in their Mineral Eyeshadow. We love the shade 'Blue Topaz' for an almost watercolour-like finish.

Buy now with free delivery
Join the lookfantastic revolution this January. Shake up your make up and get red carpet ready for the BRITS 2017 with Mastercard!
Want to feel the glitz of The Brits in person? Purchase your award-winning beauty products on lookfantastic this month using your Mastercard and you will be entered into a prize draw to win a once-in-a-lifetime experience to attend the most prestigious music awards in the UK.
Check out your beauty basket on lookfantastic with your Mastercard before 6th February to be in with a chance of winning a pair of tickets to The Brits on 22nd February 2017, plus, a red carpet ready makeover from the exclusive Illamasqua School of Makeup Artistary in London at 2pm to get you ready for the best night out this year.