It goes without saying that we love our Beauty Boxes, and one of the things we always adore seeing is how people reuse their boxes. We've seen everything from making them into gift boxes to using them for beauty storage. If you're looking for a little DIY inspiration, we're showing you how to reuse your LOOKFANTASTIC Beauty Box and give it a second life as a gorgeous flower arrangement.
What You Need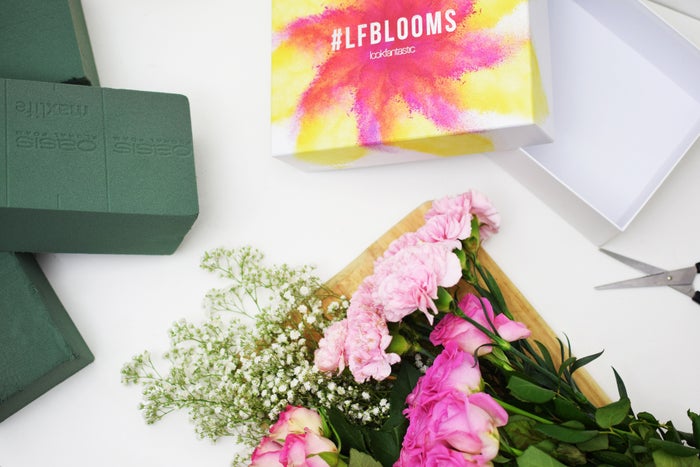 Your Beauty Box lid and base
Some Flower Foam (4 blocks did both halves of the box)
Filler flowers like Gypsophila (2 bunches)
Big flowers with strong stems, like Roses and Carnations (at least 2 bunches of each)
Knife, scissors and a little bit of water
STEP 1.
Prep your flower foam.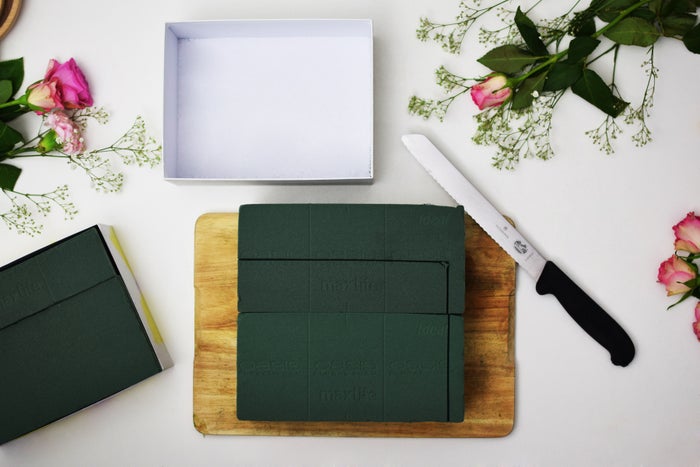 You want your flower foam to sit inside your boxes. It is very soft and easy to cut but our quick tip is to press the box onto the blocks so the edges leave a line to show you where to cut.
Cut the pieces of foam to the right size, check they fit and then pop them in a tub of water for about 10 seconds to soak up moisture that will keep your flowers fresh. Then place them into your Beauty Box halves.
STEP 2.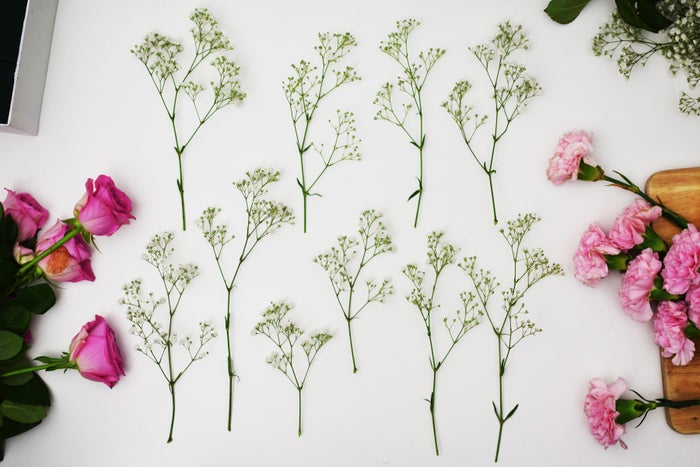 Trim your flowers.
You want all your flowers to be the right size for your arrangement. Stems around 3 inches are perfect, but you will want a little variety in length to add shape.
Trim the stems and remove any leaves. For the Gypsophila, the stem does need to be relatively sturdy to go into the foam so start with bigger sections that you can trim down if you need.
STEP 3.
Start with smallest flowers.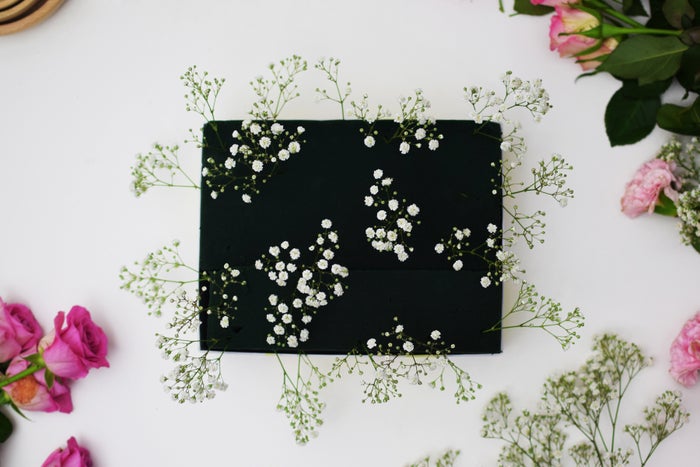 Your filler flowers add shape and fill in the gaps, so you want to start with these. Start from the edges and work in, inserting the stems into the foam.
You want the Gypsophila to cover the edges of your Beauty Box, so insert them at a slight angle so they almost hang over the edge. Use about 80% of your filler flowers and leave the rest until the end.
STEP 4.
Move to the biggest flowers.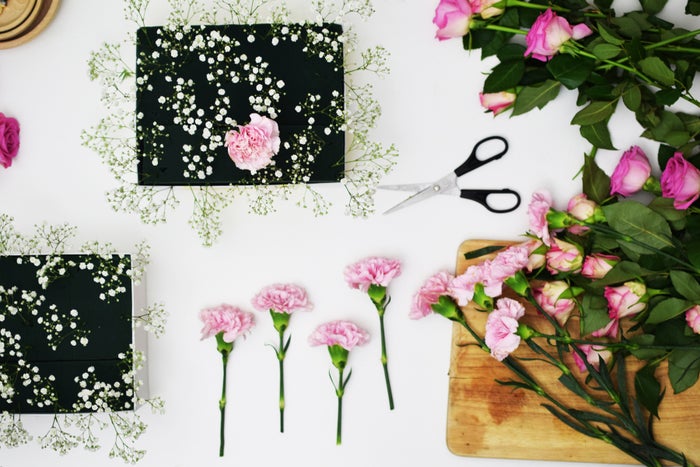 Your biggest flowers then start building the final structure. In this case, the Carnations had the biggest blooms.
Insert your blooms into the foam, distributing them evenly across the arrangement. Try not to overthink it, it will give you the most natural placement.
STEP 5.
Fill in the gaps.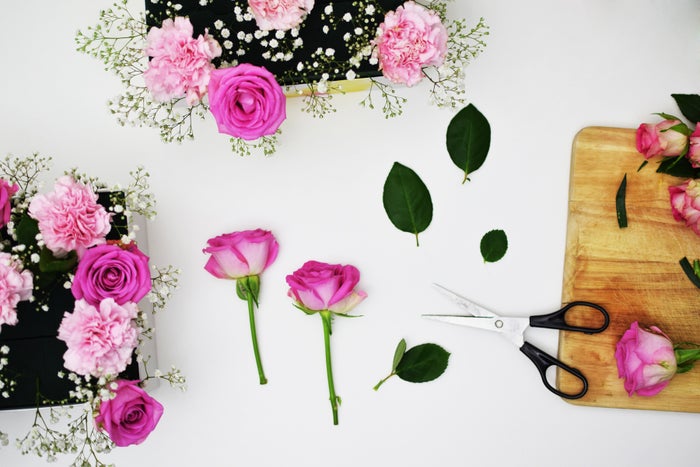 Use the remaining flowers to fill in the gaps on your arrangement. We chose two types of roses for alittle bit of extra depth and colour.
Again, just insert the blooms into the foam, making sure to place some right towards the edges. You can even add some of the leaves every so often, to add an extra bit of detail.
STEP 6.
Tidy everything up.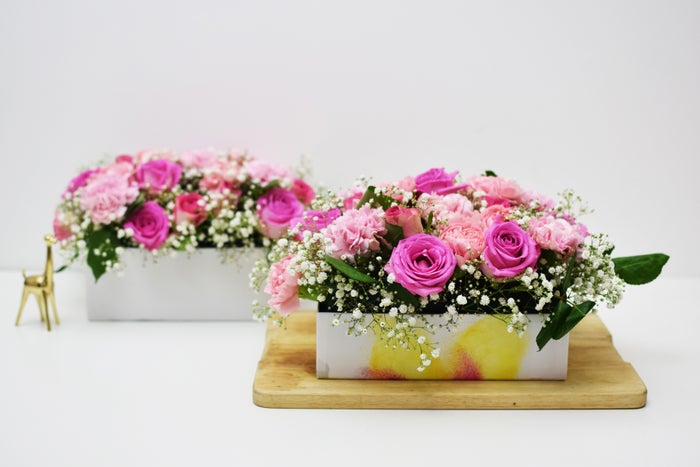 With the remaining filler flowers left over from Step 3, cover any remaining gaps, turning your box around to see it from all angles.
Keep adding and tidying until you are totally happy. Then all you need to do is to find the perfect occasion to show off your flowers!
EXTRA TIPS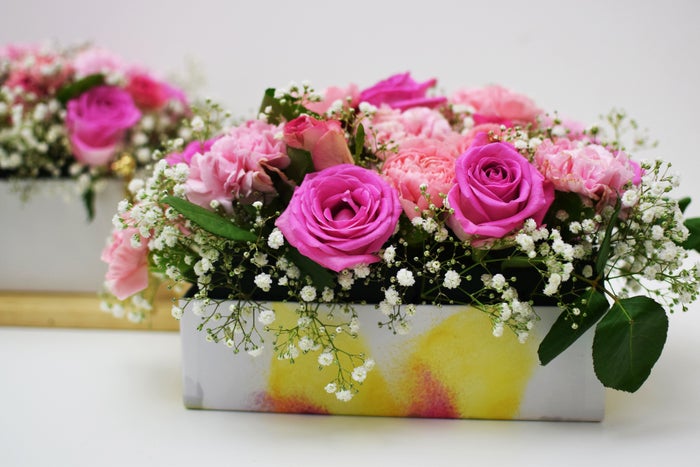 The bigger your blooms, the less space you will need to fill. If you use really large blooms like Peonies, then you will need to use fewer flowers. If you go for small blooms, factor that in and buy more than you think.
Your Flower Foam is actually reusable- once your flowers die, just remove them from the foam and let the foam dry out before putting it away for next time.
Keep your flowers fresh by adding a little splash of water to the foam each day. For extra long lasting flowers, use a mix of flower food and water to hydrate your foam in Step 1.
If you feel inspired to get involved with a Beauty Box DIY for Earth Day, don't forget to share your pictures with us! Just tag #LFBLOOMS and @Lookfantastic on Twitter and Instagram.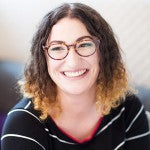 Major fan of scented candles, Make Up brushes and Highlighter. I'm always on the hunt for those Holy Grail products and my dressing table is covered in more beauty products than I like to admit. As an adopted Northerner originally from Brighton, I spend most my days wondering what all this rain is about. My hair isn't grateful for the move. Currently loving:
NIOD Photography Fluid