Tired of looking for the perfect foundation shade? Not sure where to begin? Look no further than our brand new shade matching tool, the LOOKFANTASTIC Foundation Finder. Taking the guesswork out of finding your true match, our cutting-edge tool uses AI technology to help you find the one. 
Here's how it works...
Step 1: Take our short quiz
To ensure you get the most out of your shade matching experience, answer a few simple questions about your skin tone, preferred coverage, and favourite foundation formulas. 
If you have a Colour Card, we'll be able to select your match using unique AI technology, meaning you'll receive the most accurate foundation match for you. Don't worry if you don't have a Colour Card because we'll still find your best foundation match based on your answers from the quiz.
What is a Colour Card and how to get one
Step 2 (WITH COLOUR CARD ONLY): Upload a selfie
To use your Colour Card, scan the QR code on the front of the card. You'll be taken to our quiz to answer a few simple questions (see Step 1).
Once you've told us your foundation preferences, you'll be asked to take a selfie by holding the colour card right next to your face (no dark lighting or filters here!). The card gives us a more accurate understanding of your skin tone, helping our Foundation Finder tool to identify any undertones in your complexion.
Find out more about using your Colour Card
Step 3: Meet your match in 30 seconds
If you've uploaded a selfie with a Colour Card, our ground-breaking AI technology analyses your picture using shade measurements that are 10x more sensitive than the human eye (yes, really!) to find your true match in just 30 seconds.
If you have taken our quiz without a Colour Card, we'll share your best suited foundation matches based on your skin tone, preferred coverage, and favourite formulas.
Once your match has been found, you'll be able to shop your true shade across a range of best-selling brands, including M·A·C, Too Faced, Laura Mercier, Estee Lauder, and much more! Simply tap to shop the foundation tailor-made for you and wait patiently for your true match to arrive.
Not ready to commit?
If you're not quite ready to take the plunge into purchasing your full-size foundation match, you'll have the option to choose up to five foundation samples to try at home. Your samples are completely free of charge - all you'll need to do is pay the shipping fee. But, don't worry because we'll credit this cost back into your LOOKFANTASTIC account for you to redeem against your next purchase -  which can be any products you like, including the full-size version of your preferred foundation sample. It really is that easy!
Don't just take our word for it!
Foundation Finder has already been tried by over 10,000 LOOKFANTASTIC customers and 75% would recommend it to a friend. When asked about their recent experience with Foundation Finder, one of our customers said:
"Such a good tool. Would definitely use again and recommend to friends. The foundation I received perfectly matches my skin. Couldn't be happier with it"
Find your true match today with Foundation Finder, here at LOOKFANTASTIC.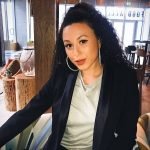 As a beauty obsessive, I'm always trialling and testing new, exciting brands and product discoveries. With over 6 years' experience in beauty writing, including freelancing on the Net-A-Porter beauty desk, I have lots of useful beauty hacks, tips and tricks to share. I'm constantly seeking the latest hair products to make my curls ultra-bouncy and defined. The Cantu Coconut Curling Creme is my Holy Grail! My lipstick collection is always expanding – and my favourite lip product of the moment has to be a nude lipgloss for the ultimate everyday look.