In a beauty era defined by the perfectly plump pout, lip care products have become a staple in our everyday regimes. From faux filler glosses that give your lips the plump factor, to hydrating balms that banish dryness, finding the perfect product to suit you is essential.
With environmental aggressors, cold weather and the irresistible tendency to bite and lick our lips, it's no wonder that our pout's feng shui can be knocked off balance during the daytime. Which is why overnight treatments are essential to keep them in check. This month, our beauty team has turned to the hydrating powers of K-beauty brand Laneige to soothe and restore our lips, with their best-selling Overnight Lip Mask. Loved by celebrities, the ultra-hydrating balm has quickly become the go to staple for a softer, plumper-looking pout, being listed as one of Kendall Jenner's staples in her recent interview with Vogue.
Laneige Overnight Lip Mask
Available in five good-enough-to-eat flavours, this powerhouse of hydration is your one-way ticket to nourished lips. A cult-favourite of the brand, this overnight formula cloaks lips with a protective film to hydrate, soften and condition as you sleep. Think slugging, but for your lips.
The key to its success? The innovative Moisture Wrap™ technology. 'This exclusive technology features a mineral network of moisturizing beta-glucan that works to form an 8-hour time-release moisturizing layer over skin' explains Hyojin Yoo, Product Manager at Laneige. 'It locks in active ingredients and mineral water.' Combined with a Berry Mix Complex™ of raspberry, strawberry, cranberry, blueberry and goji berry extracts, this sweet mix has all the antioxidant benefits of your favourite smoothie (minus the messy blender).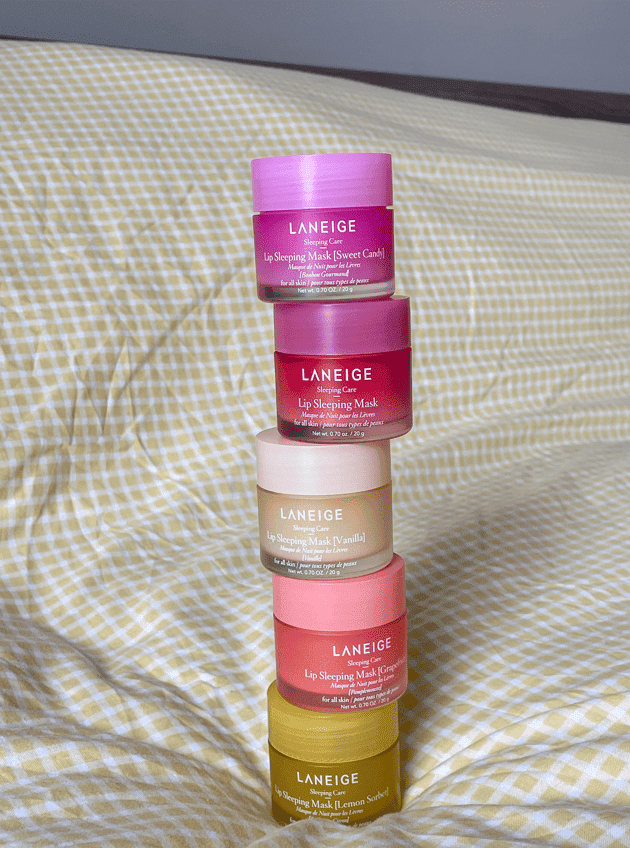 According to Hyojin, beauty sleep is more than just a phrase, and applying a mask two to three times a week overnight is essential for building and retaining hydration. 'During the night, skin cells are regenerated, by applying it on the lips overnight, it helps to boost skin cell's regeneration and retain moisture'. Not only this, but dead skin cells are replenished and gently removed with each use to keep lips looking soft and supple.
Sounds dreamy, right? But what did our beauty team make of these moisturising marvels? Read on to hear their reviews.
Lemon Sorbet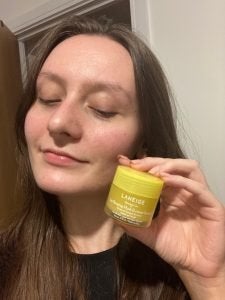 "The Lemon Sorbet Sleeping Lip Mask has become a sure-fire staple in my nightly routine. First off, it smells incredible – zesty and fresh to invigorate the senses. When I first applied the lip mask, I was in awe of the texture – it's rich and thick but never sticky, and I was surprised my fine hair didn't stick to it through the night like it usually does with lip-based products. Waking up the next day, my lips felt soft and plump. I didn't need to apply any lip balm through the day either – the lip mask kept me moisturised for at least 12-hours, if not more (I really wasn't counting). I always struggle to find lip balms and lip masks that I want to keep reaching for. But those days are behind me – LANEIGE is the one for me!"
Penny Lafferty, Senior Beauty Writer
Sweet Candy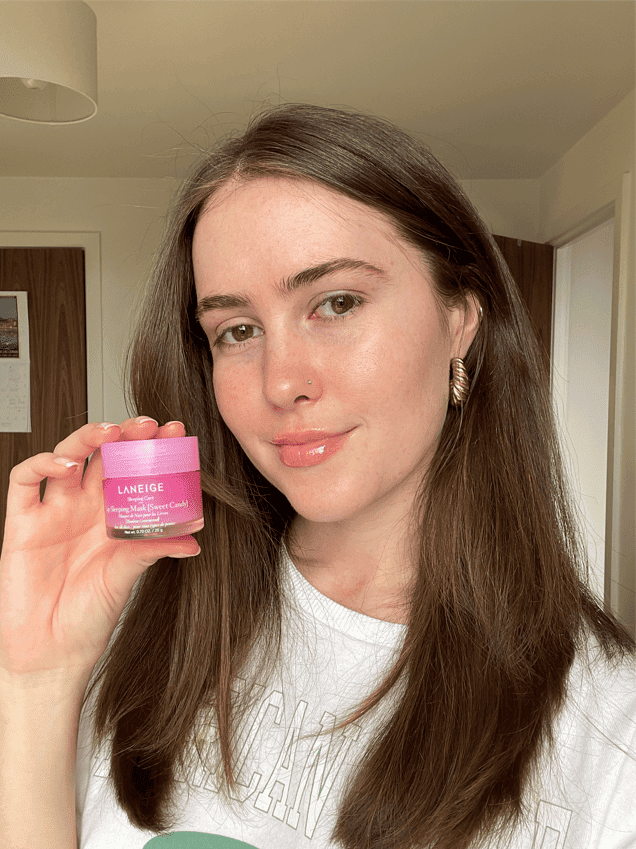 "With the changing of the seasons, dry lips become a somewhat permanent feature on my face. Whilst applying lip balm at ten-minute intervals temporarily soothes them, this method seems to do nothing more than fuel a chapstick addiction. What my pout really craves in these situations is richness and intensity. Similar to slugging the skin, this overnight treatment coats my lips in a layer of thick, yet non-sticky moisture that keeps them protected all night long. The morning brings me soothed, soft lips that don't require a balm. All wrapped up in a sweet candy scent, this product is a real treat!"
Alice Macfarlane, Beauty Writer
Vanilla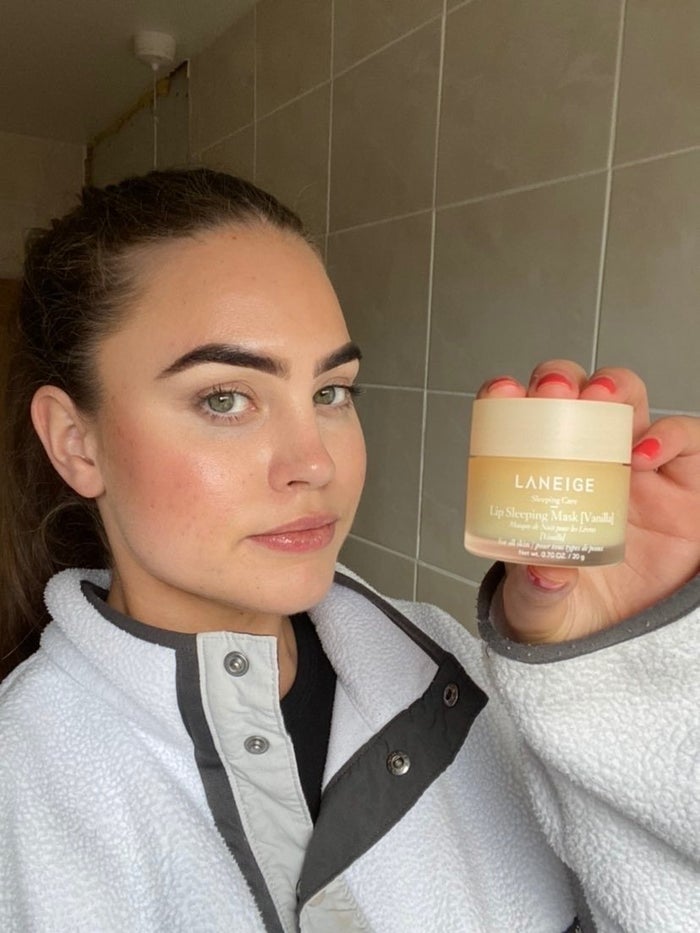 "I LOVE my vanilla Laneige Lip Mask! I typically have very dry and chapped lips, especially with the change in weather. When chapped, they are often painful and it is a difficult texture to apply lipsticks to. I have tried all kinds of lip products but this mask is the only one to leave them looking healthy and feeling smooth. Best of all, the texture is super buttery and I adore the smell of it too!"
Daniella Stapelberg, App Executive
Grapefruit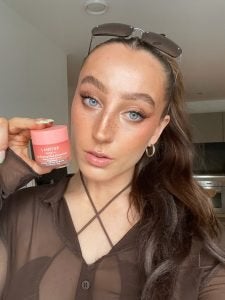 "LOVE this lip mask! After trying the grapefruit flavour, my lips already feel so hydrated, nourished and plump after using it a couple of times and the colour compliments my natural lip perfectly. I normally use a lip balm instead of lipstick over my liner and so this mask was perfect to wear out and stayed on all evening with a gorgeous glossy look! Smells beaut too can't wait to try the rest of the range!"
Georgia O'neil, Marketing and Trading Executive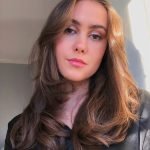 As someone with an affinity for all things beauty, discovering fantastic new products is my not-so-secret obsession. Over the years I've tried and tested a mountains worth of creams, serums and cleansers, finding some of my favourite 'holy-grail' products along the way. However, I'm always on the lookout for more ways to nourish my hair, perfect my dewy base, or enhance my skincare routine. Working as a beauty blogger for over 3 years, I've been lucky enough to collaborate personally with lots of amazing beauty brands including Christian Dior, The Body Shop and Dermalogica. I've used the Dermalogica special cleansing gel religiously since I first got it and their products are some of my ultimate skincare faves. When it comes to cosmetics, NARS Sheer Glow foundation is definitely my go-to - I live for a light, glowy base!