Getting your hair cut can be more of a palaver than you might think. It can be tough to decide whether to stick with a trim or go for a big change. Even if you manage that, then you're faced with working out what look to go for. No fear, we're here to help by sharing all our tips for finding your ideal cut and our favourite places for inspiration.
Finding a Haircut to Suit You
If you're looking to make a change, there are a few things you might want to consider before you go for that cut.
Your Face Shape.

In theory, some cuts are more flattering for different face shapes. For example, longer faces suit shorter cuts like textured bobs, whilst rounder faces tend to work with longer, layered cuts.

Your Hair Type.

 If your hair is fine and thin, it might struggle with a long cut and need some layers for extra oomph. Too many layers in curly hair might leave your locks frizzy and fluffy though. Work out what your hair needs to look its best.

Your Lifestyle

. There is absolutely no point going for a cut that doesn't work for your life. Need to be able to put your hair up at work? Make sure you don't go for too many layers or lose too much length. Not working with what you need your hair to do can cause far too much stress.

The Upkeep

. If your cut is going to need a lot of maintenance, either in styling or with salon visits, then make sure you can work with that. Otherwise you'll feel dissatisfied just a few weeks down the line. Be honest with your stylist about what you have time for or can afford.
None of these are hard and fast rules though. If you love how a cut makes you feel, that should always be your ultimate reason for getting it.
Finding Inspiration
Once you've thought about all those factors and decided a rough idea of what you want, then the fun bit comes: finding inspiration!
Not only does gathering inspiration help you refine what you want, it can also be a really great guide for your stylist if you have some images and ideas you can show them. These are our go-to places for finding hairstyle inspiration:
Don't forget, you can always just browse through all our Hair Styling articles to find inspiration too! We talk about everything from the best products to the latest trends.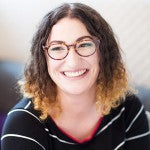 Major fan of scented candles, Make Up brushes and Highlighter. I'm always on the hunt for those Holy Grail products and my dressing table is covered in more beauty products than I like to admit. As an adopted Northerner originally from Brighton, I spend most my days wondering what all this rain is about. My hair isn't grateful for the move. Currently loving:
NIOD Photography Fluid